Advanced LED technology allows Shortcut LED Stage to reproduce complex scenarios in a totally lifelike way, with perfect reflections and naturalistic lighting.
Creative Technology has worked alongside the Nordisk Film-owned VFX and post-production company Nordisk Film Shortcut to create the Shortcut LED Stage – a full 360° LED stage, 16 metres in diameter and six metres high, with walls and ceiling completely covered with LED panels. The new stage allows film makers, production companies and other visual storytellers to shoot and tell stories in a flexible, creative, cost-effective and environmentally friendly way. From alien planets and fantasy worlds, to underwater shoots, vast deserts, and vibrant cities from across the world – Shortcut LED Stage is perfectly suited for commercial shoots where actors, sets and props can be filmed in unique stylistic worlds, or far-off locations can be easily recreated.
The project started last year, when Creative Technology was asked to build a 360-degree LED stage in Copenhagen for Nordisk Film, one of the oldest film studios in the world, and its post-production company Shortcut. After visiting the ARRI X CT stage in London, Nordisk Film Shortcut decided that they wanted to create a similar facility to enable film production in a virtual environment. In collaboration with agency Kreaktivitet AS, Creative Technology started planning the construction in March 2022.
Work began with the preparation of the building and the floor for the installation, which weighs in at over 33 tonnes. First, a steel structure was set up as a framework in which the rest of the construction could be assembled. Cabling was pulled out and rack rooms were built. The first delivery of LED panels arrived in July, with a 14-strong team from CT working on building the giant LED volume.
"We started with the curved LED section first, then built the ceiling which was raised to allow us to continue working on the curved section. The last stage included putting up the doors," says Lennart Franksson, Senior Project Manager at Creative Technology.
Whilst the original plan was to start building the LED ceiling first, the team had to rethink the process due to a transportation delay with the LED panels.
"Our ship was stuck outside Hamburg for a month, loaded with the majority of the LED panels," shares Franksson. "Unfortunately, the port of Hamburg was closed due to a strike, so we had to negotiate with the supplier and ask to change the 'port of call', i.e. the port where the goods were to be unloaded. Just an hour before the ship was due to turn around and head back to Asia, the decision was made that the cargo could go to Rotterdam where it was unloaded and driven by truck bound for Copenhagen."
With the delivery issues delaying the entire work schedule by a month and a half, the building work became very compressed, and the team had to complete the largest part of the installation in just one week.
"Fortunately, being an international company, we received a helping hand from three of our colleagues from Creative Technology Australia. It was the winter season over there at the time and they had a quieter period, so they called and asked how they could help. It was a true team effort!" exclaims Franksson.
The LED volume began to take shape and finally a completely enveloping 360-degree LED stage was in place, "something that is still relatively unusual as many LED stages are built with an opening and cannot be closed completely," Franksson notes.
The final LED construction consists mainly of ROE Black Pearl BPv2, but ROE Carbon Black and Roe Black Marble 4 Matte panels were also used, the latter for the floor. These screens were chosen thanks to their renowned in-camera performance, as they have a refresh rate that minimizes the risk of moiré and other disturbances in the camera image.
"Additionally, we could make full use of ROE's Ghostframe – frame re-mapping technology, which is very useful in virtual production," says Ole Bergström, Project Manager at Creative Technology.
CT was also responsible for the installation of the disguise media servers, which play the graphics on the LED screens. A total of nine units were installed, with five RX2s rendering the graphics which are then sent to four VX2s, which in turn send the content to the LED processors.
"The RX2s render the graphics that Nordisk Film Shortcut creates in Unreal Engine so that it can be used in a 3D space. Incredible processing power is required for this type of work and these machines are enormously powerful," continues Bergström.
In addition to their bringing their advanced technical knowledge to the project, the CT technicians and project managers involved were faced with extremely high demands on accuracy, endurance, and the ability to cooperate with the different stakeholders involved in the project.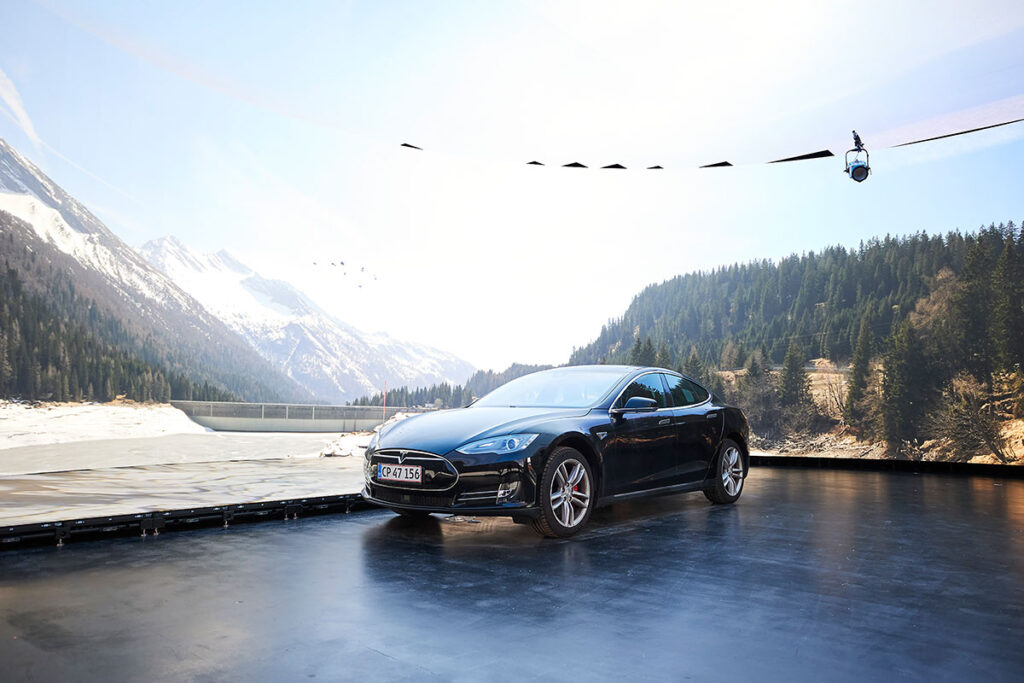 "We learned so much on this project," says Bergström. "I personally spent one full week just learning the new elements that were constantly required. The opportunity to do a job like this means that I am now a full-time project manager at CT's department for fixed installations – Systems Integration."
The installation work was completed in August last year and fully tested before the studio was handed over to Nordisk Film Shortcut. The resulting Shortcut LED Stage is powered by 100% green energy and is Northern Europe's first full-scale LED stage where filmmakers can shoot films and commercials without having to travel to various locations or wait for the right light or weather for their scenes.
"The technical planning, building and implementation of the Shortcut LED Stage has been a project that spanned over more than a year, and is a result of the combined efforts of many of our skilled colleagues at Creative Technology cooperating closely with Nordisk Film Shortcut. I'm both proud and humbled by the excellent result we've achieved", says Patrik Dejve, Managing Director of Creative Technology Northern Europe.
"This is the largest installation project we have ever undertaken, and it has been awesome," adds Franksson. "The enormous size of the LED volume means the Nordisk Film Shortcut team can place vehicles, boats and even planes inside the LED Stage. This is incredible and offers virtually limitless opportunities for creating something extraordinary and rejuvenating the storytelling process."
"Shortcut LED Stage is a shortcut to the world limited only by imagination," concludes Rikke Crosby, CEO of Nordisk Film Shortcut. "I am proud that we can now offer the film and visual production industry the latest technological possibilities that ensure flexible, cost-saving and climate friendly film and content production without compromising on quality and creativity."