Wilderado is a three-piece indie folk band from Oklahoma with a loyal and ever-expanding fan-base. The beginning of the year saw them complete of a sold-out US headline tour and announce their first UK tour as special guests on alt-J's The Dream Tour, ending this autumn with their own headline leg. But, despite their solid success, not everything was perfect in the Wilderado-camp. Struggling with monitor wedges and inconsistent set ups on stage, they knew something needed to change. When audio engineer, Davis McCoy, joined them at the beginning of the year, he recommended KLANG immersive in-ear monitors. They have not looked back since.
"As we started building longer sets and were doing more and more dates, I found I just couldn't sing through the show," says lead singer and guitarist, Max Rainer. "It was too taxing trying to project and to hear myself in the on-stage wedges."
The band's first experience of in-ear monitors had been as openers for Kings of Leon. "We used the house engineer and rented in some IEMs," recalls Rainer. "We had next to no sound check time, no show files and just tried to get things into a workable state. The show went OK, but nobody in the band was really happy with how their ears sounded, although they were still better than wedges."
A couple of months later, and with their first post-Covid tour looming, McCoy decided to build an in-ear monitor rig that would be compact and light enough for them to travel with.
"We thought how efficient it would be if we could fly with it and also have that be the same piece of gear we take in our van," he says. "I'd seen ads and posts on Instagram for the KLANG:vokal which were really interesting. But the thing that really sold it for me was the single rack space, and that it would do Dante to MADI conversion within the unit."
McCoy then found a company that made another single rackmount piece of equipment with 32 preamps, 32 outputs in a single rack space on terminal blocks, which would feed Dante into the KLANG. "Then the MADI output on the KLANG is just a split output of the preamps," he continues. "That was perfect for getting all the inputs on to my console without me having to carry a stage box or anything else. Now, in just a single Peli case, we have three wireless in-ears, two wired routers, analogue split, the KLANG:vokal and the preamps all in one. And when it goes on a plane, it's under 100lbs, which is perfect."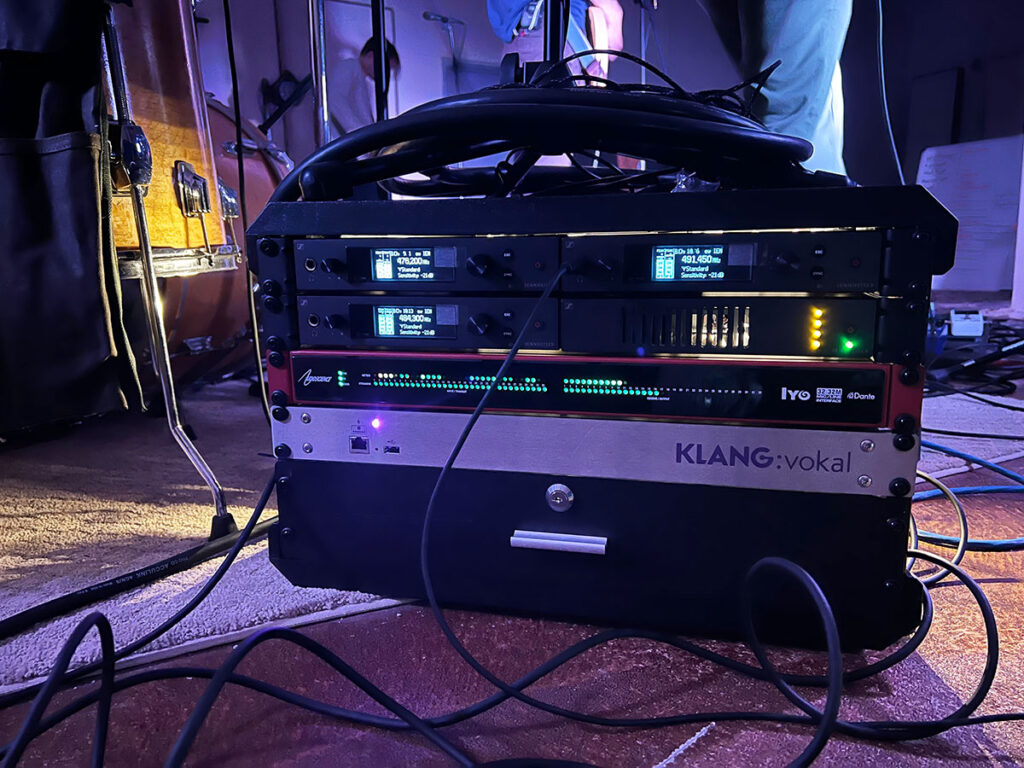 Rainer admits that some of the technical equipment is over their heads. But when Davis showed the KLANG system to them, even without knowing the jargon or understanding how it worked, it changed everything. "I remember you're just looking at a very basic set of faders," he says. "There's my name, there's my guitar, and I push it up. It was so easy. I make adjustments through every show, and no one even knows it's on my pedal point on my phone. And it's so clear, so round, so adjustable, so present. Even without doing much to the guitars, they sounded like my guitar. My voice sounded like my voice. It was unbelievable from the start. It was the first time I'd ever been able to hear myself clearly."
"Of course, we're also learning each day about what you can do within the KLANG App," adds guitarist, Tyler Wimpee. "The 3D aspect of it is epic and the presets, especially the EQ presets, which are amazing. One of the things that's hardest for me is trying to express what I want to hear to an engineer. I find it's like trying to describe colour to somebody. For me, being able to fix it myself is perfect, and the rest of the band feels the same."
"As a singer inconsistency makes me anxious," Rainer adds. "The first thing that happens is your mouth dries, your heart rate goes up, you can't breathe right and that affects your performance. But now just knowing my monitor mix is going to be exactly the same, every time means all I have to do now is remember when to breathe and remember the words. We simply couldn't do it without it now. We spent our advance on KLANG and it's the best investment we could have made!"
Drummer, Justin Kila, concurs, "KLANG has taken out so many unknowns and given us so much more consistency. Now, we can focus on making the show better from night to night, rather than just being in survival mode and just trying to make it through the gig without anything catastrophic happening."
With 260 days on the road this year and over 120 shows, Wilderado's streamlined rig also means load in to soundcheck only takes about an hour. And from the moment they walk off stage, it only takes around 20 minutes before everything is packed up and they are back in the van.
With the KLANG:vokal now maxed out and plans to expand the show, there are also plans to up the ante on the KLANG system, with the wish list including the KLANG:konductor. Davis is also about to take delivery of a DiGiCo SD11, keeping the compact nature of his rig, but bringing additional functionality to it.
"We carry as much as we can to eliminate as many variables as we can and just focus on the music and the show," concludes McCoy. "KLANG is integral to that. It's small and it's capable.
Pictured: From left to right, Tyler Wimpee, Max Rainer, Justin Kila and Davis McCoy.