This year's BRIT Awards was a landmark event for live music. As part of a government-led research programme to assess how mass-participation events can safely resume, a socially distanced audience of 4,000, consisting mainly of NHS key workers, took their seats at London's O2 Arena for the first indoor live music event in the UK since the beginning of the pandemic. DiGiCo consoles were once again deployed at both front of house and monitor positions by the show's long-time audio supplier, Britannia Row Productions.
Britannia Row's Josh Lloyd took on the audio design and FOH artist mixes, with Chris Coxhead in charge of presenter audio and Colin Pink assuming his recurring role as Live Sound Supervisor.
"After 15 months of very few Live Events, The BRIT Awards returned to the 02 Arena as one of the governments Covid Test Events," says Pink. "It was a tricky show logistically with Covid protocols and all of us having to 'remember how to do it'. As ever, the key was flexibility and workflow speed, both of which DiGiCo excel at. We had a DiGiCo Quantum 7 dealing with the music at FOH and a mirrored pair of SD12s looking after the presenter needs. At monitors we also had two Quantum 7s dealing with the artists mixes. The DiGiCos allowed us the flexibility and speed we needed; they really are the market leaders in this respect."
Performing live and mixed by Lloyd were Olivia Rodrigo, Dua Lipa, Griff, Headie One, Arlo Parks, The Weeknd and Elton John with Years & Years, while Rag'n'Bone Man's duet with P!nk was mixed by Rob Sadler.
This was the first year that Quantum consoles were used exclusively for the bands and, Lloyd notes, they brought significant advantages. "The expanded power of the Quantum 7's Chilli and Mustard processing meant that I could do more processing within the console, which massively reduced the need for outboard plugins and effects," he says. "Along with their dual engines, this meant we could create multiple layers of redundancy, which is vital for a show like the BRITs. The extra processing is also really helpful because the show is quite intense as far as channel and buss counts goes."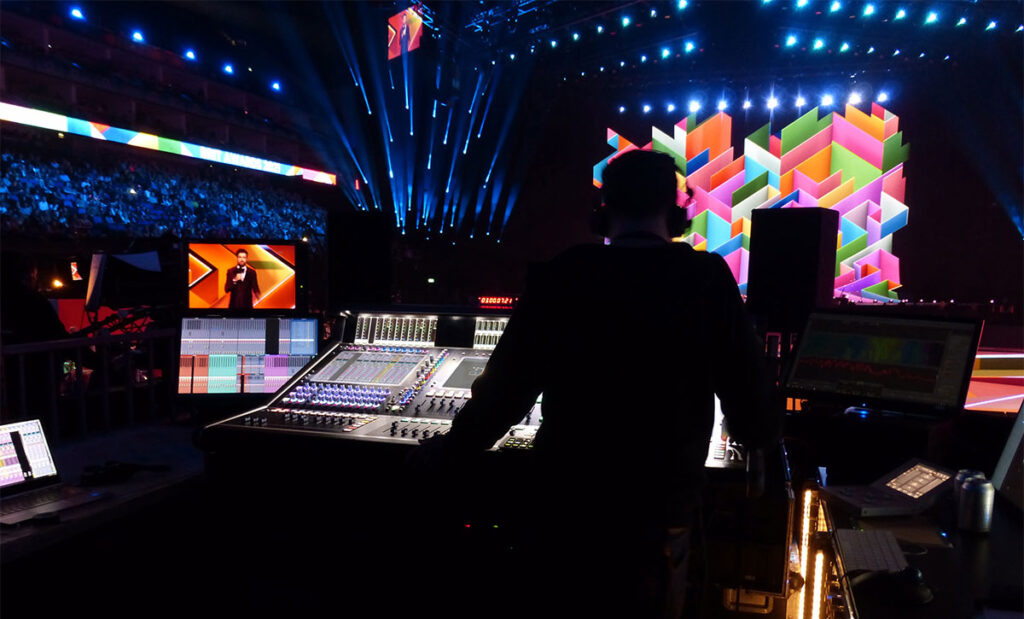 Lloyd's FOH set up also included three SD Racks, an Orange Box and an Optocore I/O box, affording him integration with Waves, MADI and AES via the fibre optic loop. "DiGiCo is the most flexible consoles in terms of its architecture, and this set up gave us the ability to distribute audio across the building, which was also really helpful," he adds.
Nico Antonietti and Dan Ungaretti manned the SD12 monitor consoles, each of which was connected to two SD Racks, one for band inputs and one for RF mics and playback. Both engineers had worked on previous editions of the event and were able to save time by using an existing show file as the basis for their set up, which they adapted according to the requests of the individual artists. These were saved as presets with each artist being allocated a Snapshot to avoid loading different show files during changeovers, a protocol which also helped to minimise any potential contamination.
The ubiquity of DiGiCo consoles is part of what keeps Brit Row using them year after year. "Whether an engineer normally use DiGiCo or not, they're happy to see them here," says Lloyd. "And because session files are interchangeable between all DiGiCo consoles, they can do offsite rehearsals on any DiGiCo and bring in a file with presets or via the file convertor, which is also a bonus with the movement of people and equipment so severely restricted at the moment. DiGiCo is the only console we can do that so easily and it helps to make things run really smoothly on site."
"Being a long time DiGiCo, user it was great to see one at the BRITs this year," confirms Dua Lipa's monitor engineer, Alex Cerutti. "We had a DiGiCo console in rehearsals, which obviously made coming into the BRITs super easy. The Quantum is my console of choice, with the number of faders and screens especially useful on large shows like the BRITs where time is always at a premium. The help I received from Niccolò Antonietti and the rest of the Brit Row crew was amazing as usual."
"The engineers all enjoyed the added features of the Quantum engine," concludes Pink. "It was very reassuring to me to know that whatever was thrown at us we had the resources and sound quality to deliver a stunning show."