Will drive-in concerts fade away now that COVID-19 restrictions are easing? Anyone who automatically responds "yes" to this question might want to drop by the Frederick Fairgrounds on a weekend night this summer.
There they'll find a large drive-in stage rocked to its rafters before a large appreciative audience by the likes of The Disco Biscuits, Goose, Grace Potter, moe, and Umphrey's McGee, to name a few. It's all part of "Showtime At The Drive In," a series of outdoor shows sponsored by Showtime Sound LLC and Auto Flex Entertainment.
"We began this series last year as a way of bringing our community together through a socially distant movie and concert sets," said Marc Chauvin, Director of Technical Operations for Showtime Sound. "Based on the feedback we received from fans last year we've continued the concept this year."
Although continuing to operate under state and county guidelines, the drive-in series has expanded its offerings to include a "vendor village" with food and beverage trucks. It also has a high res 20′ x 40′ IMAG screen to ensure maximum visibility from every spot, a state of the art audio system for sound quality, and a high output lighting system featuring CHAUVET Professional fixtures to create everything from a genuine rock show to an intimate theater vibe on the stage and its surroundings.
"We've built on our experience last year to make this years' experience more rewarding and engaging for fans," said Chauvin who works with Aaron Kovelman, Director of Design and Production at Showtime Sound on the lighting rig. "This is a different environment than a festival or regular outdoor concert, since fans are more spread out, but we are able to generate enough intensity to connect them to the performers on stage."
Delivering this powerful output is a house rig anchored by 16 Maverick MK3 Profiles, 14 Rogue R2 Washes and six STRIKE 4 fixtures.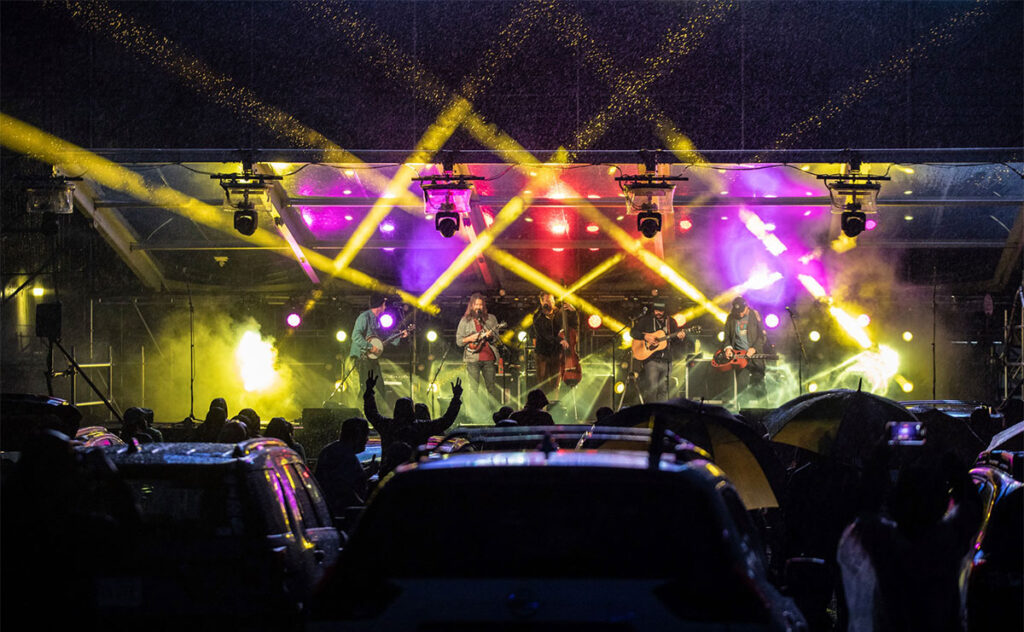 Half of the 820-watt LED profile fixtures are flown on upstage truss, while the remainder are arranged along the upstage deck. With two gobo wheels, two independently controlled prisms, two frost, and variable CMY + CTO color mixing, the Maverick fixtures offer house and visiting LDs a wide range of design options.
"The Chauvet MK3 Profile is a versatile workhorse," said Kovelman. "We use them for gobo texturing, backlighting and general stage dynamics."
Chauvin, Kovelman and the design team hung eight Rogue R2 Wash fixtures upstage, where they contribute broad color sweeps, specials, and downlighting to shows. The remaining six are on downstage truss and work as front lights, audience lights and aerial effects.
High output STRIKE 4 fixtures are arranged behind the band and elevated 3-feet off the stage deck. From this position they work as audience blinders in addition to providing evocative warm white back lighting.
The drive-in concerts start during the day, but the Showtime Sound design team has no trouble creating looks that standout against the ambient light. The intense output of fixtures like the STRIKE 4 units is a big reason why. Also helping is the stage's overhang roof structure, that despite its clear skins, add another textural element for LD's to use as a reflective surface for gobo animations.
Although the roof enhances many looks, it also creates some of its own challenges. "It can be tricky getting some aerial beams out and over the crowd," said Chauvin. "Dealing with a low trim of the stage roof is something we've learned to handle. Visiting LD's certainly don't know how to start when they see it at first, but the outcome that is created has always been positive following a show."
Indeed, learning and adapting has served the Showtime Sound team well, first by helping them launch their drive-in series last year and then by aiding in its refinement today. For a live entertainment format that some thought would fade away, that's a pretty impressive second act.
Photo: © AM Media LLS, Jeffrey Socha Photography