Being on the road never fails to work its way into the heart and soul of a touring LD. Jake Gibson knows this full well. "It becomes part of your lifestyle — and your life," he said, of his time crisscrossing the USA with the popular progressive jam band Eminence Ensemble.
Of course, as it did with so much else, the onset of the pandemic brought Gibson's perpetual tour bus to a screeching halt last year. This spring when it started revving up its engine again, he wondered how getting back out on the road would feel.
"I'd be lying if I said having a year off in my own bed every night didn't soften me up a bit," recalled Gibson. "But as soon as the truck wheels started turning, it all came back to me."
Those spinning wheels took Gibson on his first out-of-state trip in a year, taking him over 1,000 miles from his Colorado home to Rancho Relaxo, a hip camp festival site outside Austin for two shows in May.
Like his feel for the road, Gibson's knack for conjuring up light shows that move fluently with his client's freewheeling music came through the lockdown unfazed. Arranging his eight CHAUVET Professional Rogue R1 Spot fixtures on road cases along the upstage wall, he let loose with wave after wave of sparking bright, colorful and fast-moving looks, each of which seemed to celebrate the band's return to touring.
"It was a happy, vibrant occasion," said Gibson. "Eminence Ensemble is a wild, prog rock-based band that engages in multi-genre madness. The jams go deep, and there's no telling what will happen next. I have to create peaks, valleys, and everything in-between in real time along with the band. So, 95-percent of my operating with EE is busking and improvising. It of course leaves a lot more room for error, but I greatly prefer that style of live performance operating. No two shows are the same, audibly or visibly."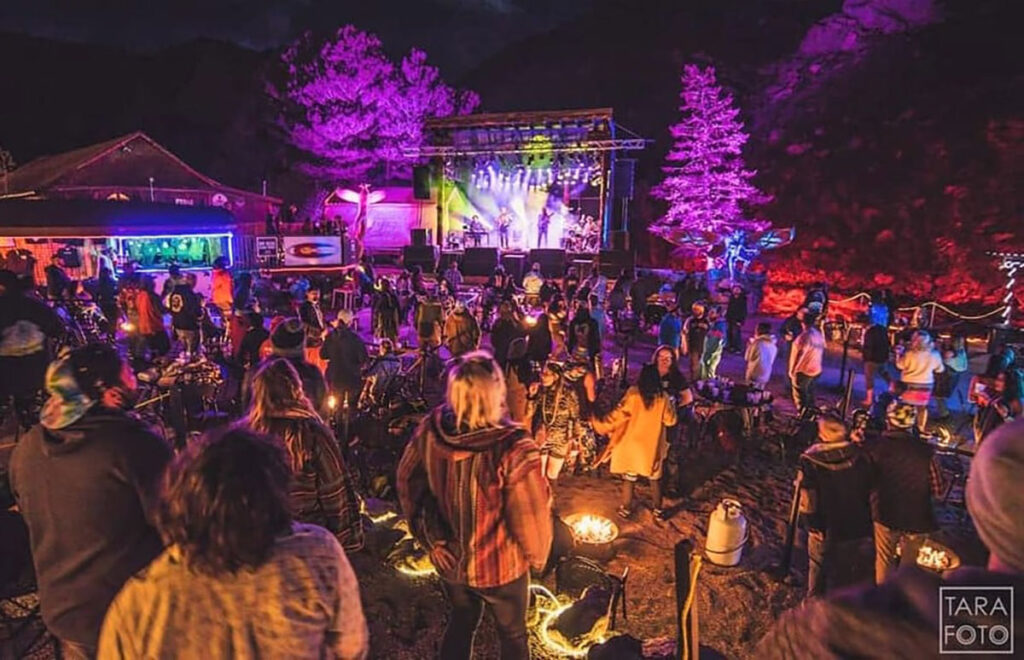 Gibson also wove the natural setting of Rancho Relaxo into his light show, using beams from his Rogue fixtures to accent the stages surroundings with a rainbow of colors. "This is an awesome setting that really evokes a festival vibe, even when it's not a festival," he said. "I used a lot of colors from the spots and some Chauvet pars to blend the stage with its environment."
Although the 70-acre Rancho Relaxo site provided an evocative setting for the Eminence Ensemble show, its relatively small stage presented some challenges for Gibson when lighting the 6-piece band.
"There were a few restricting factors in regards to design options," he said. "These revolved around the stage's trim height, and available deck area. So, I just filled as much space as I could. The energy from the band and the crowd were both incredibly high, and I reflected that as much as possible through my operating style. Luckily, my touring rig with the Rogues is compact, so I was able to squeeze as much firepower as I could into my rig."
Drawing on this firepower, Gibson endowed the stage with a presence that belied its relatively small size by directing wide bands of multi-colored light into the air around it and extending his design onto the nearby trees. He also summoned up deeply evocative effects with monochromatic color washes in bold colors. All the while, his busked show fit his client's richly textured music like a glove.
Asked to describe how he felt after the second show at Rancho Relaxo, Gibson replied, "Great to be back out with my band, doing what we do!"
It was a feeling that began to gain momentum the moment the tour bus started rolling.