Adapting in order to overcome adversity is nothing new to Van Marke Plumbing Supply. Founded on the eve of the Great Depression in 1929, the family-owned business has met challenges, from stock market crashes to war over the past nine decades, as it's grown from a single location in West Flanders to a global leader in healthy water and heating solutions with operations in Benelux, France, Malta, Switzerland and the United States.
In keeping with its philosophy of adapting in the face of adversity, the company is livestreaming to reach its 1,300 global employees during the lockdown. This initiative began with a colorful and entertaining event produced by the well-known company, Flexivent. life is an event.
Contributing to the open and friendly atmosphere of the livestreamed event was an engaging lighting design by Cedric De Reu that drew on the colour-rendering prowess of CHAUVET Professional COLORdash and Rogue fixtures supplied by SLV Rent.
"We are one of Flexivent's trusted partners, and were happy to join them in this project," said De Reu, who is a member of the SLV Rent team. "They asked us to create a warm, cosy atmosphere for the livestream, which naturally led us to focus on using deep and inviting colours, such as different shades of amber."
The design team turned one of the conference rooms at Van Marke's home office into a large TV studio, which they divided into three areas: one of which was the set for speakers, a second for a "surprise" performer, and a third where a DJ created audio bumps to mark the arrival of guests.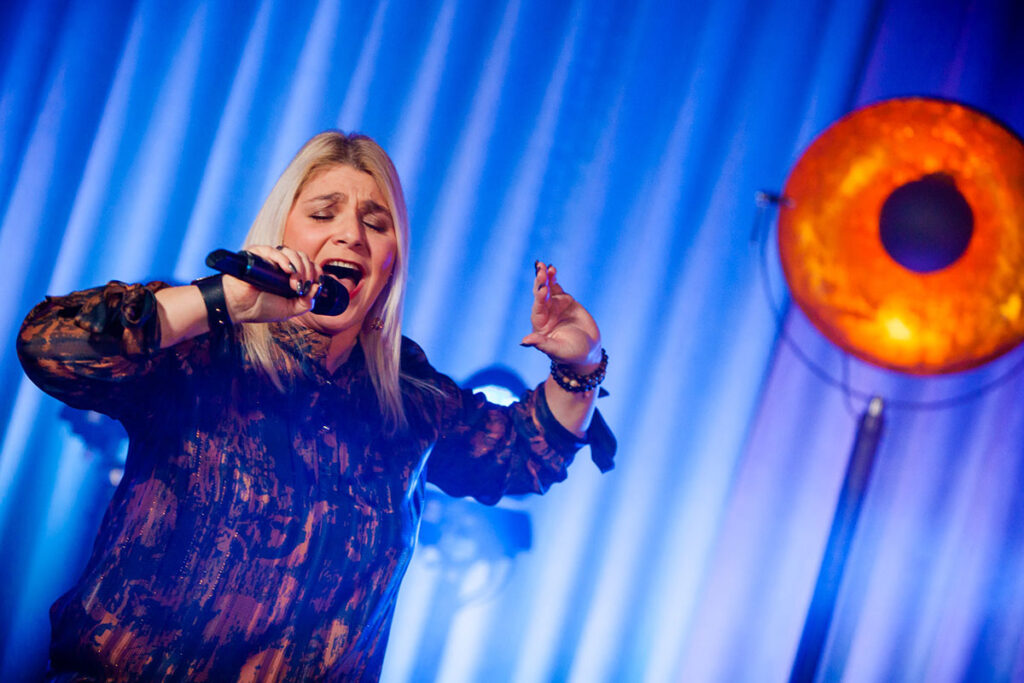 Color played a key role in setting the desirable tone in these areas. De Reu used 24 COLORdash Batten Quad 12 linear fixtures to wash backwalls. In addition to providing camera-friendly backgrounds throughout the livestream, the fixtures, which feature four dim modes, were used to create subtle dimming effects to reflect different nuanced moods.
"For us, this fixture was a good choice because its RGBA colour mixing gives us a broad palette to work with," said De Reu. "The coverage area that we were able to achieve with the COLORdash made it ideal for the larger surfaces as well."
In the area where the surprise guest appeared, a collection of six Rogue R1 Wash fixtures were used to generate excitement through their movements and vivid colours. Positioned behind the speaker area at a height of one-meter, these classic-looking moving lights also did double duty as scenic elements on some shots.
The surprise guest was the singer, Sandra Kim. When the former Eurovision Song Contest winner appeared, the Rogue R1 Wash and COLORdash Batten Quad 12 fixtures went into "entertainment mode," creating concert-style looks with help from an Amhaze fog machine.
"We made versatile use of the lighting rig at this multi-faceted event," said De Reu, who ran the lights on a ChamSys MagicQ MQ500 console. "The whole workflow is a bit different since Covid. Each event has a different approach, so we adapt – and things turn out fine!"
On the subject of adapting, the great physicist Stephen Hawkins once described intelligence as "the ability to adapt." By this measure, all involved in the Van Marke Plumbing Supply livestream, acted very smartly indeed.