Multinational giant Siemens partnered with EVOKE Studios and disguise to host 8,000 customers from 90 countries at their Digital Enterprise SPS Dialog. The event offered customers engaging virtual content and introduced the new Siemens virtual showroom which showcased innovative 3D visualisations and tours using disguise xR.
The disguise xR workflow, implemented by EVOKE Studios, powered the virtual showroom, which featured 56 exhibits in 12 topic areas, more than 130 product presentations and three real factory showcases. In addition, there were 21 stage presentations with 38 top-level industry speakers. A total of 8,000 customers from 90 countries connected to the event.
During five weeks of production EVOKE Studios were charged with providing a high-end xR platform to help provide engaging content for the virtual showroom, allowing clients to interact with individual topics and solutions of their choice. Optionally, customers could choose one- on-one sessions with Siemens experts: More than 2,000 of these took place.
The xR production resulted in a natural connection between the speakers on stage and the xR environment, demonstrating how quickly inexperienced speakers felt comfortable on the xR stage and referring to what could be seen in-camera.
"Compared to the supporting green screen production, the xR production delivered a significantly higher level of quality in the end result," notes Vincent Steenhoek, Managing Director of EVOKE Studios. "There was a fast turnaround time between recordings and having the end result ready, since so much work traditionally done in post was taken care of during production instead."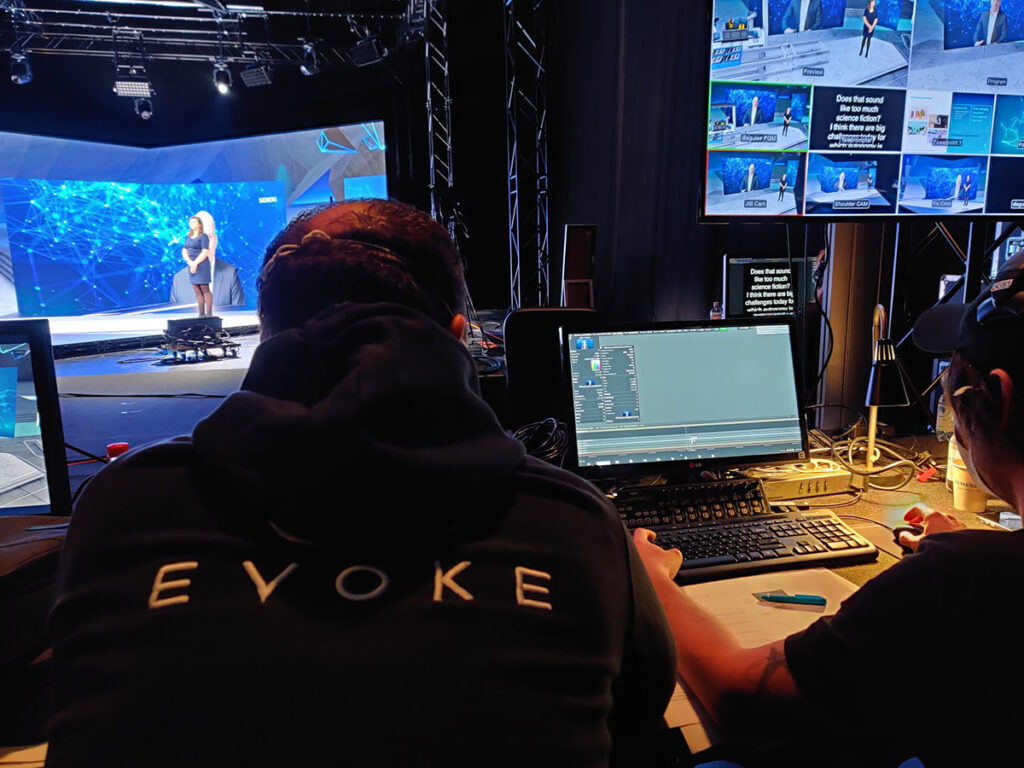 "The design of the xR environments demanded a lot of flexibility for placement and animation of screens, alpha textures and 3D models," explains Chema Menendez, Creative Director at EVOKE Studios. Because of the real-time nature of the Notch engine and its integration with disguise, the team was able to apply last-minute creative changes to recordings quickly and flexibly.
"The level of integration and production readiness of the disguise xR solution is something we can count on that competing workflows can't deliver unless we provide a team of developers in-house. And it scales well with budget and requirements for that purpose," says Chema.
"It is very gratifying when you can deliver a result that everybody involved in production is proud of. Especially when it comes to large industry household names like Siemens. Seeing them adopt new technologies and workflows like those we deliver through xR helps pave the way forward. It was a real team effort for all those involved," Vincent concludes.
Credits:
Event agency: Pave
Integrator: CueConcept
xR workflow and disguise programming: EVOKE Studios
Notch and Unity production: Studio One
Hardware partners: Bright Studios, ByLex