LD Adam King praises yellow chip 'TH' X4 variants, for authentic skin tones.
One of the UK's leading drama schools, London-based Mountview Academy of Theatre Arts, entered its production season with support from GLP's UK office and some inventive programming of the company's bespoke theatre fixtures from one GLP enthusiast, Adam King—now a prominent freelance designer.
When the academy relocated to its new building in Peckham from its former Wood Green base, where King had graduated with a BA (Hons) degree in Technical Theatre specialising in Lighting, it had the benefit of a new reconfigurable theatre. This featured a purpose designed lighting grid on which the LDs could hang and focus their lighting, including a large number of GLP fixtures, to achieve maximum creativity.
Adam King had been fortunate enough to work alongside top theatre LD Neil Austin, which is when he first discovered the special TH theatre-specific versions of GLP's impression X4 and X4 Bar fixtures, with the yellow chip—which Austin had helped to instigate. This is now available as a custom option in the GLP catalogue.
"I immediately became a convert to GLP," said King. Via his long-standing relationship with Mountview, he learnt that the drama theatre was in the process of purchasing a new LED moving head profiler last year, which provided the real breakthrough for GLP. Having just worked with the impression S350 and marvelled at the quality of the pastels, he insisted that they audition it in the competitive demo set up by dealers, WL.
"They had been reviewing other brands until I mentioned the S350's," he recalled. "I subjected the products to some rigorous tests. The CMY colours on the S350 were perfect, and of all the lights tested only the S350 went back to its store position and was spot on with everything we threw at it. It was absolutely great and [Mountview head of technical and production] Tom Mannings said he considered the S350 as the complete package, marrying compact dimensions with cracking colour performance."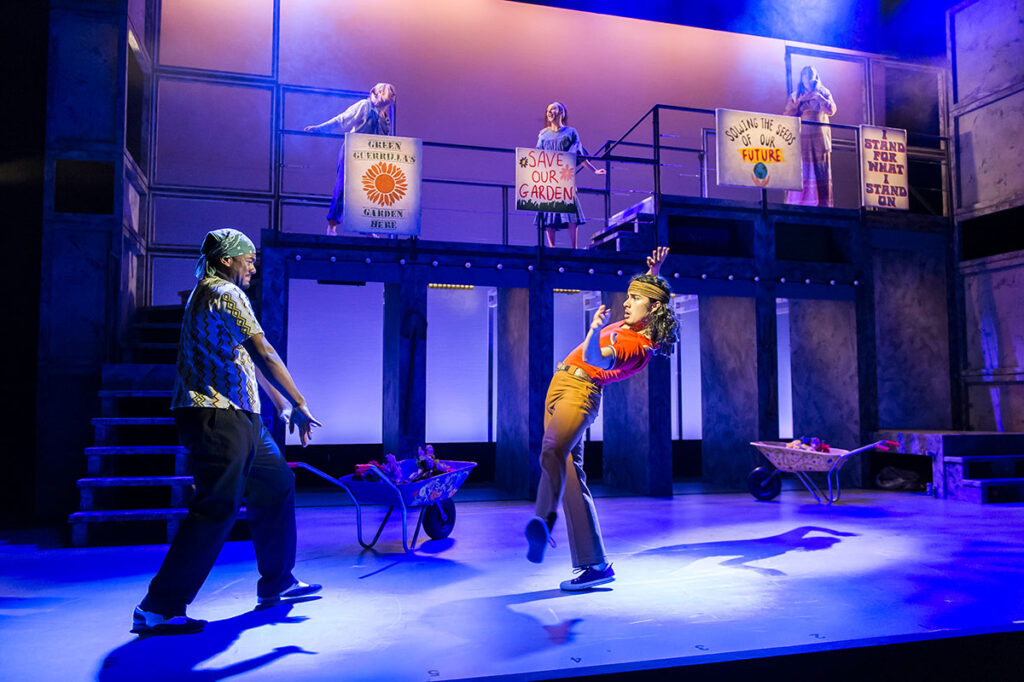 The Mountview Academy's five back-to-back productions this year will be virtually audience free, observing strict Covid rules (with a maximum audience of just eight). All will have access to eight of the impression Bar 10 TH and six impression X4 TH RGBY moving heads and six of the original impression X4, as well as the seven impression S350 moving head Profile Spots, now permanently installed on the rig.
Adam King is impressed at the attention GLP has paid to the specific requirements of the theatre segment—as are the students in their third year, who have been assisting with the programming on the house ETC GIO (which now sits in splendid isolation in the empty stalls) under the direction of King, assisted by Adam Mottley.
"The RGBY versions certainly deliver a lot more warmth and a nicer skin tone than you would get from the cold chip," he said. "So I have a variation of both warm and cool fixtures in the theatre—we use cool as a back light and then warm for the skin tones. They open up another world in theatre, and with the ambers you can do things you wouldn't be able to do otherwise."
Mountview's five productions consist of Macbeth (with an all-male cast); New York, LA and London (a musical triptych) and Hamlet (with an all-female cast). "So there's a lot of different things going on," the LD continued. "In our stage set we have six tunnels at the back and the X4 Bar 10s light through these. The cool standard X4s are a top light in the rig and the warm X4s provide a more angular front light; so there's a good mix."
The programming will become more advanced as it goes along. "For instance, on the second show there will be pixel mapping the battens to create more twinkling FX."
In summary, Adam King stated: "What draws me towards GLP is the fact I know I will always have the support. I learnt from working with Neil—and making that yellow chip—that they care about your views and always listen."
Photo: ©️ Mountview/Robin Savage