Innovation doesn't always mean reinventing the wheel; sometimes it just involves turning it in a different fashion believes Jonas Weyn of Art & Yes. He and his team demonstrated the value of this type of ingenuity recently when creating a new lighting and set design for Campus Cup, a popular game show that has teams of college students match wits and knowledge against one another.
Now in its third series, Campus Cup has moved from Canvas TV to the more highly watched Eén channel. To mark the move, production company Woestijnvis asked Arf & Yes, which has worked on the show from the beginning, to come up with a new look while keeping a consistent theme with previous seasons.
Weyn and the Arf & Yes team, which includes lighting director Dirk Declercq and lighting operator Jarmo De Blaeij, obliged by turning their "wheel," which in this case consisted of CHAUVET Professional ÉPIX fixtures, in a new direction – quite literally!
Last season, they created a stunning back drop for the show by arranging 140 ÉPIX Strip Tour and 19 ÉPIX Strip Tour 50 RGB linear lights in a horizontal configuration. Using the same collection of units this season, they positioned the fixtures diagonally instead of in straight lines, to endow the show with a bold, new look while still retaining a sense of continuity in their design.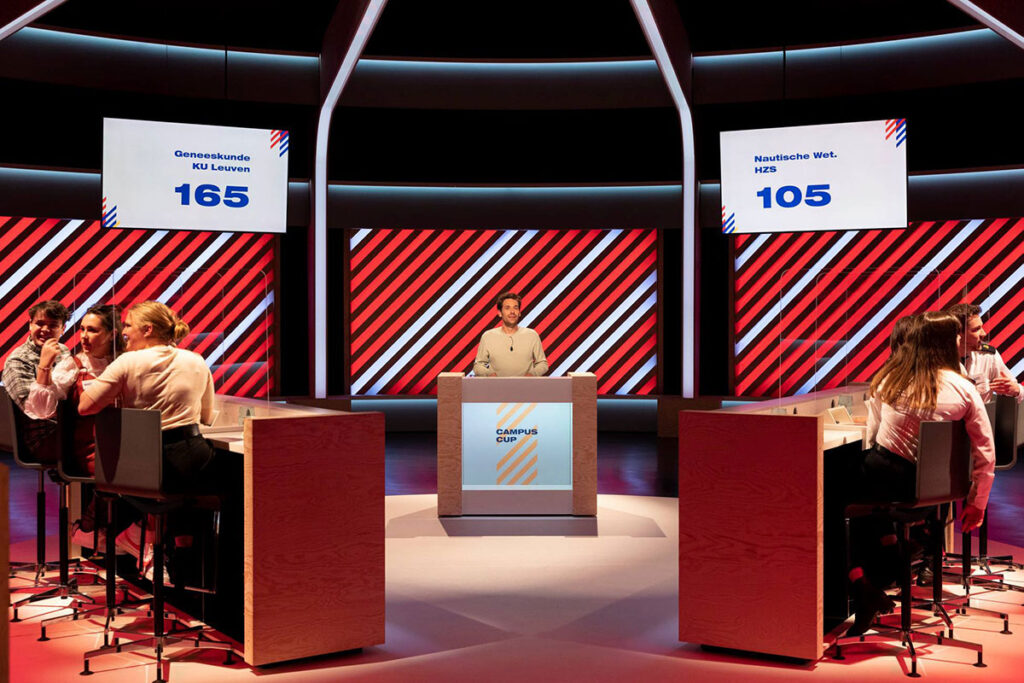 Going beyond this basic reorientation, the team placed the ÉPIX fixtures in wooden recesses and directed them backwards so they illuminated the empty space inside each cove. "This created an attractive even field of light for our backdrop," said Weyn. "We basically relied only on indirect light for this, which is a great way of using the familiar EPIX strips for an exciting new application."
The colours produced by the ÉPIX fixtures on the set were mostly combinations of blues, reds and ambers, virtually always in concert with white. Adding an extra dimension to the background panorama for the camera were pixel mapped effects.
"Our pixel mapping created some unexpected looks, which were very well received," said Weyn. "We worked per line, for maximum effect. We could have used other LED strips, but the ÉPIX gives a surprising level of output, power, and flexibility.
"Using the ÉPIX, we can have 18 on a single power feed too, which is a big advantage," continues Weyn. "Low power consumption, easy-to-build, not a lot of extra accessories, and easy addressing… in short, the system with ÉPIX is easy to build, control and map!"
With a "wheel" like this reinvention isn't always necessary. A different turn here, and different spin, there is often enough, as Arf & Yes proved, to create something bold, new and entirely different. That's a lesson in ingenious thinking that played off well against the theme of a game show that celebrates bright young minds.