Set in a thickly wooded area and set off by beautifully manicured gardens, the brick and sandstone building on Liverpool Road evokes vivid images of the late 19-the century British country manor that it once was, before becoming home to an award-winning restaurant.
For a period this February, the stately landmark with its gabbled roofs, sashed windows and other Queen Anne Revival flourishes, took on a more contemporary appearance when it was bathed in brilliant green by a collection of CHAUVET Professional LED fixtures.
Scott Cooper of ASG Entertainments donated the use of the lighting fixtures, along with his expertise, to the Red Fox for the benefit of the Clatterbridge Cancer Centre NHS Foundation Trust, one of the UK's leading cancer treatment facilities that serve patients in Cheshire, Merseyside and the surrounding areas including the Isle of Man.
Although the COVID-19 pandemic has forced the suspension of many things, cancer, like other dreaded diseases, has not taken time off. This is why the Clatterbridge Center initiated a "Let's Go Green" campaign to raise funds and awareness. Management of Red Fox elected to participate by asking Cooper to turn their iconic building, as well as some of the surrounding trees, green.
"This venue is a client of ours, and we were only too happy to participate given the worthiness of the cause," said Cooper. "Plus, it was fun to create a compelling image throughout this impressive site."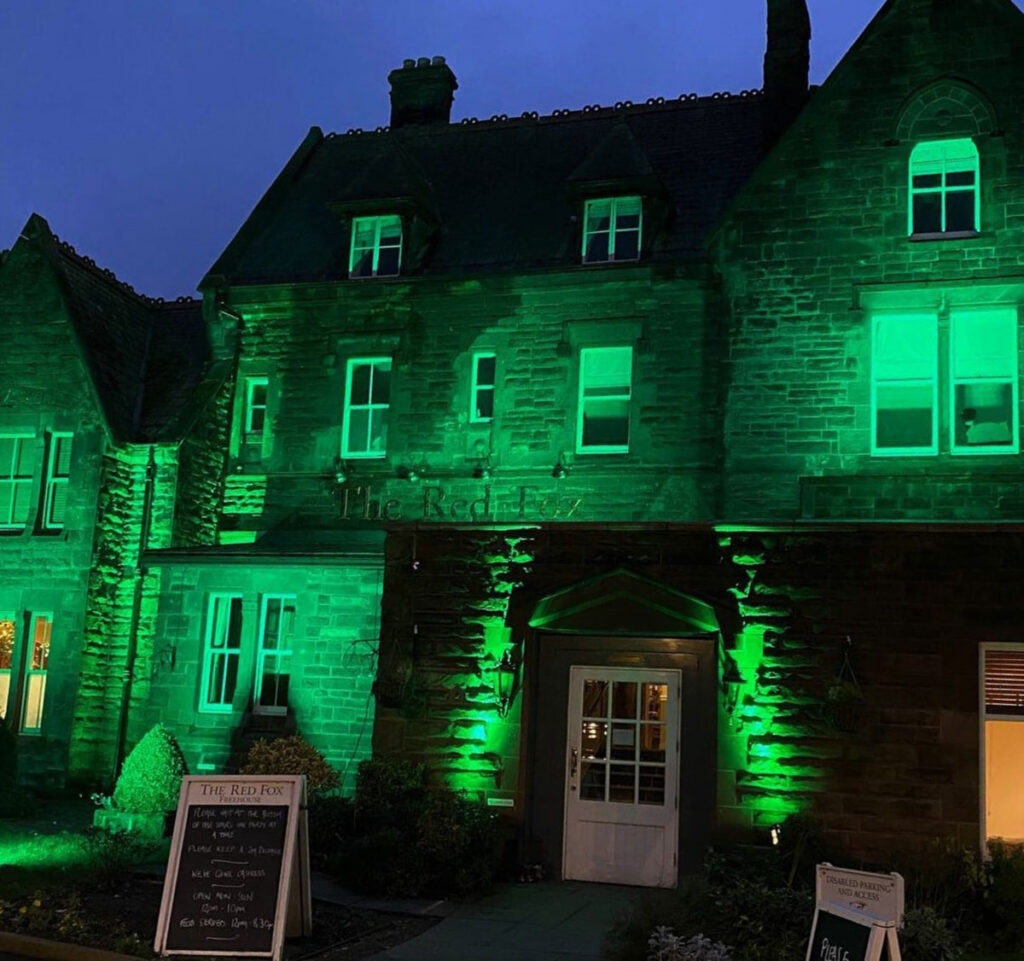 Cooper used COLORado Quad 1 Par fixtures to light the exterior of the main restaurant building. Relying on the intense output and powerful throw distance of these RGBW units, he was easily able to reach the uppermost levels of the building with light. He was also able to connect to the building's power source without needing additional cabling, thanks to the COLORado Quad 1 Par's outdoor rated connectors.
However, given the expanse of the Red Fox and its grounds not all of the site was within easy reach of power sources. For these areas, Cooper used 18 battery powered and IP65 rated WELL Fit uplights. Positioned at the base of trees and various ground structures, these RGBA fixtures had more than enough output to cover the grounds in green.
The color-mixing prowess of the COLORado and WELL Fit fixtures allowed Cooper to maintain a smooth, consistent and realistic palette throughout the grounds. "We were very pleased with the quality of our colors," he said. "The two fixtures matched perfectly in terms of the colors they produced."
To lend added support to the Clatterbridge Cancer Centre, Red Fox donated £1 for every meal sold during the campaign. Unfortunately, those meals had to be takeaways, as the COVID-19 safety protocols prohibited service inside the restaurant.
Customers were thus prohibited from dining within the Red Fox's picturesque interior. Still, they did get to enjoy a captivating lighting display when they came to pick up their delicious takeaway meals.