My Mother's Courage is a bold new theatrical co-production by Teatro de la Abadia in Madrid, Ur Teatro Company and Palma de Mallorca's Teatro Principal in Spain, recounting a gripping multi-layered narrative based on Jewish Hungarian-born George Tabori's true story recalling how his mother Elsa Tabori escaped from Auschwitz and the Nazis during the Second World War using her wits and determination.
Multi award-winning lighting designer Nicolas Fischtel, AAI, was asked onboard by director Helena Pimenta with whom he's worked on other projects. Lighting was absolutely integral to the storytelling which took place over the course of one single day, and also in providing environmental and locational details and context.
Nicolas used five Astera AX3 LightDrops as part of the lighting rig, which were located on scenery elements and props that were moved around the stage by actors as the action unfolded.
The set, designed by José Tomé and Marcos Carazo, was stark and minimal and the objects moved around by the cast also all played a significant role.
The AX3s were attached to the set pieces via the handy magnetic base and could easily be removed from their bases and recharged as and when needed. It was vital to have high quality cable-free lights or the effect would have been impossible.
Nicolas explained that the idea was to make these scaled down set and prop elements come alive and offer the audience a different perspective, as if they were seeing the action from outside these very reduced elements.
He maximised the AX3s to reproduce locations like the tram Elsa was riding when she was arrested, the train wagon that deported her to the concentration camp and the building where she and other prisoners were detained.
The story is related intelligently without becoming sentimental and with the addition of some wickedly honest dark humour, all vehicles allowing the author to distance himself from the rim reality.
Bright scenes followed by shadowy ones alternate throughout the play with lighting fundamental to the plot of this show, and helping connect the audience with the situations experienced by Elsa which took place on a sunny summer day, as per the author's instructions.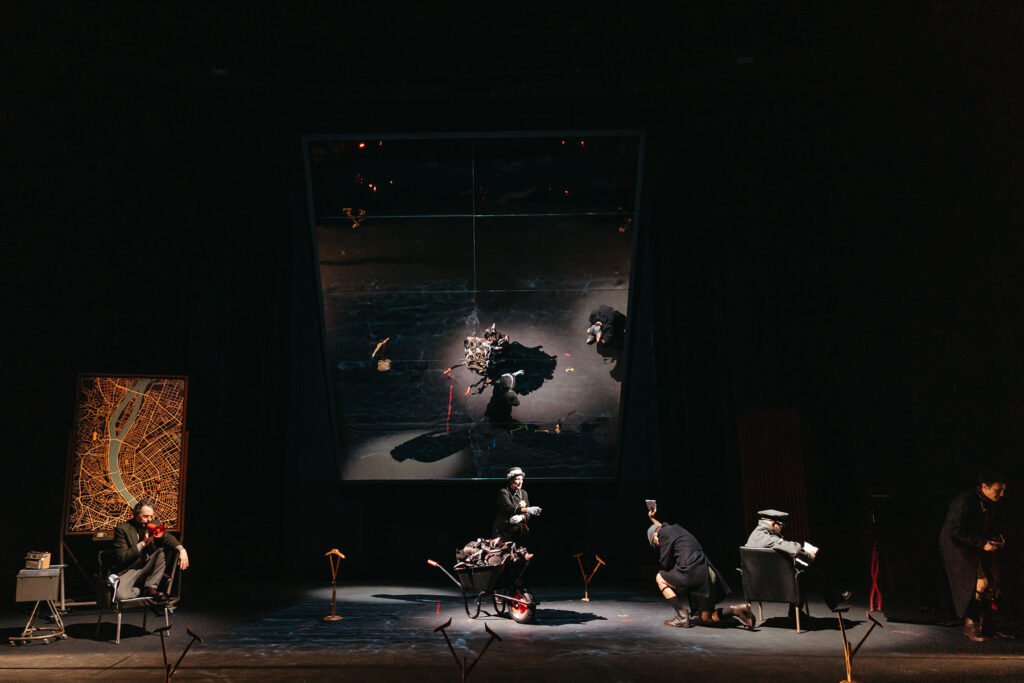 This creates a stark contrast juxtaposing the sun that brings life, versus the horrors of Nazi extermination.
The Abadia Theatre purchased a kit of eight Astera AX3s for this production, supplied by Astera's Spanish distributor Earpro&EES, and their technical department are delighted with the investment!
Nicolas first used Astera products in summer 2018 at upscale harbourside cabaret club Lio Ibiza, when his associate LD Juanjo Llorens (also a busy LD in his own right) suggested using Titan Tubes in the background. They ended up also getting the dancers to hold and move the tubes creating some spectacular kinetic 'blue tube' choreography integrated with their dance moves!
"The results were stunning, and ever since then, I use Astera fixtures at every opportunity!" declared Nicolas, adding that he would advise any stage lighting designers to "go ahead and work with Astera products – unwrap your creativity and feel free!'
His biggest challenge in lighting My Mother's Courage which premiered at Teatro de la Abadia in Madrid, was to assist the audience in following Elsa's physical and mental journey, with light isolating, highlighting, hiding and describing all her thoughts and emotions.
The production is scheduled to tour from January 2024, starting at the Teatro Principal in Palma de Mallorca.
Photo: © Lucia Romero