The region has given birth to many of the greatest voices in opera, but every spring and summer, Tuscany's historic piazzas resonate with the impassioned sound of another kind of music, as they play host to world famous blues festivals.
In 2015, Lucca joined the list of Tuscan cities celebrating the gritty musical genre by starting a blues festival of its own. Not surprisingly, given the city's evocative charm and rich musical tradition, the Lucca Blues Festival was an overnight success, attracting internationally acclaimed artists and legions of fans.
This year, because of the pandemic, the live event was canceled, but the Lucca Blues festival continued its robust celebration of all things blues with a series of livestreams from Amandla Productions Studios, a versatile broadcast facility set up inside the city's 1,500 square meter event center by locally-based Amandla Productions.
Helping to create an immersive, camera-friendly environment for the blue performances, as well as the wide variety of other shows filmed at the studio, is a flexible lighting rig installed by Audiosales Entertainment Solutions that features 34 Maverick MK2 Wash fixtures, 10 Ovation E-910FC color-rendering ellipsoidals, and 25 COLORdash Batten Quad12 units from CHAUVET Professional. Controlling this rig are a ChamSys MQ500 Stadium console along with a ChamSys PC Wing and an extra wing.
Amandla Studios began on New Year's Eve when, with lockdown restrictions still in place from 2020, the city of Lucca moved its popular celebration indoors for livestreaming. "Creating an indoor studio was an opportunity and a challenge," said David Lapini, Managing Director of Amandla Productions. "In this difficult time, we're working hard to create something different. The passion of our technicians and customers is the soul of the entire project. Through the opportunity for testing new design and devices, our group is growing creatively."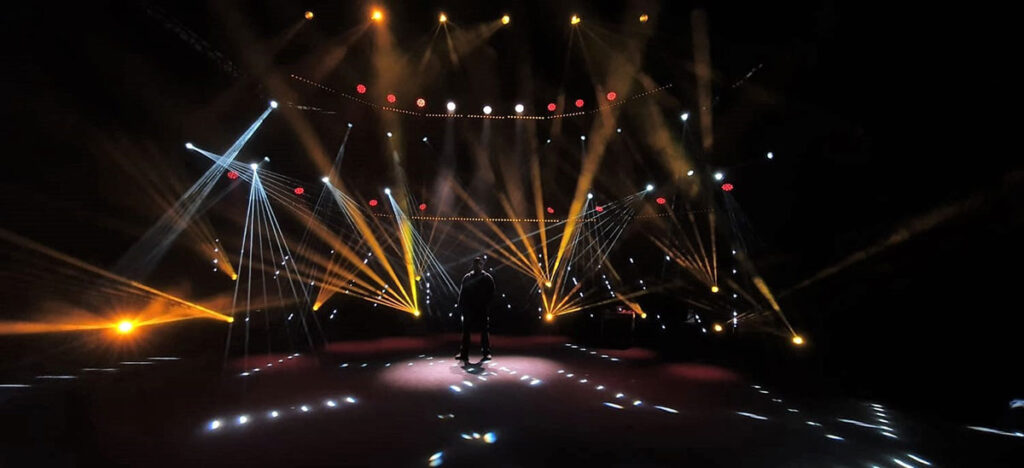 As they drew up plans for their studio, the Amandla team researched livestream spaces throughout the world, particularly those in North America, to find basic backgrounds that would strike the right balance between "raw" and sophisticated. They didn't want their set to look like a permanent TV studio (this wouldn't be genuine), yet at the same time, they wanted to create a crisp, clean and professional background.
"We reached a good compromise," said Lapini. "You can see road cases and warehouse gear, so you know it's a livestream studio. Yet, at the same time it has a finished look that meets the need of clients and the Amandla designers."
Beyond its well-chosen background, the Amandla Productions Studios' 13.5-meter by 11.5-meter stage offers something that Lapini believes is most important to a livestream production space: the ability to adapt to different show formats. In his view, being able to create immersive, brightly colored settings on stage is only the beginning. To be of genuine value to its clients and community, a studio must also be multi-functional.
This quality is very evident at Amandla Productions Studios, which had its AVL configuration rearranged five times in its first two months, as its been used to film a ranges of shows, including two video performances by award-winning and chart-topping recording artist Irene Grandi that were broadcast on the RAI TV network.
"Our main aim has always been to create a responsive space," said Lapini, who notes that the Amandla Productions Studios is ready for any production, including concerts, conventions, comedies, dance performances DJ sets … and yes, even operas!