Broadcast on 26 April as part of BBC4's Lights Up season, J'Ouvert is the second in Sonia Friedman Productions' RE:EMERGE season. Set amid the colourful backdrop of London's historic Notting Hill carnival, it is the story of two best friends battling to preserve tradition in a society where women's bodies are frequently under threat.
J'Ouvert was first produced at Theatre503, before transferring to the Harold Pinter Theatre, where it was filmed for the BBC prior to its West End run. Lighting designer, Simisola Majekodunmi, chose two Ayrton Karif-LT fixtures as major workhorses in her design. "The play takes place from dawn until dusk and has moments of realism and surrealism throughout, so I needed a fixture that could deliver a representation of the colour and vibe of Carnival as well as the sombreness and isolation of the spiritual moments," she says. "We also had a massive flying piece to contend with over the central revolve which blocks several conventional lighting positions."
Majekodunmi hung one Karif upstage and one downstage of the central structure to combat the difficult angles. "The upstage Karif was the real workhorse as it was in the best position to encapsulate the whole of the circular stage and was used very prominently during the dream sequences. The downstage unit was invaluable for face light during the poignant moments and for highlighting the actors downstage."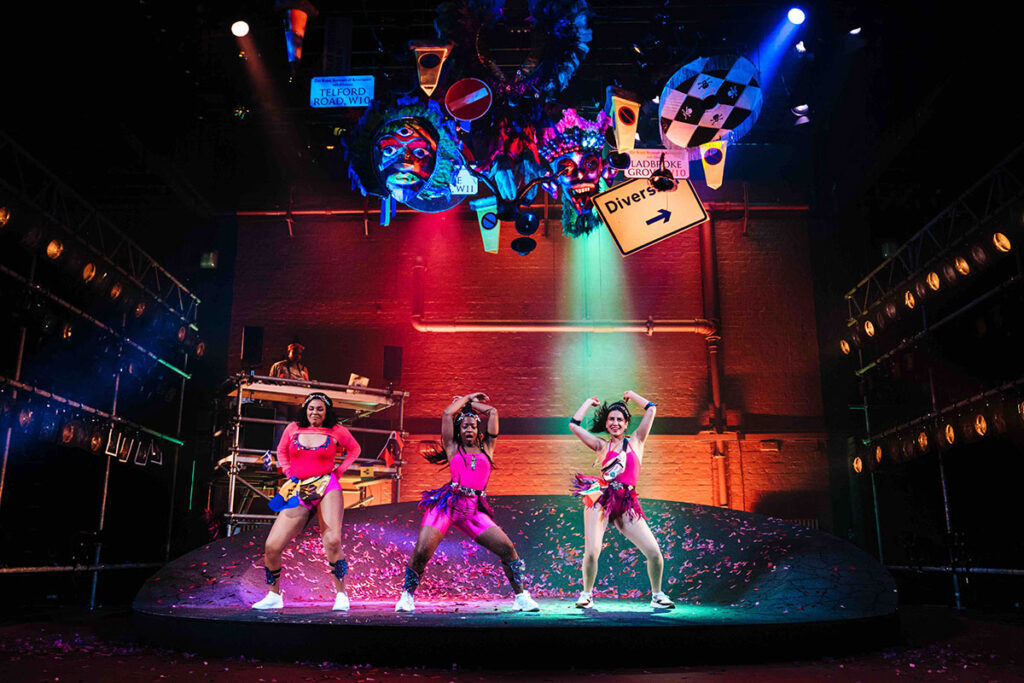 As the mood changes between the excitement of Carnival and the weight of its spiritual and cultural importance, there are moments of crisis for one of the characters when the spirit of Carnival appears: "It's at this point the Karifs did the most work," says Majekodunmi, "drawing down into rich, deep colours and heavy back light. They enabled me to keep the mood sunny and light, yet have room to go to the dark spaces when we needed them.
"For 'normal' times of the day I kept them at a really low level to add warmth and substance to the sunny day, and richness to the characters' skin tones."
"Karif is a really fantastic fixture," concludes Majekodunmi. "It's very fast and responsive and did all that I planned for it to do. To go straight from a very small theatre to filming in a larger venue was a radical change. I had to embrace the fact filming is very different from stage: everything needed to be brighter and the Karifs were a godsend in this respect because they gave us a lot more scope in intensity, and gave us somewhere to go."
Lighting programmer, Tamykha Patterson was impressed with the speed of Karif: "They are super easy to use and control and really fast! There are so many things you can do with them and we have only just touched the surface."
J'Ouvert opens for a 3-week run at London's Harold Pinter Theatre on 16 June until 3 July 2021. The Karif-LT fixtures were supplied by Ayrton's exclusive UK distributor, Ambersphere Solutions.
Read the full story on https://www.ayrton.eu/live/ayrton-karif-lt-celebrates-jouvert-at-londons-harold-pinter-theatre/
For more information on Ambersphere Solutions, or to arrange a demo for any Ayrton product, contact Briony Berning-Pollard at Ambersphere on Briony@ambersphere.co.uk or +44 (0)208 992 6369.
Photo: © Helen Murray