With all due respect to ale, if there is one drink that represents England almost as much as tea, it's cider (hard cider to Americans). Britain leads the world in the production and consumption of cider. Almost six out of ten apples grown in the country every year are used to produce the tasty brew.
There are a number of good reasons for that. Aside from its own merits as a beverage, cider is often at the heart of good time gatherings. This was plain to see at the seventh annual Outcider Festival, a summer weekend event in England's West Country that brought together an eclectic blend of over 30 different bands, artisans, food purveyors, and a generous selection of locally brewed scrumpy cider.
Although the main stage setting was decidedly rustic (the festival took place on a farm), the lighting kit supporting the high-energy performances was strictly up-to-date, featuring CHAUVET Professional LED fixtures supplied by BH Sound & Lighting Hire.
James Marshall of BH joined with Finlay Wort in designing the lighting kit. Their focus in this collaboration was on versatility, as they knew they'd have to support an extraordinarily diverse mix of acts from polka punk legends The Dreadnoughts and ska bands, to Sunday morning "cider-obics" and rock sing-alongs.
"Fixture positioning, and keeping plenty of options open on the console were the keys," said Marshall, who has been lighting the festival since its inception in 2014. "As the LD, I wanted to give myself loads of choices through the use of groups, palettes and effects."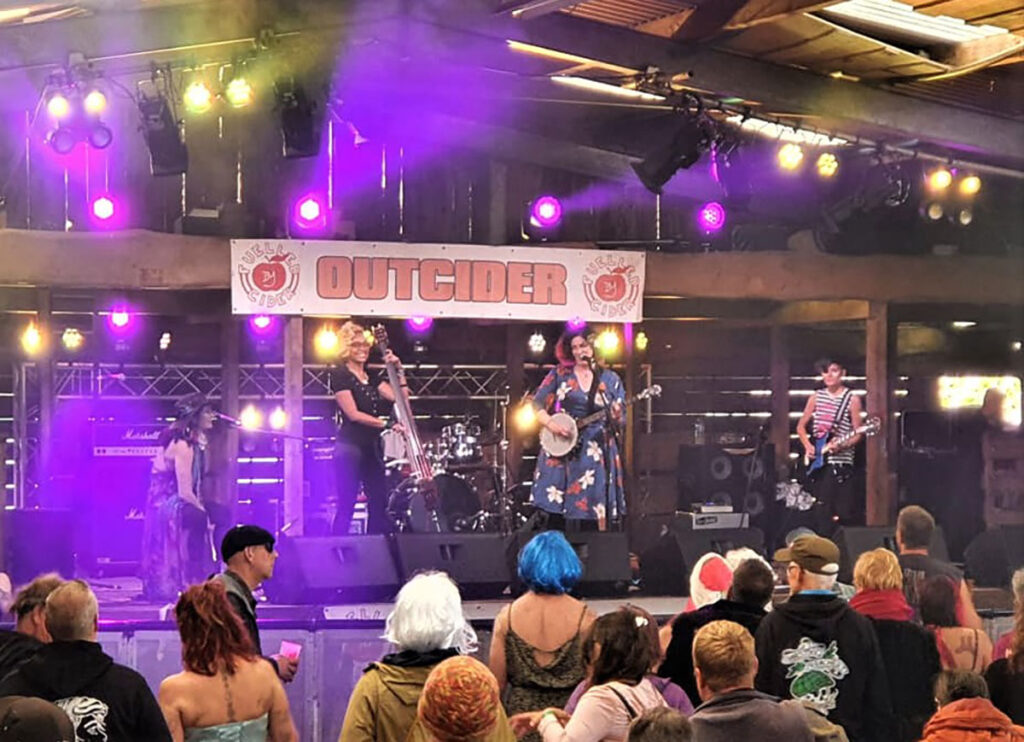 Marshall, who busked the wide variety of acts using his ChamSys MagicQ MQ70 console, described the process of running the boards during the festival: "You can never have too many options. You just keep programming, adding new looks and updating existing ones between bands to ensure each band has a fresh look, but most importantly, you have to follow the music and style."
Toward this end, Marshall split his eight Rogue R2 Wash fixtures into two groups to create more coverage options. "We had R2 Washes above and at the back of the stage for use as effect lighting," he said. "One way we gave ourselves more versatility was to utilize the zones and inbuilt programs in the R2s for a wide array of eye candy effects throughout the weekend.
"Focusing the rear R2 Washes down and the top R2 Washes up was really effective in creating a tunnel of light effect, with the band appearing at the end of it," continued Marshall. "From any angle, this was really effective in immersing the audience in a deep and intimate experience with the performers on stage."
Also in the festival kit were 16 COLORdash Par-Quad7 and four STRIKE 4 fixtures. "The Quad 7s were grouped close together in pairs at various positions and used as effects lights to almost mimic 2-cell blinders, but with color, random chases and strobing effects," said Marshall. "This opened options for creating widely different moods on stage depending on the band."
As for the STRIKE 4 units, they were placed behind the band and above the stage. From these positions, they filled a variety of rolls, serving as blinders and strobes in addition to being used to silhouette performers.
Even with its versatile LED lighting system, however, the performance area still retained its bucolic charm. "This is a working farm and the stage is actually a permanent feature of the barn," said Marshall. "It's used for sheep shearing when there aren't bands gracing it during the festival."
Marshall noted that the four chutes on the stage that lead down to sheep enclosures had to be boarded up during the festival "to ensure none of the band members accidentally disappeared mid-solo." Though given the effectiveness of the festival's lighting system, they certainly would have had an easy time seeing their way back up.