Appropriately on Europe Day, the European Parliament held the opening ceremony for its 2021 Conference on the Future of Europe entitled "The Future is in Your Hands." This forward-looking theme was clearly reflected in the event's setting, the modern hemicycle of the European Parliament Building.
Accentuating the architectural features of these surroundings, while also adding a warm, inviting touch to the proceedings, was a Dimi Theuwissen lighting design that featured a collection of CHAUVET Professional Maverick and COLORado fixtures supplied by Splendit.
Theuwissen, of Hasselt, Belgium-based ID2Q, was retained by DB Video to light the conference, which included a limited number of socially distant live guests, including French President Emmanuel Macron, who delivered the opening remarks, as well as online participants.
"COVID influenced everything about this event," said Theuwissen. "The number of people working at the same time was limited during load in and load out. We also had a limited number of people at the event. However, we installed giant LED screens that featured images of the on-line audience to create a connection between them and those at the conference."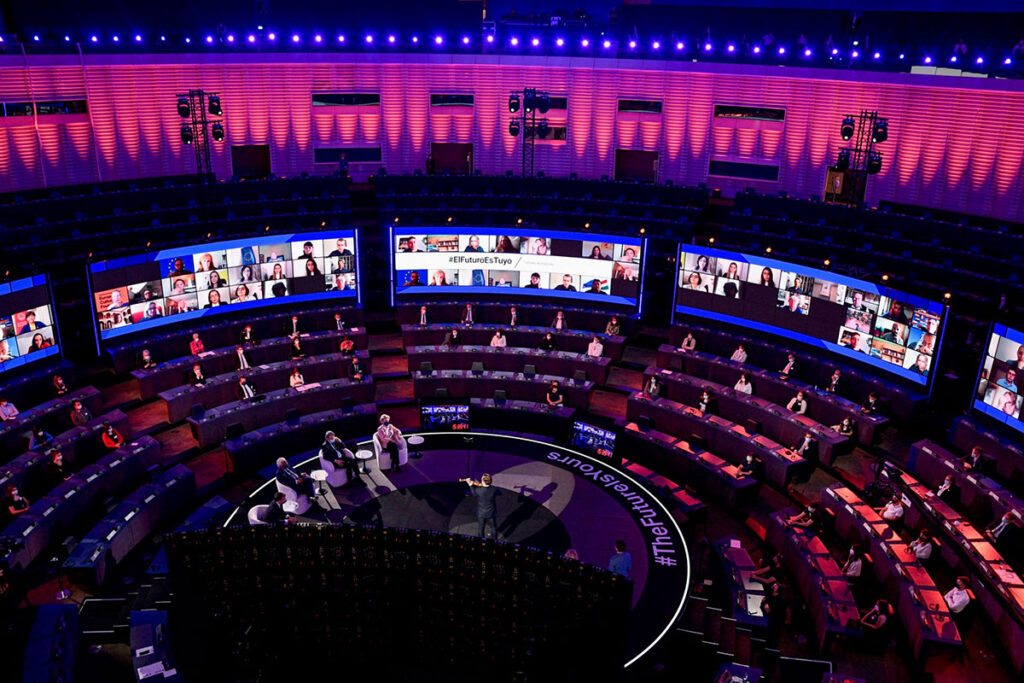 Whether they were involved in the conference live or online, all those who participated were engaged by the immersive lighting. Theuwissen relied on a collection of Maverick MK3 Profile CX and MK2 Profile fixtures for key lighting. As he does with all projects today, he was careful to balance his design to create looks that worked well for both live and online audiences.
Arranged in groups of four on truss towers that followed the contours of the hemicycle's wall, the 820-watt MK3 Profile CX and 440-Watt MK2 profile directed light at the stage from multiple directions to ensure smooth, even coverage. With a CRI of 92 (for the MK3) and close to 90 (MK2), the profile fixtures ensured natural skins tones with greater depth and more realistic colors on the set.
To add color and a sense of festiveness to the 55-meter by 44-meter room, Theuwissen lined the ring of the hemicycle's top balcony with 140 COLORado 2-Quad Zoom fixtures. The 14 bright, quad-colored Osram RGBW LEDs in each of the COLORado fixtures made them well-suited for the task of creating varied looks in the room through subtle color changes.
The hemicycle of the European Parliament Building was not designed to house livestreamed events like the 2021 European Parliament conference, but this event flowed seamlessly for those involved live and online. To Theuwissen, this was one of the most rewarding things about this project.
"I am very grateful to Robby Thijs of Nimblerr and Dimitri Beyaert of DB Video for not hesitating to pull me on board for challenging productions," said Theuwissen. "Being able to work in venues like this, which are not suited for this kind of production, with a team of enthusiastic creatives that push to achieve the impossible is why I love what I do."