The bonds that join us are always precious and invaluable, never more so than during challenging times. Multi-platinum singer/song writer Dierks Bentley tapped into this very human emotion with his new hit "Beers On Me."
Of course, Bentley can't buy everyone a cold, frothy beverage, but his current Beers On Me tour is treating fans across the USA to a warm, welcoming environment built on shared experiences. It's also providing an emotional and welcoming reunion for the singer/songwriter's production crew, who are savoring the experience of being together on the road again connecting to fans and entertaining them after a long lockdown.
Contributing to the positive atmosphere at the shows is a deep and immersive Bruce Rodgers production design, engagingly lit by Chris Reade with help from CHAUVET Professional fixtures supplied by Christie Lites.
"My job is to piggyback on Bruce's vision, and really push a perspective that pulls fans into the performance and personalities on stage," said Reade, who with his partner Jay Ballinger, is the owner of Las Vegas-based KYVA Design, LLC. "This design is very much about angles that engage you visually."
A key component of the set design is a V-shaped video wall. Roughly 50-feet wide at its widest point, the LED wall is used to show a mix of upbeat content, IMAG images and textures patterns.
"Sometimes we are unable to hang the video wall in the way it's intended, which is like looking down into a V," said Reade. "So, working within the angles of the set and the architecture of the lighting design, we make adjustments when necessary, but we always stick to that motif."
Complementing the colorful video images and washes on the stage, is Reade's inspired mix of cool and warm white light. Throughout the set are crossing bars of cool light, punctuating them with warm white fixtures in various configurations. The total effect is a beautifully balanced blend of intensity and mellowness that draws eyes to the stage without distracting from the performances by Bentley and other artists.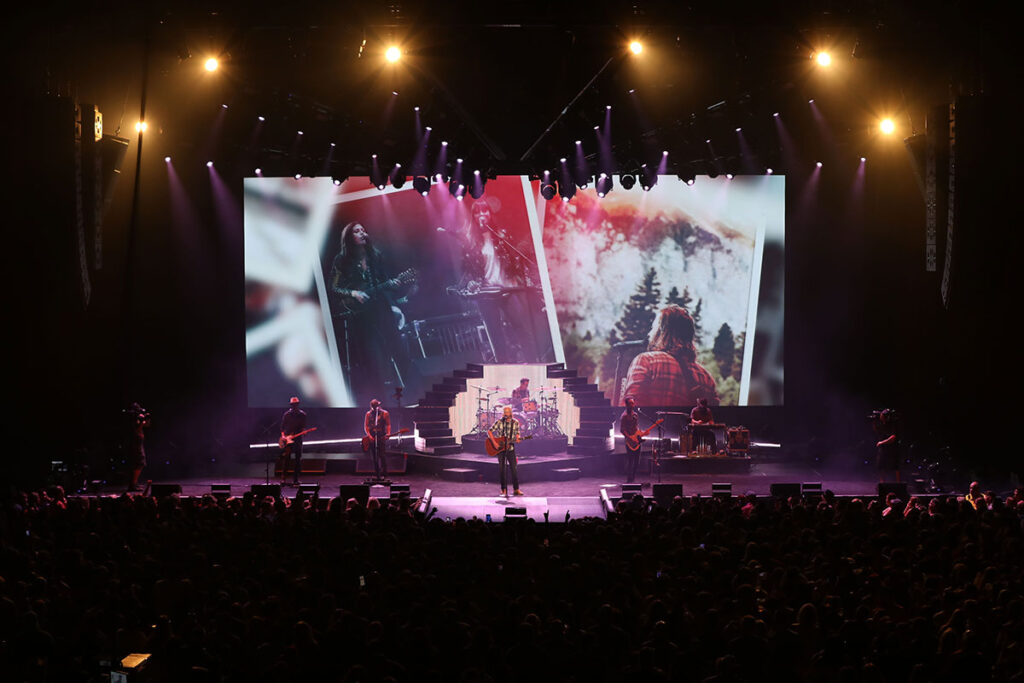 A key role making this overall design concept come to life is a collection of STRIKE 1 fixtures. Positioned on truss fingers that fan out over the stage in a V-formation, the high-output 230-watt warm white pods cast a glow that enhances the open, friendly atmosphere of the show. With a luminance of 1,119 lux at 5-meters, the fixtures are also bright enough to stand up to the big video wall.
"I absolutely love this instrument, " Reade said of the STRIKE 1 units in his rig. "I always seem to want it in the design because of the looks it adds and the depth it gives to the stage."
For his part, Reade is feeling good about being back on tour again. (He is running the boards for Beers On Me in addition to being its lighting designer.) "It's great to be out," he said. "This is especially true when you have a crew like we do including Marc "Chainsaw" Wuchter, Timothy "Tim Possible" Lighthall, Cecil Palmer, and Andrew Heid. Of course, our Christie Lites rep Rod "Red" Gibson also made things a lot easier."
Still, Reade acknowledges that he felt a bit uncertain when the tour began stating that at first he felt like he was "forgetting something." In no time, though he was back in the groove and "glad to be doing what we love doing – and glad concerts are back."
Fans turning out for the Beers On Me Tour will gladly raise a toast to that!