Postponed until 2021 due to the coronavirus pandemic, the FIFA Club World Cup Qatar 2020 was recently held with Qatar Vision Production Company (Qvision) producing and delivering the infotainment for all matches played at Ahmad Bin Ali Stadium and Education City Stadium, as well as developing, producing and managing the coronation ceremony on February 11 at Education City Stadium. Claypaky Scenius Unico, Hepikos and Sharpy Plus fixtures played key roles in the Qatar Vision productions, which included synchronized light-and-music shows before each match and the final ceremony crowning team Bayern Munich as the champion.
The FIFA Club World Cup Qatar 2020 was the 17th edition of the FIFA-organized international club football tournament between the winners of the six continental confederations, as well as the host nation's league champions. However, only six teams competed in the tournament because of New Zealand's withdrawal due to their country's COVID-19 quarantine measures.
"Claypaky has a wealth of products suitable for any kind of lighting show whether it's a large- scale stadium show or ceremony, corporate event or launch, small event or wedding — Claypaky has every thing you need," says Sharif Hashisho, Managing Director of Qatar Vision in Doha, Qatar who served as Executive Producer/ Artistic Director of the shows.
"Claypaky fixtures are very reliable products when it comes to show business. Working with products that will not fail during a show was an important factor in our selection," he points out. 'In addition, Claypaky has the brightest lights available in the market, so for stadium shows like these nothing could beat Claypaky products."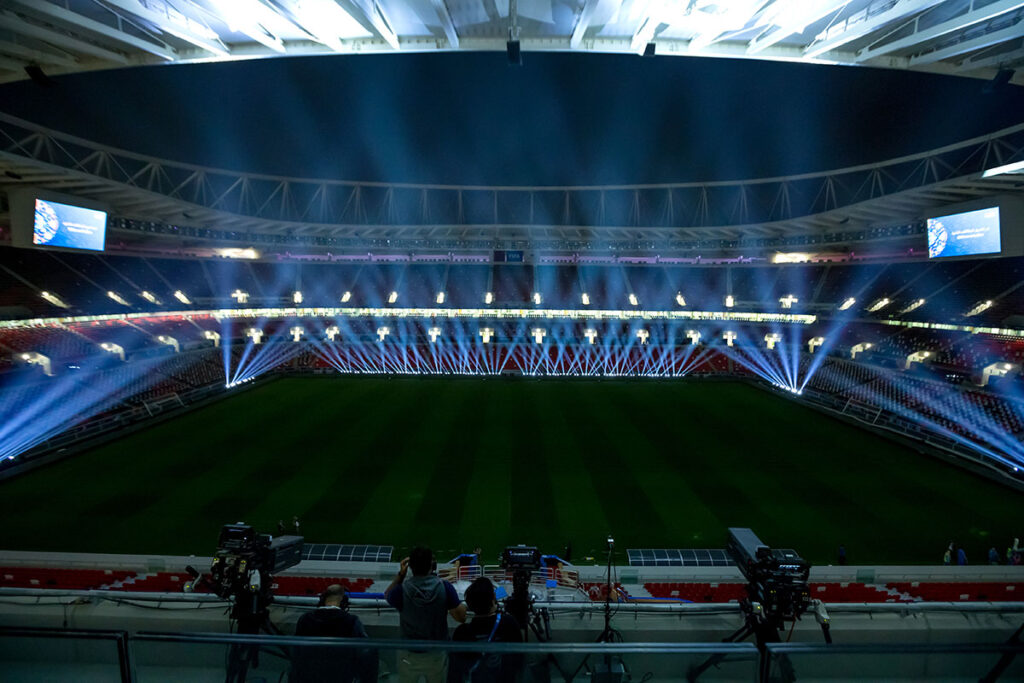 Qatar Vision utilized a complement of 80 Claypaky moving lights for the productions, consisting of 40 Scenius Unicos, 20 Hepikos and 20 Sharpy Plus. The lights where positioned on the stadiums' field of play atop 20cm-high StageDex opposite the VIP seating area. From that location they gave an optimal view of all lighting effects for both the match infotainment as well as the coronation ceremony.
"The lights created several effects to accommodate and synchronize to the music played over the stadium PA system," Hashisho explains. "Beam, chase and strobe effects, as well as several additional programs, were used to provide the right sequences needed for our shows. During the coronation ceremony the lights also created wonderful synchronized beam effects to accommodate the pyrotechnics of the closing ceremony." A five-minute fireworks display was staged from the Education City Stadium roof.
Mohammad Assaf and Mark Anton were the Lighting Designers for the productions.