Playmodes is utilizing 15 Claypaky Sharpys to illuminate its immersive installation "Exo," part of the Constellations 2021 international digital art festival in Metz, France running from July 1 to September 4. The Barcelona-based Playmodes collective works with tailor-made technologies mixing creativity, software and hardware to create immersive installations, projection mapping, architectural lighting, digital scenography, audiovisual instruments and sound design.
"Exo" is presented with the support of Vinci Construction France and staged inside the Temple Neuf, a Protestant church in Metz. It explores the structures of language and communication by using light and sound as an audiovisual language.
"Exo" represents a dialogue between a group of cosmic entities and features algorithmic xenolinguistics, the study of extraterrestrial languages in which the modeling of rhythmic and linguistic audiovisual sequences generates constantly evolving phonemes, words, phrases and speech. It is also a metaphor for earthly concerns: Communication between human cultures today poses a key challenge for harmony on our planet.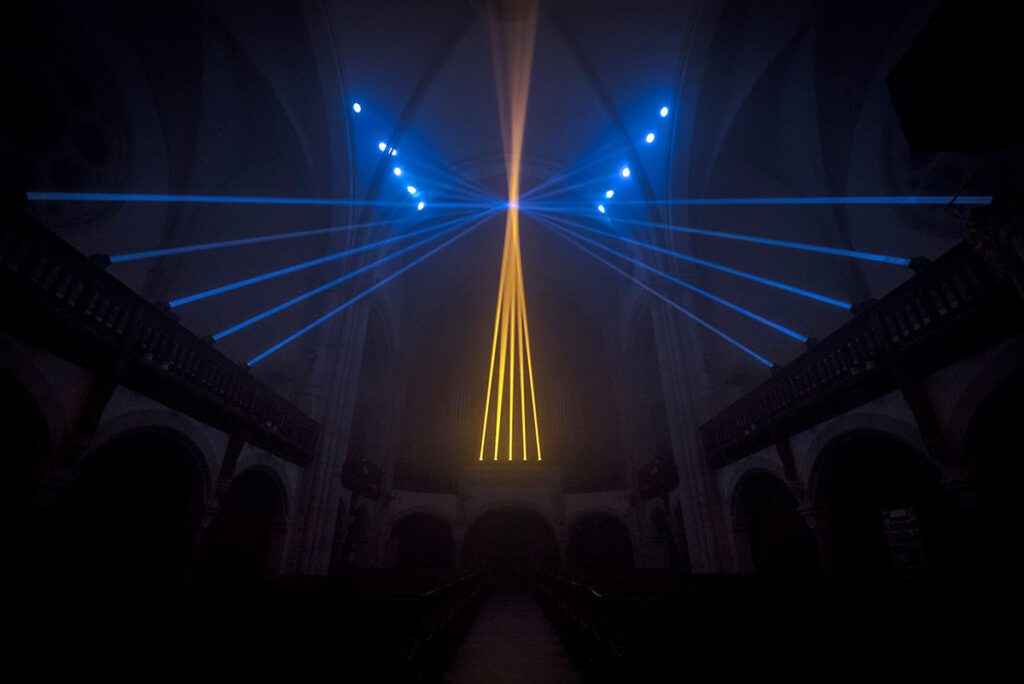 "With 'Exo' we've tried to experiment with how a new form of life, which is audiovisual, might communicate: Basically we're talking to an organism made of light and sound," says Eloi Maduell, CEO of Visual Research at Playmodes.
"We've used our own custom software, based on Low Frequency Oscillators and mathematical manipulations, to drive data that drives light and sound," he explains. "The language core is a stream of data that feeds light and sound engines, so we end up with super tightly synched audiovisual contents."
"Exo's" creators have developed a procedural workflow based on randomness, noise and probabilities so the show never repeats and is always algorithmically calculated in real time. The light and sound behaviors they create might mimic a conversation, for example, with the rhythm of information exchange giving the feel of a living organism.
To create the lighting effects for "Exo" Maduell mounted five Claypaky Sharpys in three different areas of the church where an "organism" resides.
"We love the Sharpy's parallel beam feature as well as its speed," he notes. "We consider Sharpys to be one of the fastest and coolest looking parallel-beam moving heads available."