The Community Christian Church stood empty when Kevis Mulchan lit livestreamed services during the height of the pandemic. Nevertheless, he worked hard to create looks that gave worshippers a greater sense of "being in church" even though they were watching on a TV or computer screen.
The skills sharpened during this period came in handy recently, when Mulchan, the church's visual arts director, lit "Night of Worship," a hybrid live/livestreamed musical celebration featuring Community Christian Church's worship team led by Craig Crynes.
In contrast to their work during the pandemic, when they didn't have to concern themselves with a live audience, Mulchan and his team (technical director Kevin Gomez and video director Bill Kelly), had to create a show that came off well on camera, while also immersing those present at the church.
"Our entire team, pushed themselves creatively to make this an enriching experience for the live and livestreamed audiences," said Mulchan. "I wanted what was on camera to reflect what was in the room with camera angles and front light color temperatures, as well as front light intensities and camera exposures."
Helping Mulchan accomplish this was a collection of 14 COLORdash Battan Quad 12 RGBA linear wash lights and eight Maverick MK2 Spot fixtures from CHAUVET Professional.
Arranged on a triangular structure that spanned the width of the center stage area, the batten fixtures provided a scenic focal point that drew livestream viewers and worshippers at the church into the event's performances. While they were doing this, the fixtures also washed the stage in deep, vivid, camera-friendly colors.
"Our previous stage design had a large center screen," said Mulchan. "We decided to shrink it down and go 'lighting heavy' in our center space. The triangle shape came out of what would look good based on the fixtures we had along with the rigging points/hardware that were available."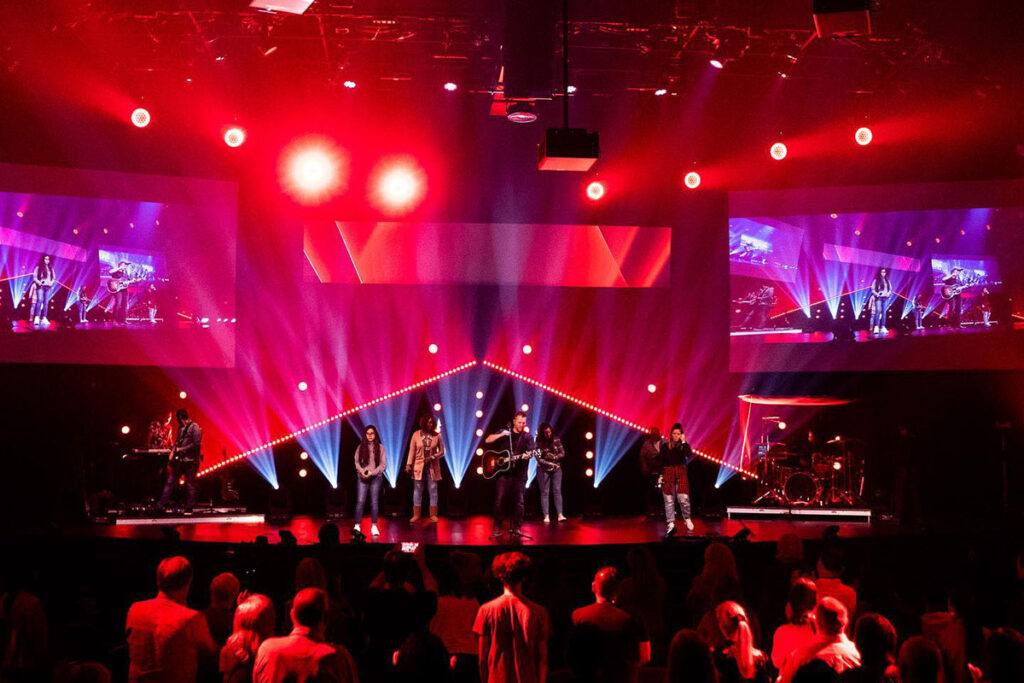 Mulchan also relied on the colors created by his washes to convey different moods during the event. "Our colors varied by the feel of the song and honestly by what I was feeling as well," he said. "I typically like deep, dark, saturated colors for ambient moments and bright, white, pastels for bigger moments. I do change up this methodology at times to keep things fresh."
During the hour long event, Mulchan also maintained fresh looks by varying the intensity level of his lighting. Color contrasting between warm and cool colors also contributed to the visual variations, along with the arrangement of fixture groups in layers and alternating when different lights were on, so all weren't used at all times.
The Night of Worship started with an opening acoustic set, which Mulchan supported with a very simple look. During the full band section that followed, he went into big, high energy looks, then tapered back at one point, before finishing up with a high impact flourish.
Making a major contribution to this multi-dimensional show were the rig's Maverick MK2 Spot fixtures, which were arranged on the stage deck. Used for aerials, specials, side lighting and back lighting, the 440-watt LED light cannon contributed to some of the evening's most dramatic moments. This included Mulchan's favorite, which occurred during an interlude in the song "Touch of Heaven."
"This is a very ambient song," said Mulchan. "During the interlude I had our Maverick MK2 Spots on the floor wide and white with layered gobos doing a slow circle effect silhouetting our vocalists with no key lighting."
It was a moving moment, not just for Mulchan, but for all worshippers. And it didn't matter if they were at home or at Community Christian Church's building. Thanks to the hard work and careful plan of the design team, this scene like all others during the event, was powerful, regardless of where worshippers were when they watched it unfold.