Visitors often stop to take pictures of the Town Bridge. That shouldn't be surprising. One of the first swing bridges in Britain to be powered by electricity, the venerable landmark, with its asymmetrical bowstring lattice girders, spike railings, and timber framed control tower, offers an evocative glimpse into Cheshire's industrial past.
Since it opened in 1899, the bridge has been a source of pride to local residents. During the past year of the pandemic, it's also served as rallying point, inspiring hope and reflecting determination by being illuminated in various color schemes during holidays and on special occasions.
The visual and emotional impact of these colorful displays has been very evident when CSP Audio Visual has illuminated Town Bridge with a collection of CHAUVET Professional COLORado Panel Q40 rectangular wash fixtures and Ovation E-260WW IP ellipsoidal units.
"Northwich Town council contacted us to light Town Bridge for VE day celebrations," said Alun Williams, Director of CSP AV. "The bridge was to be lit in the red, white and blue colors of the Union Jack. After the success of that project, the council invited us back."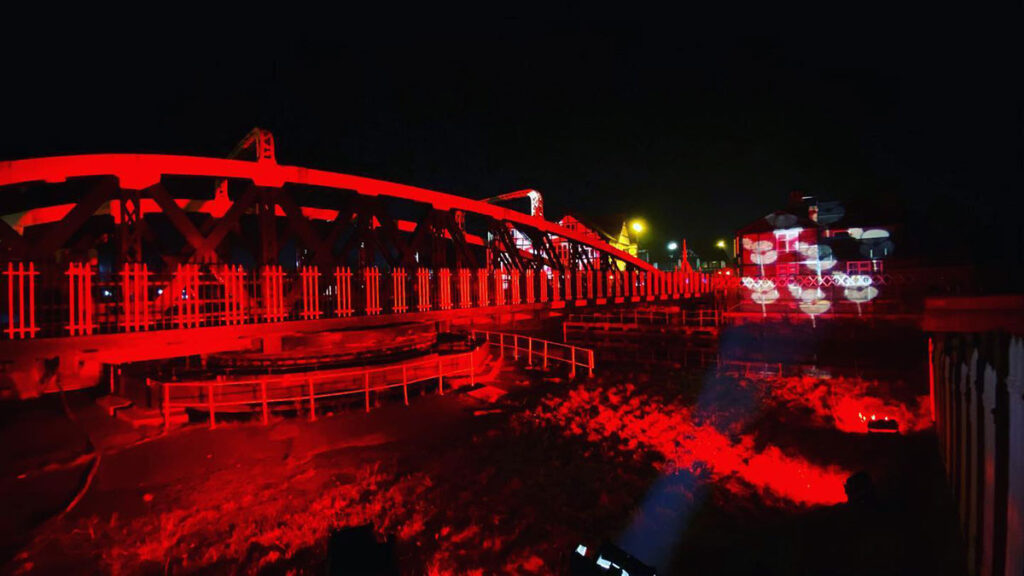 Positioned across the bridge and at the ground level of adjacent buildings, the RGBW IP65 rated COLORado Panel Q40 fixtures have been used to wash the span and its environs in vivid colors. The color scheme called for in the CSP AV design changes throughout the period when the bridge is illuminated to keep the visuals interesting for those who pass the site on a regular basis.
Playing off against the rich color washes of the COLORado units are gobo patterns projected from the Ovation E-260WW IP fixtures. Arranged along the base of the road, the units are used to project crisp thematic gobos across its surface of the bridge.
More than simply a beautiful, historic and symbolic structure, the Town Bridge is also a major thoroughfare for commuters in the Northwich area. Mindful of this, the CSP AV team focused light so it did not interfere with motorists. "Our main challenge was to keep the glare away from the traffic passing over the bridge," said Williams. "Through the use of filters s and fixture positioning, we were able to eliminate any glare to the traffic."
There was one kind of "glare" that Williams and his team appreciated, however. Looking at the bridge from afar, they saw how brilliantly their light reflected off the water of the River Weaver below.
"Seeing the colorful light reflect off the sides of the bridge and the flowing river itself was truly amazing," said Williams. "Knowing that this imagery was bringing a welcome diversion to people during this pandemic gave us all a good feeling."