MetaHumans, fashionless models, driverless cars… Dept, Byte (part of Dept), disguise, Epic Games and Mado XR join forces to deliver an out-of-this-world experience to brands.
Yesterday, Dept – one of the world's fastest growing digital agencies – partnered with Extended Reality (xR) pioneers disguise and leading games developer Epic Games to launch an xR experience helping brands better understand how the metaverse can transform the way people play, shop, interact and consume media.
Hosted by Isabel Perry, Director of Technology at marketing technology agency Byte (part of Dept), and held on disguise's xR stage in London, the real-time xR experience took exclusive attendees on a journey through the metaverse to show marketers how xR can create truly spectacular live brand experiences and ultra-efficient production capabilities.
Dept co-hosted the event with disguise: the leading platform for xR experiences powering everything from Billie Eilish and Katy Perry performances through to virtual showcases from Gucci, Under Armour and Siemens.
Combining cutting-edge technology that placed speakers in a virtual world built in Epic Games' Unreal Engine and delivered by disguise's xR platform, the experience was a proof of concept showing how brands can be brought into alternative extended and digital realities that go beyond traditional green screen environments.
Perry took viewers on a journey, opening the experience in a seemingly simple Zoom call which soon transformed into a fantastical xR world featuring stunning interstellar spaces, waterfalls, gravity-defying cars, a fashion show where Perry chose her virtual outfit in real-time and a scene that showed her taking selfies in different locations before seamlessly uploading the images to social media. Throughout the experience, Perry interacted with virtual elements, showcasing newly enhanced 'occlusion' capabilities in Augmented Reality (AR) by creating the illusion she was walking around the items, even though they didn't physically exist.
The experience ended with a panel discussion between Isabel Perry herself; Paul Doyle – Director, Product Marketing & Business Strategy at Epic Games' Unreal Engine; Tom Rockhill – Chief Commercial Officer at disguise; plus Louis de Castro, CEO, and Quentin de Fougeroux, CTO, at Mado XR, the creators behind Balmain's seminal xR fashion presentation. As further proof of concept, the ensuing panel discussion also took place within the xR world with a virtual aquarium behind the speakers while panelists on Zoom were "beamed" into the scene.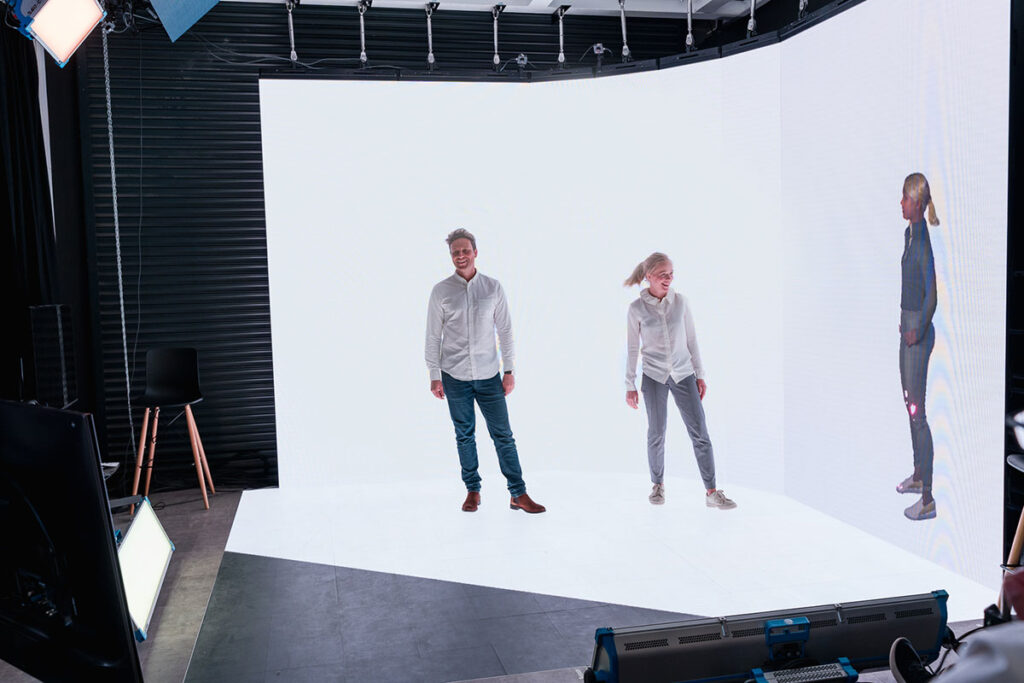 The experience additionally included a demonstration of Unreal Engine's new MetaHumans tool, which enables sophisticated but efficient creation of hyper-realistic, hi-fidelity digital humans. The MetaHuman was created by Dept by recording one of the team's facial expressions as they read the MetaHuman's script. The resulting expressions were then applied to the digital human so that it could deliver its lines authentically within the experience, thus showing how brand avatars can help smooth a brand's transition into the metaverse.
Bringing all virtual elements together was disguise's xR workflow, an award-winning platform that combines leading LED, real-time content, and camera tracking technologies to power immersive virtual environments that presenters and performers can see and interact with naturally and in real-time. With over 250 productions powered by disguise xR to date, from live music and corporate presentations to film and broadcast, disguise empowers brands and artists to tell their best stories by combining real-world images with computer-generated ones in a virtual environment.
Isabel Perry, Director of Technology at Byte (Part of Dept), said: "xR marketing is fast becoming the savvy new way for brands to satiate audiences' hunger for new experiences as consumer behaviour shifts even deeper into the virtual sphere. xR metaverses are jam-packed with innovative marketing potential. From live shopping to virtual stores, fashion shows, product launches, content production, live flagship events, enhanced social and pimping-up of Zoom calls, the possibilities that this hybrid digital/physical world offers are near-endless. And thanks to the ubiquity of highly sophisticated and efficient production tools, xR is no longer the stuff of fantasy. So it's time for forward-thinking brands to get involved."
Tom Rockhill, Chief Commercial Officer of disguise, said: "Since 2019, xR has grown eightfold, and is on track to reach an estimated market size of more than $209 billion by 2022. Brands that want to create amazing experiences to reach their customers can now let their imagination run wild – opening up huge possibilities for creative storytelling.