DiGiCo's Quantum7 is the FOH desk of choice for San Diego's stunning new outdoor concert venue, with an SD10 on duty for monitor mixing and an SD12 always on standby for auxiliary needs.
The $85 million Rady Shell at Jacobs Park, the brand new outdoor home of the San Diego Symphony, is an architectural wonder on the edge of San Diego Bay and in the heart of the city's downtown. Designed to complement the sails of the nearby San Diego Convention Center, the concert shell is wrapped in a translucent flexible material that covers a generous 13,000-square-foot performance space for accommodating the full orchestra and guest artists. Depending on the event, audience capacities and setups are able to vary widely, from intimate two- and four-person table seating arrangements to standing crowds of up to 10,000.
As an outdoor symphonic space, "The Shell," as it has come to be known, has a large PA system integrated into the venue as part of its infrastructure, and the immersive nature of the PA system requires powerful and sophisticated mix platforms to control it. That's why the San Diego Symphony chose three DiGiCo consoles for the task. A Quantum7 is installed as the front-of-house mix desk, with a DiGiCo SD10 for monitor mixing and an SD12 on hand for any auxiliary mix and processing needs. The three consoles, three SD-Racks located on stage, and a Mini-Rack in the amp room are all on a dual Optocore network, and the entire system was designed and integrated by Solotech.
"There are several reasons why we chose the DiGiCo consoles, and they are all areas that the brand excels in," says Aaron Beck, Business Development Manager and Senior Engineer at Solotech. "First, there's capacity—the Quantum7 can run 200-plus inputs. Then there's the Quantum processing power." Becks cites features like Quantum's Mustard Processing channel strips, Spice Rack plugin-style native FPGA processing options, and Nodal Processing all as standout features. "Plus, there's the overall quality of the sound, which is exceptional," he says.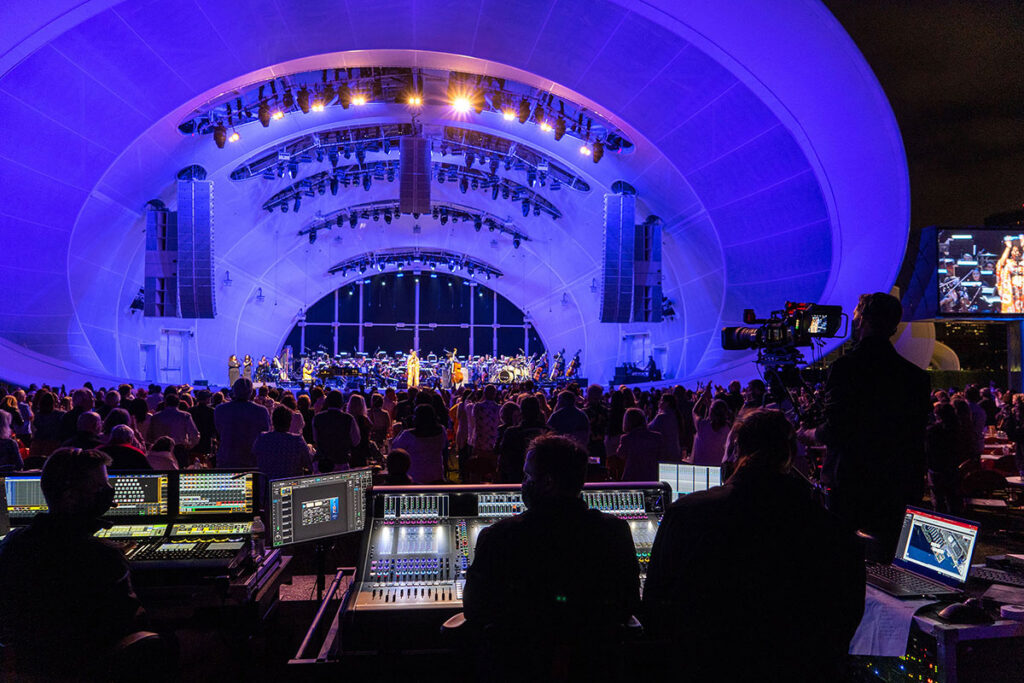 The Rady Shell at Jacobs Park will see scores of visiting touring groups each year, many of whom will bring their own audio engineers and all of whom will be familiar with DiGiCo console architecture and operation. That familiarity will be important for more than just operational reasons. Jacobs Park is located within a major metropolitan area that, like many, has stringent noise regulations. San Diego has deployed NTi Audio noise measurement devices nearby that automatically issue reports via cellular data to key elements of the city's environmental control, as well as directly to the house engineer at Rady Shell. "The venue's engineer can adjust the overall volume of the entire system from the FOH console when necessary to keep every show within compliance," he says.
Founded in 1910, the San Diego Symphony is the oldest orchestra in California and one of the largest and most significant cultural organizations in San Diego, and performs for more than 250,000 people each season, offering a wide variety of programming.
Joel Watts, the Symphony's Audio Director, says the way the three DiGiCo consoles are networked on their own Optocore loop, along with a BroaMan Route66 Optocore AutoRouter, makes the entire console infrastructure effectively modular. "A single orchestral show here is 90 inputs, so being able to use all of the consoles, if necessary, as a single system is extremely helpful and efficient," he says. "And console features like Snapshot really add to that. It lets us manage a large number of inputs easily."
Watts further notes that the 32-bit "Ultimate Stadius" microphone pre-amps on the SD-Racks are the next best thing to the kinds of high-end mic pre's he'd choose in the studio for recording classical orchestras. "My background is in studio production, and we're recording most of the performances here for later postproduction, and the DiGiCo mic pre's sound fantastic," he says. "We're also doing all of our television streaming of concerts through them, too. No coloration, fully transparent—that's what you want for classical music. It makes it sound like a CD. You couldn't ask for more from a console in this kind of situation."
For more details on the new Rady Shell at Jacobs Park, visit www.theshell.org. Solotech can be found online at www.solotech.com.

www.digico.biz
Photo: © David Estrin Productions