LD Herrick Goldman chooses proven IP-rated range for flexible performance space lighting at city's new and unique artificial island park.
An island oasis in the Hudson River west of Manhattan, Little Island @Pier55 is receiving praise as a unique arts area and green getaway from the hustle and bustle of urban life. Made up of 132 pot-shaped planters suspended above the water, the park's topography holds a lush landscape of rolling hills, walking paths and open lawns. Nestled among the island's more than 390 species of flowers, trees and shrubs are performance spaces outfitted with Elation Professional IP-rated automated luminaires.
Designed by Heatherwick Studio and landscape architecture firm MNLA, the 2.4-acre artificial island park, funded by the Diller-von Furstenberg Family Foundation, is a new public park with performing art as an integrated component. A 687-seat amphitheater with views across the Hudson, a smaller stage for 200 visitors, and an open plaza, are all designed to host a range of programming.
Providing tools, respecting aesthetics
Early in 2020, just before Covid struck, Josh Weisberg of Navolo Audio-Video brought Herrick Goldman onboard the project to help in designing and specifying the lighting systems. Goldman, Founder & Principal Designer at Evoke Collaborative (Evokecollaborative.com), was asked to provide a lighting design that met the demands of a client who placed extreme value on aesthetics. "Mr. Diller did not want anything to distract from the beauty of the project so we paid very specific attention to keeping a very clean look," Goldman says. "My job was to not only navigate that but also provide the tools necessary to anyone performing in the amphitheater."
Goldman worked with Little Island Production Manager Kelsey Martinez and Audio & Lighting Supervisor Patrick Lachance to create both useful and visually pleasing looks with focus points, presets and palettes that incoming designers or park lighting technicians could have at their fingertips. All lighting for Little Island was supplied through WorldStage.
Finding the perfect plot
The amphitheater, nicknamed The Amph, sits at the western end of Little Island. The architects designed six masts into the park around the amphitheater, which has a thrust stage 35 ft. wide by 54 ft. deep with audience on three sides and the Hudson River to the west. Wanting to find an ideal fit for the space, and needing a rig that was IP65 rated to withstand the extremes of New York weather, the lighting plot and spec underwent several modifications. "We went through seven or eight different iterations," Goldman explains, "starting with a more theatrical plot with acting areas. That led to the need for too many lighting fixtures however, which didn't fit in with the budget or the directive of a clean aesthetic." Following discussions with the client about a 'leaner and cleaner' plot, a visit to the WorldStage shop in New York ensued in order to demo possible fixtures. There, Goldman auditioned several luminaires in Elation's Paladin and Proteus series, eventually choosing the Paladin™, a hybrid LED wash/strobe/blinder with zoom, and Elation's 50,000-lumen Proteus Maximus™ LED moving head.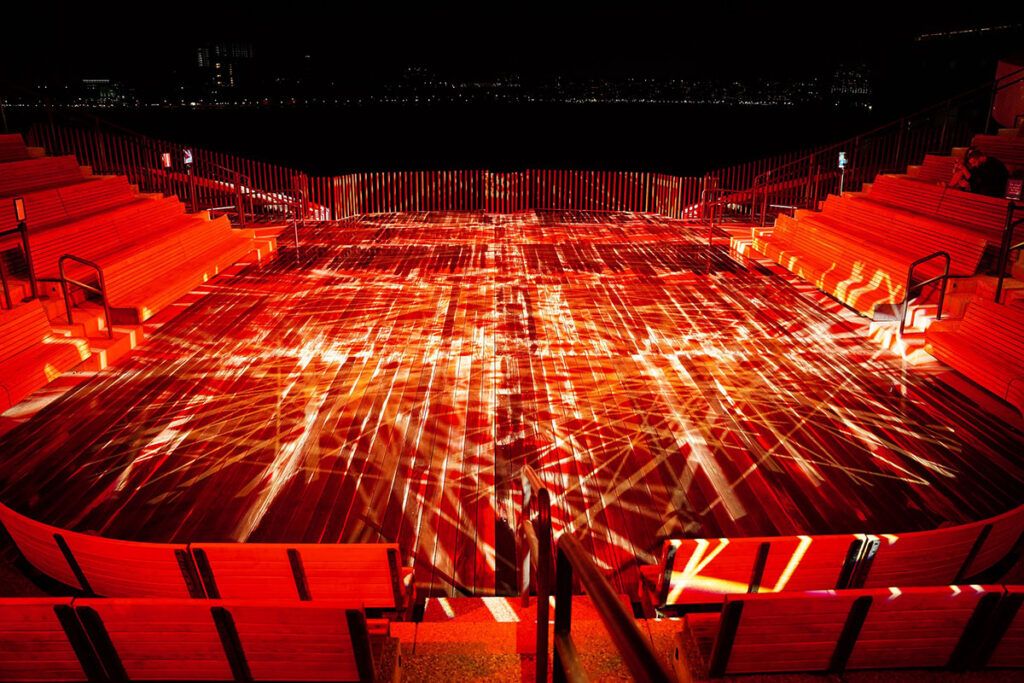 Paladin
Goldman says that instead of putting up a load of PAR cans, which would have looked cluttered, he chose to mount eight Paladins on each mast. "With a three-quarter thrust stage, you have to light from every audience member's point of view, not just one angle, so you need to cover 270 degrees. Once we mounted the Paladins and turned them on we zoomed them wide and it covered the entire amphitheater, including the seats, in a giant wash of saturated colors. The throw distance and intensity was incredible," he said, adding, "Even though you've spent a year specifying lights and you've been hands on with them in the shop, until they are installed you're always a bit unsure but the Paladins worked out great."
Maximus
Hung below the Paladin fixtures on each mast are a pair of Proteus Maximus LED moving heads to form a flexible setup that gives guest performers a host of options. "We can have somebody performing center stage and hit them with four Proteus to cover all the angles and still have 8 Proteus to decorate the stage with," Goldman states. "We can put a gobo in and zoom out to cover the stage in texture, which really adds to the tonality of the scene. It's really quite beautiful and everyone is very happy." Throws from the masts range anywhere from 80 to 150 feet with all of the Proteus programmed to focus to any of 16 different areas.
White balance
The designer says one of the first things he does when he starts to create the on stage look is to build a 'show white.' "Because I'm not the end user and there are so many potential shows coming in there, even a fashion show or a film shoot for example, I want to give them a choice of daylight color, 5600K, 5200K, 4800K, all the way down to 2700K." When he turned on the Paladins and used his light meter to try to achieve those values, the white balance for each of the light points across the board was excellent. "I knew the CRI would range anywhere from 72 to about 84, which is great for an LED wash, but when it came down to the balance I thought they might be a little green or a bit pink, but as we played with them, especially adding and subtracting the white LED chip, we got really great color out of them. We were very close to the target each time which made my job much easier." Then, he says, they turned to the Maximus. "We dialed up the CTO wheel on the Maximus and hit all of the white balance targets so easily that we barely had to dial in any other color to get there."
The Glade
With nature and art its symbiotic elements, the island garden offers other smaller areas for even more intimate performances. The Glade on the south side of Little Island is a seating and sloped grass area that can accommodate 200. Here, eight Elation SixPar 200 IP™ PAR lights and a pair of Paladins provide simple color-changing illumination for the 16-ft wide stage. The Paladins, used for front light from about 60 feet, can zoom in to someone sitting on a stool or zoom wide enough to cover a band.
Little Island opened on May 21 to praise and applause from local New Yorkers and visitors alike. The new park hosts a range of diverse programming, the majority of it free, with a calendar that includes local artists, headliners, and genre-focused weeklong festivals. Pop-up art experiences will be a regular feature as well.
Photo: © Herrick Goldman