Winky D and Jah Prayzah both draw passion and inspiration from the same rich, deep and fertile wellspring that is the Zimbabwean musical tradition. However, the two gifted artists take this inspiration in slightly different directions; the former favoring chanting dancehall reggae beats, while the latter opts for a sound that is a bit more contemporary.
In both cases, the two have soared to superstardom in Zimbabwe and throughout southern Africa, each with a rabidly loyal following. Indeed, nothing divides the country's music lovers quite like the Winky-Jah debate. Many fans like them both so much that they can't decide between the two.
This February, they didn't have to, as Kayse Concert TV presented "Best of Both Worlds," a three hour pay-per view livestream that showcased the talents of both artists. The widely anticipated show met and exceeded all expectations, as it served up a nonstop outpouring of pure passion and joy, not only with its music, but also in terms of the stunning visuals created by the Events Evolution team with help from CHAUVET Professional Maverick and Rogue fixtures.
Lighting designer Kingdom Kudzerema and LED/Video Technical Director Tatenda Gaylord Rushwaya didn't play favorites, showering both performers with brilliant color combinations that often pulled together unusually bold choices, such as yellows mixing it up with greens.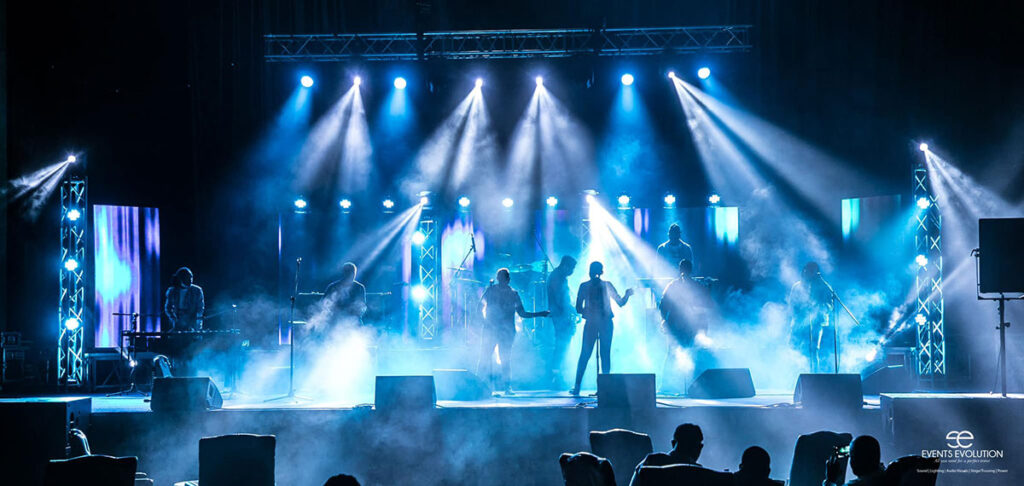 A collection of eight Maverick MK2 Spot fixtures, four on the back truss and four FOH, served as workhorses during the 6-9 pm show creating specials and gobo patterns, while highlighting the individuals on stage. Working with the FOH Mavericks were four Rogue R2 Spot units. Additionally, four Rogue R2 Washes were used to give the stage its distinctive palettes.
"The output and the correct positioning of the fixtures really helped in accomplishing the balance of light and LED screens," said Kudzerema. "Harmonizing light and video was critical to giving the stage a personality that came across in a livestream format."
Configured in an arrangement that had three larger center stage walls, flanked by narrow strips on each side, the video panels enveloped the stage, giving the overall show a smoothly flowing look. Rushwaya displayed captivating breakout patterns on the walls to endow the stage with extra excitement. At times, he created white light spaces in the middle of a wall to create a sense of depth on the relatively small (12-meter wide by 6-meter deep) stage.
Speaking of the design, Rushwaya noted: "It was important that the two elements of our show worked together to create a single impactful look."
The words accurately sum up the spirit of the Best of Both Worlds livestream, whether from the perspective of its two superstar artists, or its two talented visual designers.