"For us, every single one of our songs got big in a different way," Adam Met, one of the three multi-instrumental brothers who make up AJR told an interviewer. It's easy to see why. With their booming sound effects, blaring horns, distorted feedbacks, and eclectic vocals, the chart-topping trio from Manhattan seems to come up with a fresh new take on their music at every turn.
This endless well of creativity is one of the things that makes AJR a delight to work for, according to their lighting designer Ezra Donellan. Another is their seemingly inexhaustible supply of energy. Both were on full display January 20 on Squeek Lights' Ruby Stage, when after performing their hit "Bang" on The Late, Late Show with James Corden," the band forged ahead and recorded a video of their new song "Way Less Said," supporting by a lightshow featuring the CHAUVET Professional Rogue R1 BeamWash.
"So, one of most impressive things about this band is their ability to keep a high level of energy under all circumstances," said Donellan. "We were all excited to be able to perform "Bang" for James Corden's show, but rather than come down from the TV appearance, the band fed off the energy and recorded the video right there on the same Ruby Stage. In turn, I fed off their energy with my lighting. This is an example of why I'm extremely grateful to work for AJR."
The decision to shoot the "Way Less Said" video was made late in the game, which led to some intense brainstorming about set and lighting design. "It was last minute type of thing," said Donellan. "So, we all put our heads together fast on what could be interesting and different from a creative standpoint. We didn't want a typical 'music video look.'"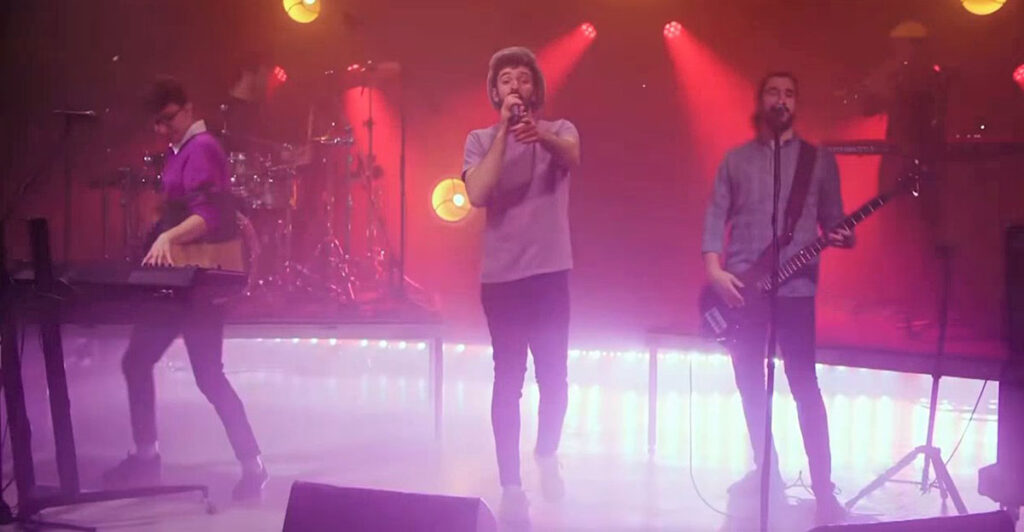 This collaboration resulted in a design that managed to be simple and tightly focused for the camera, while also reflecting dramatically diverse looks that blended touches of the theatrical and party with rock concert elements. Donellan credits the versatility of the 280-watt RGBW Rogue R1 BeamWash in the Ruby Stage rig with helping him achieve the balance.
"In my view, this is an awesome fixture," said Donellan. "I was particularly impressed by the zoom (3.4° to 67.7°). We had a very low trim height, but thanks to the zoom, I was able to get a tight, clean beam where I needed in and a nice wash throughout the stag. Dialing color temperature was easy."
Being flexible enough to create a wide range of looks, even on a small stage, is essential when lighting AJR with their freewheeling style. "The band really gives me the opportunity to explore lighting looks that are not always doable in a standard rock show," said Donellan. "There can be challenges figuring out how to transition from theatrical, to rock, to a crazy party, and then back to those intimate moments. But there is also the reward that comes from seeing the audience walk away feeling like they weren't just watching a show but instead were part of an experience."
When asked if it's fun to light such a multi-faceted band, Donellan responded: "Fun would be an understatement, Most days I am beyond grateful to work with a band that simply loves the production side of putting together a live show."