P1 processor's dedicated presets ensure K3 system delivers ultimate system versatility for expansive musical programme.
Israeli Opera is both the principal opera company and busiest hall in the country, producing top quality operas and playing host to some of the most prestigious artists from around the world. Located at the Tel Aviv Performing Arts Centre and owned by the municipality of Tel-Aviv, Israeli Opera is also home to regular shows by local orchestras and ensembles, delighting performing arts lovers with a multitude of first-rate productions. Over the years, as the venue began to expand its music programme, it became clear that the existing in-house PA was not capable of covering the diverse spectrum of productions and had to be augmented with rental equipment. Recently, venue management decided to perform a significant audio upgrade, choosing to install the new L-Acoustics K3 line array for its high-quality sound, excellent coverage, compact form factor and its ability to adapt to a variety of shows, from opera to rock and roll.
With the building closed due to the pandemic, Eyal Levi, Head of Light & Sound at Israeli Opera, decided to use the mandated downtime wisely and proceed with the audio upgrade. To oversee the project, the municipality employed the services of award-winning AV consultant, Harel Tabibi, who has previously worked with all major theatres in Israel and is renowned for his expertise and professional approach. Three top AV suppliers were invited to participate in the tendering process, with L-Acoustics official distributor, Lightone, being one of them.
Israel Opera House hosts the most prestigious shows in the country, so choosing a system that meets the stringent requirements of the visiting productions was crucial," notes Tabibi. "Having extensive experience of the Israeli sound reinforcement market, we knew L-Acoustics would tick all the boxes – sound quality, system integration and cost," adds Lightone's Tal Cohen Arazi. "Of course, we were right, as L-Acoustics far-outperformed the other two systems that were demoed, coming out as the clear winner."
Tabibi worked together with David Dohrmann and Willi Klein from L-Acoustics and Lightone's Assa Efrat, who also oversaw the installation and tuned the system, to create a system design, using L-Acoustics Soundvision that would deliver the best audio, based on the Israeli Opera's hall's specific architecture and sightlines. Charmer Group, which had previously worked with Tabibi and the Lightone team on other projects, was chosen as the preferred installation company.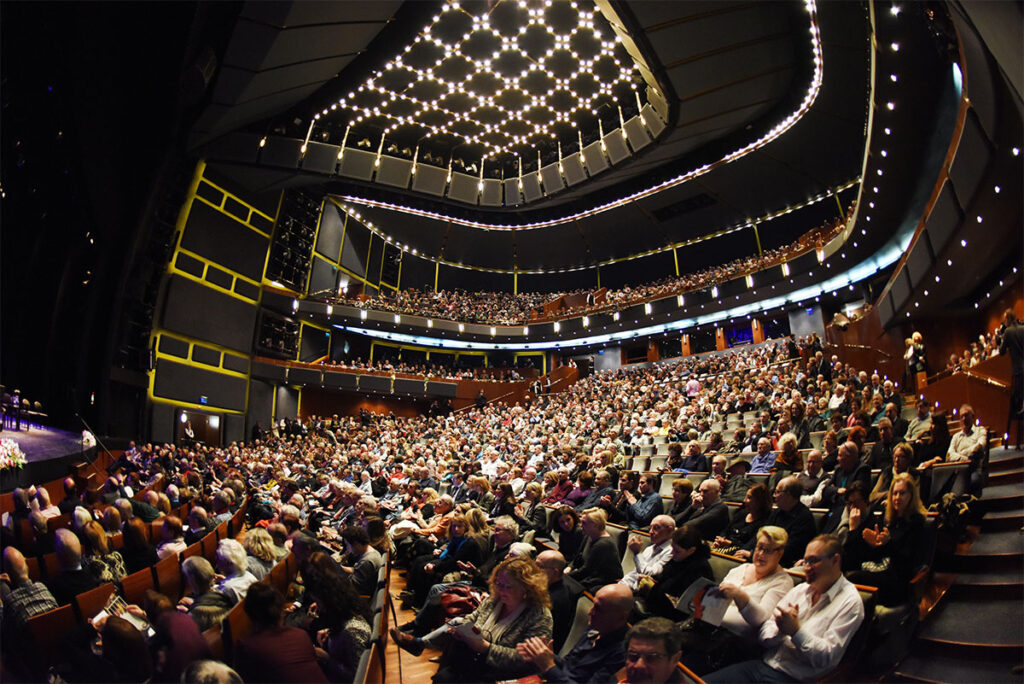 "Israel Opera house is also one of the most beautiful halls in Israel," explains Efrat. "Venue management wanted to ensure that both the stage opening, and the side view would be kept clear, so we couldn't put loudspeaker hangs in the audience sightline. Another request involved seamless integration of the centre and subwoofer cabinets with the translation screens."
"Due to the wide variety of shows, we also had to create a dedicated preset for each type of performance. We did that using two L-Acoustics P1 processors and a Q-SYS platform, which are fully interoperable thanks to a plugin released by L-Acoustics a couple of years ago," adds Tabibi. "This function, combined with the precise design done by the L-Acoustics team and Assa, delivered outstanding results."
The final system configuration comprises left/right main arrays of 11 K3 per side, with seven Kiva II flown centrally, flanked by two hangs of three KS28 subs in cardioid mode. Seven X8 provide front-fill, with 13 4XT for under balcony delay. A total of 14 amplified controllers, a combination of six LA12X, three LA4X, three LA2iX and two LS10, were installed to run the system.
The installation started in December last year and was completed by the end of February. After a year-long hiatus, in March the building once again opened its doors to the public with a new season of concerts and Israeli music shows, offering visitors unmissable performances with the highest quality sound and excellent coverage delivered by the K3 system.
"I am very happy with how the installation has turned out," adds Tabibi. "Since the opera's grand reopening, the L-Acoustics system has been bringing Israeli classics alive onstage, delivering audio that sounds clear and loud, and offers perfect coverage across the entire hall."
L-Acoustics Sales Manager, Florian Kunz notes that the teams at the Opera and Lightone worked hand-in-hand with Tabibi to make the best of the venue's downtime. "The quick-thinking and mutual support that brought everyone together on this project enabled them to be the first venue in the world to install the new K3 line array," he explains. "Coupled with Israel's early ability to re-open, the Israeli Opera is now a beacon of great sound and great entertainment."
"The new K3 system has elevated the audio in the hall to a new level and fulfils every wish we gave to Harel Tabibi and the Lightone team," concludes Levi-Sharon. "Their combined expertise, along with that of L-Acoustics, has ensured that the productions we host now have a system that exceeds their requirements, and our audiences are given the best possible experience."
Photo: © Rainer Jensen/dpa/Alamy