The new fixture provides excellent pixel visibility and sharp beams even from acute camera angles.
Lines of light are a popular and versatile design element for stage and TV shows. However, most of the solutions available do not meet modern design and camera requirements. With the FUSION Stick FS16 Z, FUSION by GLP is now introducing a contemporary LED stick in a weatherproof (IP65) design. These can not only be connected to produce absolutely seamless lines, in the tried and tested GLP manner, but thanks to innovative halo diffuser rings, placed in front of the individual light sources, develop a new optical effect.
The FS16 Z is based on the proven FUSION Stick FS20 with identical dimensions, so that all FS20 accessories are also compatible with the FS16 Z.
The FUSION Stick FS16 Z is populated with 16 x 20-watt RGBW LEDs. The motorised zoom ranges from 8 ° to 40 °. The 1m-long sticks are only 23.6cm high, 9cm deep, and, despite the weatherproof design in the high-quality die-cast aluminium housing, weigh only 13kg. Its innovative halo diffuser ring ensures the FS16 Z will create a real impact in every application without exception, but it is particularly relevant to the TV and studio markets.
Thanks to the ring surrounding the front lens, the visibility of the pixels in the camera has been significantly improved. The pixels are clearly visible even from very acute camera angles, whereas the lens is retracted far back into the housing in a conventional design, due to the zoom mechanism.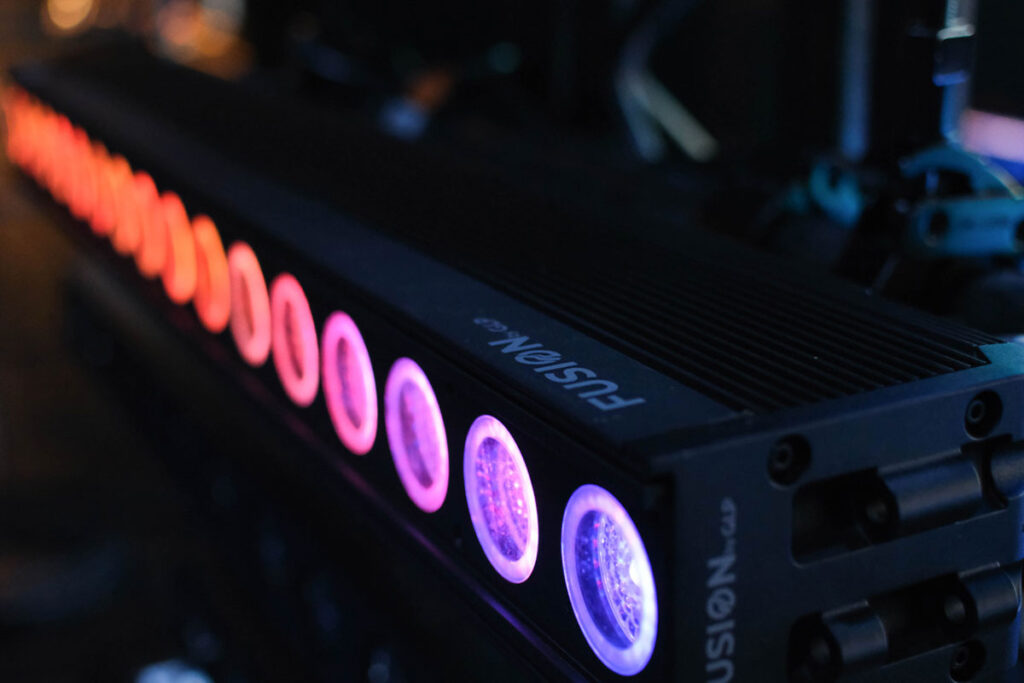 The fanless design ensures extremely quiet operation, which also makes the new LED stick ideal for noise-sensitive environments such as theatres or TV studios.
Various installation options ensure even greater flexibility and creative experimentation. The individual FS16 Z LED sticks can be connected to one another without difficulty, so that both vertically hanging, and ground-standing installations can be implemented with minimal rigging effort. Two different dimmer curves and four control modes up to a maximum of 79 DMX channels are available. Meanwhile, the built-in FX engine makes it easy to create impressive, dynamic looks.
"The FUSION Stick FS16 Z is yet another GLP development that is a direct response to immediate market demand," said GLP managing director Udo Künzler. "During countless conversations with lighting designers, we kept hearing that there was still room for improvement in the area of LED sticks—especially for applications in front of the camera. Although we already had a weatherproof LED stick in the FUSION Stick FS20, which could also be seamlessly connected with the same pixel spacing, the effect in the camera image was not yet ideal for many designers and lighting cameramen.
"If the camera is looking directly into the stick, you can't turn up the brightness too much, otherwise the devices can easily outshine them. On the other hand, from an oblique camera perspective, most LED sticks appear as if they were not switched on at all.
"This problem has now been resolved with the FUSION Stick FS16 Z. Designers and DoPs can now use LED sticks in TV and studio applications in an even better, more creative and versatile manner. But even away from the camera, the FS16 Z, with its halo ring, is guaranteed to be sensational. "
Photo: © Thomas Gerdon