The energy and imagination of leading Brazilian lighting designer Paulinho Lebrao from design practice FOH excelled to create epic lighting for a spectacular and vibrant production of Auto de Pascoa (Passion of Christ), staged in the main auditorium of the Igreja da Cidade Campus Colina church in Brazil. Choosing a full grandMA3 package – software and hardware – for lighting control, this acclaimed production was staged in the church's main auditorium in Sӑo José dos Campos, Paraiba Valley, about 80 kilometres from Sao Paulo, and streamed worldwide.
This show was directed by Leila Paes who is also one of Igreja de Citade's lead pastors. A specific request to Paulinho was not to see any major moves with the lights, and to keep the physical presence of all the technology low key and blending into the background!
Paulinho took the visual and sonic finesse of Michael Souza's set design, beautifully fluid choreography by Ana Carolina Paes and dramatic music directed by Fred Tavares as his starting points for lighting, plus the presence of a large choir, to create a hugely dynamic aesthetic. He received additional inspiration from director of photography Mailon Silva, and his whole lighting treatment was further informed by the primary need to light this 2021 show for camera / broadcast.
When it came to choosing a lighting console grandMA3 was a complete "no brainer" for Paulinho! He is a huge fan of the brand, which, coupled with his love of new challenges and eagerness to always push the envelope both creatively and technically, meant he did not even consider another option! "The grandMA3 delivers everything I need," he commented, explaining that he had spent 2020 and any downtime during the pandemic "jumping up" from grandMA2 to grandMA3 after more than a decade of being delighted with the well-known and loved grandMA2. The main console for Auto de Pascoa was a grandMA3 full size with a grandMA3 light as backup.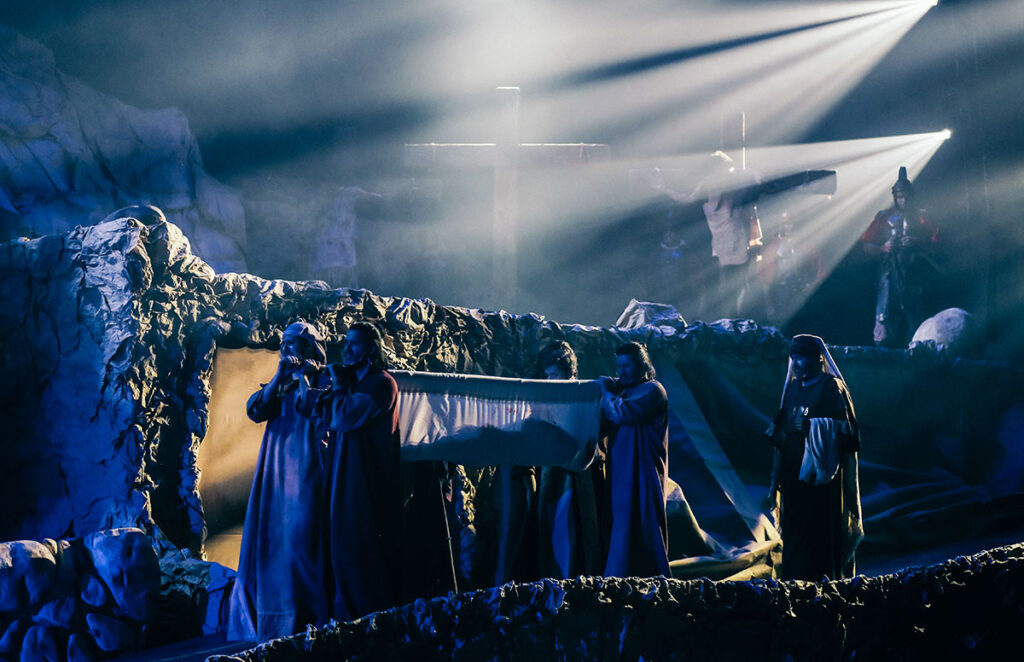 Approximately 100 moving lights plus some conventional fixtures were on the lighting rig, 90 per cent of which were LED sources, all delivered to the show by well-known Brazilian rental specialist, LPL. Paulinho had previously very successfully lit some smaller shows using the full grandMA3 set up, and the smooth running of these gave him the confidence to specify it for this very high-profile event. While Auto de Pascoa wasn't a complicated show for lighting programming in terms of the music, one grandMA3 feature making life "infinitely easier" was the Selection Grid which facilitates the fast building of Phasers (effects) and individual times.
Paulinho also found himself using Gestures multiple times to quickly navigate and adjust settings. "That was fantastic because most of the functions can be tweaked just by using your fingers on the screen," he enthused. Overall, he thinks the console is "very stable and powerful" and he credits the proactivity of the MA Lighting R 'n' D team for always having their fingers on the pulse and ears to the ground, "keeping one step ahead, looking into the future and almost designing and implementing functions before we even know we need them!" he says with a smile.
The biggest challenge of lighting this year's Auto de Pascoa was in ensuring that all the detail could be captured on camera and getting that delicate balance between drama and the epic nature of the piece one minute, and intimacy and honesty the next, all of which required meticulous contrasts and shadows initiated by smart and sympathetic lighting.
He paid particular attention to gobo work, texturing, subtle movement and layering effects, building some intricate cues for subtleties like water, reflections, and fire. One of the most galvanising scenes was lighting a massive, angry storm that surrounded a little boat in the middle of a vast ocean followed immediately by a normal sunny day in the city of Galilee.
A limited live audience – 1,400 per show, down from the usual 8,500 – were allowed into the venue, but the main objective was for it to reach a broader streamed audience. Paulinho lit the show for the first time in 2018, then again in 2019, asked onboard by Leila Paes. The 2020 event was cancelled due to the pandemic, but it was back on – with renewed enthusiasm – for 2021, with eight performances running throughout the full Holy Week of Easter.
Working alongside Paulinho on crafting the light show was his lighting assistant and operator Nicholas Rafael, LPL crew chief Rafael Silva and of course LPL project manager Caio Bertti who oversaw everything from their end. Gabriel Felipe was the Church's crew chief, the video director was Samuel Rocha, and technical director Carlos Cruz co-ordinated the assorted production staging and technical disciplines and departments.
MA Lighting's distributor in Brazil is the HPL LIGHT COMPANY based in Guarulhos, Sao Paulo.
Photo: © Igreja da Cidade Campus Colina