Thomas Gerdon debuts a new type of LED batten that is universally suitable for cameras.
For many years Thomas Gerdon from Gerdon Design has been in charge of lighting the German TV show Verstehen Sie Spaß (Do You Understand Fun?), in which unsuspecting people are victims of pranks and filmed with a hidden camera. Kimmig Entertainment GmbH produces four editions a year in the Bavaria Studios in Munich, two of which are broadcast live. The first live edition on 17th April 2021, provided the space and opportunity for a world premiere of lighting technology: the brand new FUSION Stick FS16 Z from FUSION by GLP was used for the first time.
As lighting designer and lighting cameraman, Gerdon used the new LED battens on the show stage during the performance by Sarah Lombardi and Luca Hänni as an effective show light. Six towers were placed on the stage, each of which had two horizontally hung FS16 Z LED battens in addition to further spotlights. "Our goal is to develop an individual lighting design for each show act, so we were extremely pleased to be able to test the FS16 Z in a live situation for the first time within the context of this show," said Gerdon, who had been keenly anticipating the arrival of the new batten.
Halo ring makes for great camera looks from every angle
"There are countless LED battens on the market, but not one that is really fit for purpose," said the designer. "With the FUSION Stick FS16 Z, GLP has once again developed a device that can do everything that an LED batten needs to be able to do today. The batten has a good zoom (8-40°), a great colour mix and is IP65 rated. Nevertheless, it is not particularly big or heavy. With these features alone, it is basically suitable for every application, both indoors and outdoors, without exception. The highlight, however, is the new halo diffuser ring, which makes a huge difference in the TV business."
Speaking about the further evolution of the popular FUSION Stick FS20, GLP key account manager, Oliver Schwendke, said: "We developed the halo ring around the front lens to improve the visibility of the pixels, especially in TV applications. The FS16 Z's individual pixels are clearly visible in all camera angles and still allow razor-sharp beams. Thanks to the IP65 protection, the battens can be used outdoors without restriction even in poor weather conditions. The convection cooled design means there is never any fixture background noise, which is why it is also suitable for noise-sensitive environments such as theatres or TV studios. Like all GLP LED bars and battens, the new FS16 Zs can also be seamlessly connected to one another, which not only makes great, even effects possible, but also shortens set-up times."
For Thomas Gerdon, who works extensively in the TV sector, GLP has hit the nail on the head with the FUSION Stick FS16 Z: "For us, the new batten is really a precision landing! The special thing about GLP is that they listen, and then implement 100% what the market demands. And if there is still further feedback following a field test, the team continues to listen, and works consistently to refine the device. This is how outstanding products are created time and again.
"In TV applications, LED battens were always somehow inferior," he continued. "They are used as a self-luminous object at relatively low intensities so that they do not shine sufficiently brightly when the camera is shot from the front. From an oblique camera angle, however, such battens quickly look as if they weren't even on.
"The small halo ring on the front lens is awesome and has finally eliminated this problem," states the lighting designer. "This frost ring really makes a huge difference. At the same time, the batten looks very nice overall, because the ring itself stands out from the light source. That provides great looks in the camera from every angle."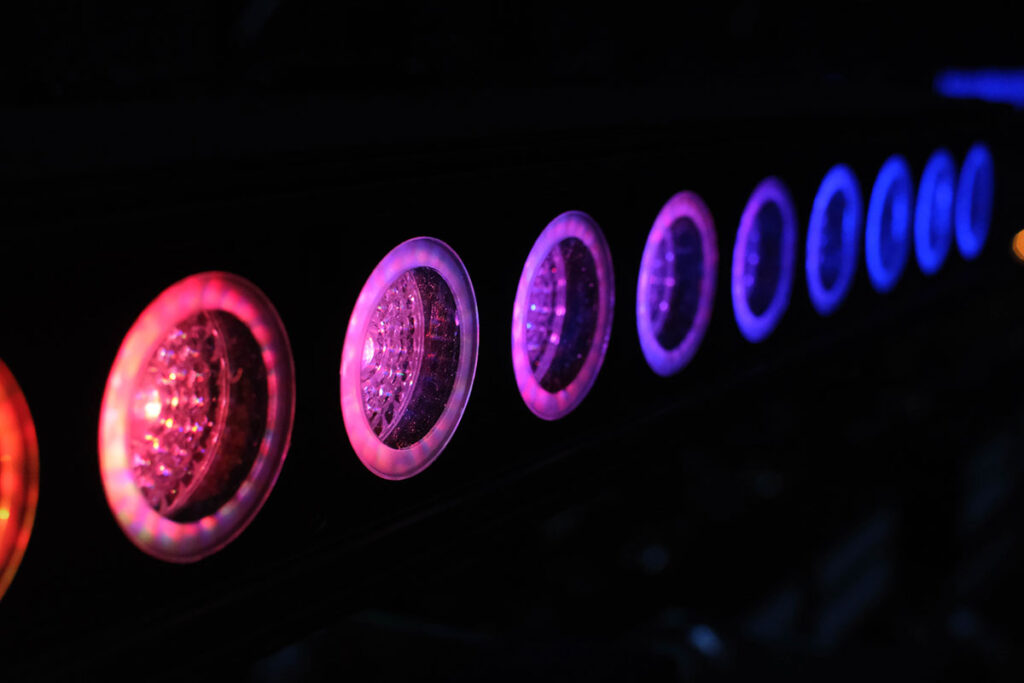 An LED batten for all applications, without exception
Although the FUSION Stick FS16 Z fits perfectly into studio applications, Thomas Gerdon basically sees it as suitable universally: "Thanks to IP65, I can imagine the batten anywhere. For example, at an outdoor rave I would have a nice, bright LED batten that offers a cool extra with the frost ring. But it is also suitable as a single spotlight, as a decorative lamp or as an ambient light. And when thinking in terms of larger quantities, the really attractive price point becomes a determining factor."
He concludes: "There are a lot of LED battens on the market, but GLP has succeeded in building one that can do everything better than the others. The use of the fixture on Verstehen Sie Spaß? was a first test that makes you want more! "
As an integral part of the set, the show also includes 30 GLP X4 Bar 10, 20 X4 Bar 20, 27 GT-1, 24 impression X4, 83 X4 L, 18 JDC-1 and 24 JDC Line. The lighting technology is supplied by PRG, with Carsten Hempfling as the on-site manager.
In addition to Thomas Gerdon (LD, DoP), the Gerdon Design team consists of René Gamsa (lighting technician), Felix Heilemann (effect light operator), Klaus Kubisch (white light operator), Marek Papke (Media Server operator) and Leon Schwerdt (Server Farmer).
Photo: © Marek Papke