The Creative Light 1 marks the beginning of a whole series with innovative mesh technology.
GLP's Creative Light 1 (CL1) and Creative Light 1 Plus (CL1+) are the first battery powered and completely wireless creative LED systems on the market. They are designed for maximum flexibility in an almost unlimited range of applications for professional and semi-professional users alike.
Both feature 24 RGB LEDs and offer countless design possibilities with features such as main colour control, colour patterns, a sound-to-light feature via an integrated mic and three dynamic pattern macros. Whether all pixels are used together, individually via pixel mapping or via the integrated double layer FX engine the system is capable of producing stunning lighting effects.
The Creative Light 1 (CL1), offers the same performance as the Creative Light 1 Plus, but is aimed more at the semi-professional user with its intuitive control options (Manual, IR Remote Control, and Android and iOS app).
The Creative Light 1 Plus (CL1+) also features an integrated LumenRadio CRMX module. This makes it ideal for use in professional event technology and wherever the CL1 system is to be integrated into an existing DMX network. The control options of the basic CL1 are of course also available in the Plus version.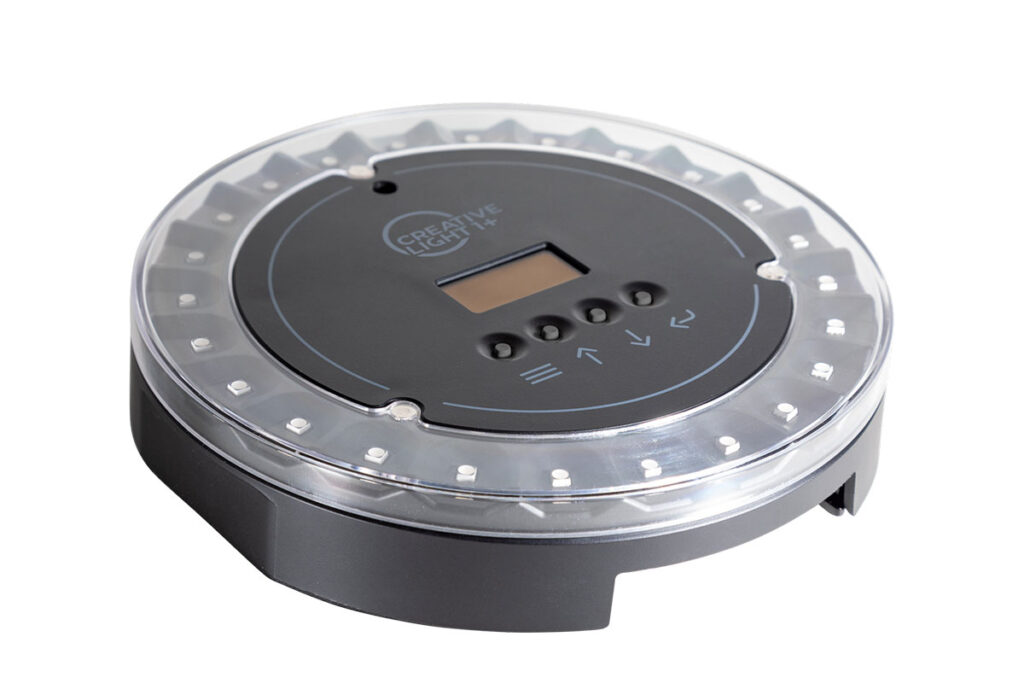 The integrated 10,000 mAh battery offers enormous power, and the selectable power modes ensure an enduring performance of up to 24 hours. Whether garden party, gala event, theatre, cabaret, TV studio or large festival stages the Creative Light 1 delivers enormous flexibility, at the same time requiring minimal space. Thanks to the extremely fast setup, the CL1 system is perfect for bands, event organisers, and venue owners.
When the CL1 system is controlled via the smartphone app, the CL1's generate a mesh network among each other—without any additional gateway—the so-called GLP iQ.Mesh network. Within this GLP iQ.Mesh network, each CL1 receives and amplifies the signal, enabling the creation of a network over long distances.
The advantage of the smartphone app is that it provides an intuitive user interface and enables particularly fast system setup, allowing multiple devices to be grouped for live control. This also facilitates control of intensity, strobe and pulse effects, background and foreground colours, a variety of dynamic patterns, sound-to-light and much more.
GLP Creative Light CL1 and Creative Light CL1 Plus are available as a single unit in a cardboard box, as a tour set in a 10-piece charging case, and as a set of six in a soft case.