Strong, chic and independent, Charlotte Lawrence is all of these things. But when she gets behind a microphone, the former Teen Vogue model turned singer/songwriter also reveals another more vulnerable side of herself. Drawing on her pristine voice, she touches on personal subjects in a style that is moving without being sentimental, a combination that has made her one of the brightest young artists in pop music.
Julien Reux captured all of these qualities when lighting the 20-year old star in a four-video recording session at Beehive Studios that included her national TV debut on Jimmy Kimmel Live! and a subsequent appearance on The Late Show With Steven Colbert. Helping him accomplish this were 28 CHAUVET Professional STRIKE 1 fixtures supplied by PRG.
"When producer Jonny Stiegler, the co-founder of Beehive, asked me to light these videos, I spent time studying the artwork on Charlotte's new album as well as the wardrobe designs she's been involved in," said Reux, the owner of ReuxLight. "I wanted my design to reflect the hip, modern, western vibe of her style as well as the emotional force of her music."
The design Reux created also had to be flexible enough to convey different looks for each of the session's four videos, which ranged in length from three minutes (for the TV appearances) to 40 minutes. "Our art director, Cameron Nawaz, really helped me take what I had in my head and turn it into reality," he said. "Working with the textured fabric panels Cameron came up — and rearranging my STRIKE fixtures –made it easy for us to change our looks quickly.
"Throughout the session, each set had its own stage and light orientation," continued Reux. "Since we had a camera jib, the STRIKE fixtures were very important to maintaining good visuals for the top camera shots."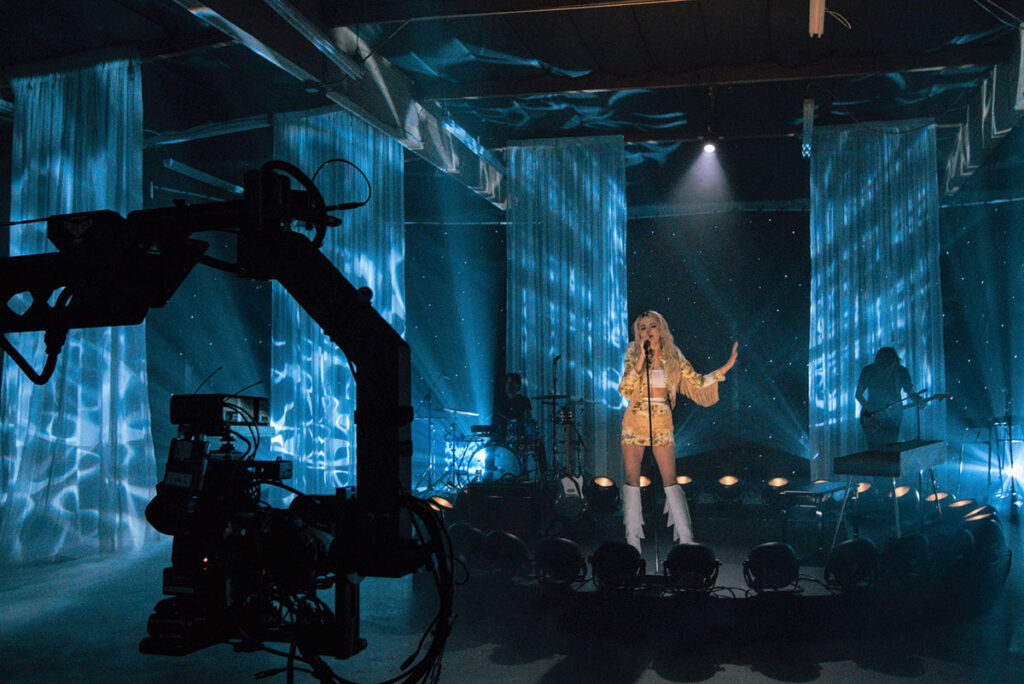 Reux created unique looks by changing color schemes for each song. He also set different emotional tones with the warm white light from his STRIKE 1 fixtures. For the Kimmel and Colbert videos, he used the 230W single source pods to light a scenic tree, positioned between Lawrence at the piano and her backup musicians. Playing off against the starry night imagery projected on the set's fabric backdrop, the warm glow on and around the tree, created the natural, western look Reux was after.
At the center of the two longer music videos were the STRIKE 1 fixtures arranged in a circle around Lawrence. This configuration accentuated the ethereal effect of the singer's heartfelt emotional performance, while also reflecting an element of glamour. At times, such as when the stage deck was covered in fog, it created the impression that the star was floating in air.
"I wanted to have a halo effect around Charlotte while also projecting a sense of the high desert sun in keeping with the western vibe," said Reux. It was, he admits, an "ambitious look" that relied on many different elements coming together over the course of four sets. But a nuanced vision was what the moment called for with this rising star– and that is precisely what Reux delivered.