Keith Hoagland is not normally given to public displays of emotion. But at the start of his spotlight meeting prior to Jason Aldean's Friday May 14 show at The Bonnaroo Farm, he admits it was kind of difficult to avoid.
"Things got real at that meeting prior to the show," said Hoagland, owner of CKP Lighting. "That's when it hit me. My voice cracked and I just stopped to let it all sink in. I apologized to my crew, but they all felt the same way. It was all very emotional. We were all so happy and grateful to be back."
Those feelings were certainly understandable. It had been 14 month, since Aldean and his crew had done a full production show with Aldean. Now, with COVID restrictions starting to be eased, he was lighting Friday and Saturday shows at this open air concert venue 63 miles south of Nashville.
The two shows (the second of which was also livestreamed), more than lived up to expectations, not just for fans, but for the artist and production crew as well. "It was a great experience," said Hoagland. "We got a lot of very positive feedback in the press and social media about how good the production was and how the livestream really made fans feel they were at the actual concert."
Contributing to the immersive quality of the show, especially on livestream, were the camera-friendly eye candy effects Hoagland created with his 14 CHAUVET Professional Nexus 4×4 fixtures. Like the rest of the lighting rig a The Bonnaroo Farm, the Nexus units were supplied by Bandit Lites.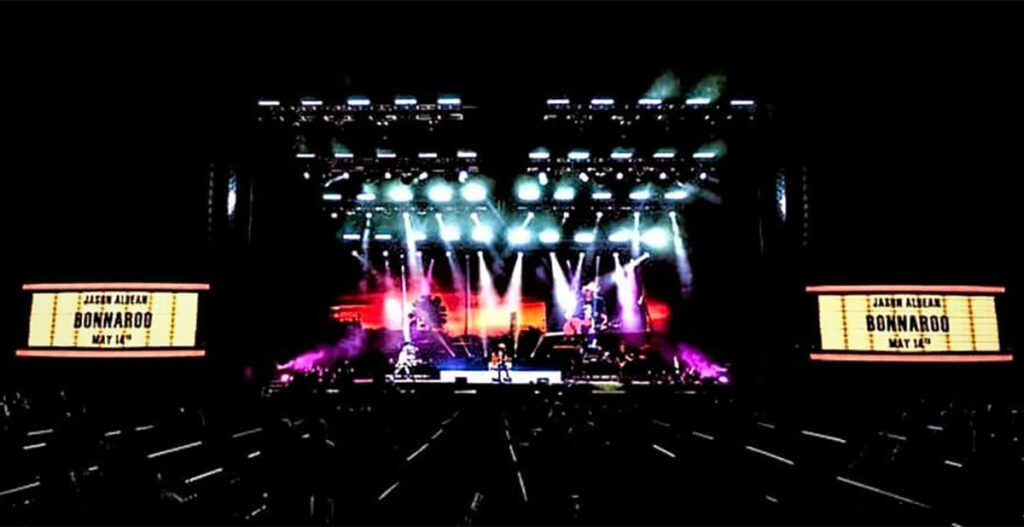 "We had the same lighting system for both our live show Friday, and then the live show on Saturday that also was streamed," said Hoagland. "We used the house festival rig that was put together by Bandit Lites for Bonnaroo on the Farm show series. I then added my designed floor package to it. As for the design, I started with a clone of last year's tour show that I had done. Then worked within previz to clean it up and add the Nexus 4×4 units."
Hoagland positioned all 14 of his Nexus fixtures directly behind Aldean's center mic position in front of the band risers. "I wanted something for camera eye candy behind Jason as the front camera shot him, so we didn't have a black hole on stage," he explained. "Aside from their output in terms of reaching the crowd with audience lighting, the Nexus looks great on camera. The bonus is that the frosted lenses on these fixtures allow me to face them forward, even directly at the cameras, and not have camera flares. This was a big factor in making our livestream looks come off."
Although the two shows at The Bonnaroo Farm worked "to perfection," there were challenges involved, given the safety protocols that were in place. "Load in was different, with everyone having masks on all the time and keeping social distance," said Hoagland. "Trying to work and be respectful of everyone around you was always on everyone's mind. It added steps to the setup, but everyone did great and we got loaded in in a nice amount of time."
Hoagland, who has been touring with Aldean since 2008, won't have to wait as long for his next opportunity to do a full production show with the star. Aldean's next tour, "Back in the Saddle," will start on August 5 at the Virginia Beach Amphitheatre. There won't be the same emotions surround it as there were on this Friday night at Bonnaroo Farm, but everyone involved will be just as excited and grateful to be there.
Photo: © Justin Mrusek