On New Year's Eve there was no doubt that everyone was ready to bid farewell to a very bad year. But one legendary rock band was prepared to KISS 2020 Goodbye in spectacular fashion – with a live Pay-Per-View concert from Atlantis the Palm in Dubai.
In what's been called the biggest production in KISS's history, the 22-song set from the band's End of the Road show was performed on a 250-foot stage with the live audience at the Atlantis resort watching from their balconies and fans worldwide live streaming the concert on FITE. A large complement of Claypaky Mythos 2 and Scenius Unico fixtures from technical supplier PRG helped to illuminate the expansive venue.
The concert was designed by Sean Hackett (aka Motley) from the KISS production team. PRG was tasked with providing the A and B rigs to fill the stage and create the architectural lighting for Atlantis The Palm that highlighted building features and set the scene for the mammoth show to come.
Lighting Designer Marcell Wahl of HOD Lighting lit the hotel's grand arch and eight turrets and washed the resort with color. Martin Smit, who headed the lighting team, used 60 Claypaky Scenius Unicos to frame and project artwork onto the building. He also placed Unicos in the swimming pool in front of the stage to additionally wash the hotel.
"Lighting the hotel was always going to be a challenge with full guest attendance, very limited space to place fixtures and palm trees in the line of sight," says Wahl. "We needed the best fixture to give us multiple options to achieve our final goal."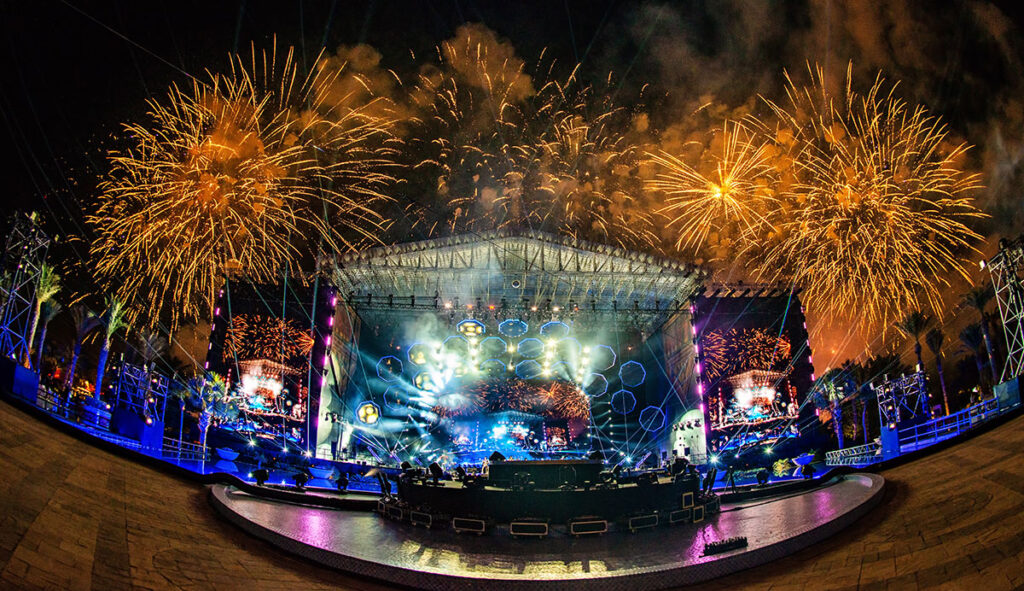 Wahl and his team worked through a number of designs and scenarios and selected the one that gave the camera team the best concert perspective and area shots captured by drones, while allowing hotel guests to have the best view of the show. Ultimately, this meant that some of the fixtures ended up in the pool on scaffold structures to reach the height required.
The Unicos were selected for their flexibility and feature set. "They have great optics in the lens and their shuttering capabilities were key," Wahl explains. "We needed to use blades to shutter the lights so they did not spill into guests' rooms and guests did not have light in their eyes while viewing the show. We also needed a fixture that could cover a great distance and still have high output since the lighting towers closest to the hotel were more than 80 meters away. Delivering great gobos and color over a big distance were driving factors in choosing the Unicos."
For the concert itself 50 Mythos 2 were mounted on the upstage vertical truss. "The stage had to be lit for broadcast and for the audience on their balconies 200 meters away," says Wahl.
The Mythos were specified by Lighting Designer Sean Hackett to deliver just that. "He wanted a fixture with a solid beam, which could be used to wash the stage with a breakout gobo from the back creating more depth in the stage and providing more effects for certain songs," Wahl explains. "The units performed very well. We were able to have a wide variety of options and effects that added a bit more to the final show product."
Photo: © City Drive Studios and Landmarks Live