Lee Rose and the creative team behind the "Hollywood Party" segment of Dick Clark's Rockin' New Year's Eve show begin looking for a suitable soundstage for their production in mid-September. Most years the process is fairly routine, but not (no surprise!) in 2020.
"We scouted the Los Angeles Convention Center as a possible location," said Rose, who began lighting Dick Clark New Year's Eve segments back in the "par can days" of December 1984. "Normally we're on a soundstage for the Hollywood Party, but as it turned out, most of the TV shows that went down for the pandemic left their sets on their stages. Between that and production starting up for some new shows, there were no stages to be had. A venue was finally confirmed in October with production 'tweaking' the layout to make it more COVID compliant."
The prolonged quest for a stage was only of many unique issues Rose and his associates faced this year. Still, it wound up being "entertainment-as-usual" for the 10-million-plus TV viewers who tuned in to watch the Hollywood Party on New Year's Eve, as it delivered all the fiery punch that fans have come to expect from the program
This was readily apparent when Megan Thee Stallion dominated the stage with her red-hot sound and dance moves. Supporting her sparkling performance note-for-note with every gyration was Rose's bold and dynamic lightshow, which featured 12 CHAUVET Professional Maverick MK Pyxis fixtures, supplied by PRG.
"As soon I saw the art director's layout for Megan Thee Stallion, with its series of 6-foot by 6-foot dancer risers, I envisioned using the Maverick Pyxis with them," said Rose. "I knew the risers would offer a perfect place to use these fixtures, both from a layout and musical perspective. Their outer LED ring and the intense pencil thin beam from their center pixel, gave us great movement and animation that really complemented the dance moves and music."
Rose positioned three Pyxis units on the camera-facing side of the deck on each of the four dancer risers, which were located to either side and behind Megan Thee Stallion. From these positions the fixtures animated the area around the superstar with chases from their outer rim of pixels, 360ﹾ pan and tilt movements, and sharp beams directed across the stage from their 60W RGBW center pixel.
Since the dance risers were different heights, the Pyxis units on them directed light across the stage at varying levels. This added a camera-friendly element of depth to the setting.
In addition to Megan Thee Stallion, the Hollywood Party featured 34 other musical performances. Providing each act with a design that reflected its music and personality was a challenge that Rose and his team met by balancing all the fixtures in their rig, including six Rouge Outcast Hybrid 1 units, along with their video displays.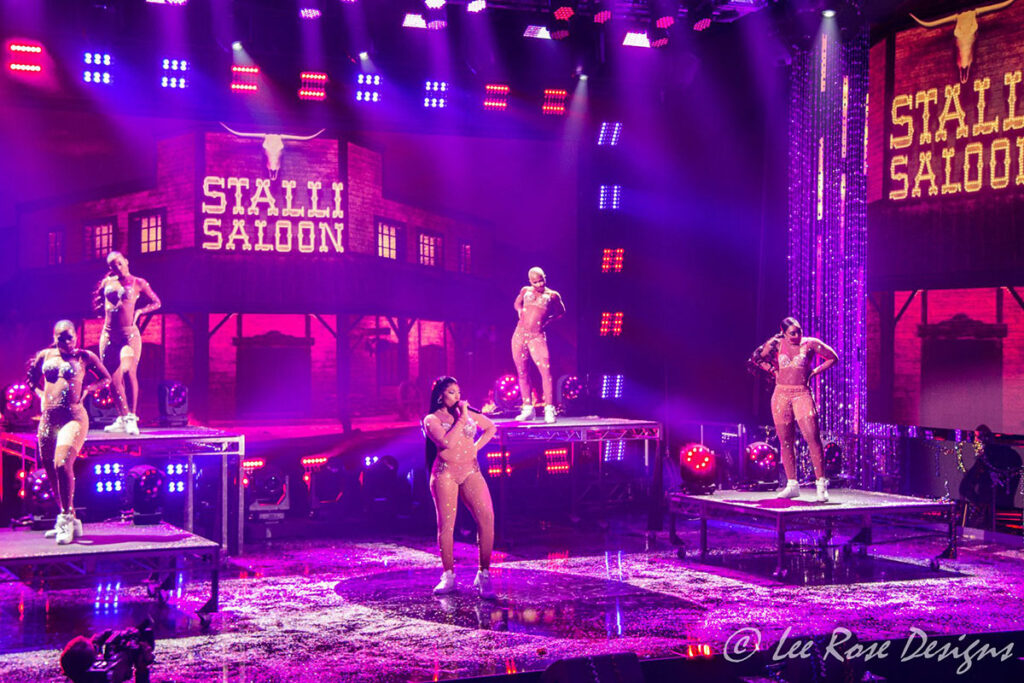 "The versatility of our rig allowed us to generate supportive looks for different artists," said Rose. "My programmers Andy O'Reilly and Patrick Brazil also did a great job, contributing to and expanding on the multitude of lighting looks based on basic direction from me.
"I am very fortunate to work with such a great group of people on this program," continued Rose. "Aside from Andy and Patrick, there was also content producer Nick Militello, media programmer Martin Phillips, our line producer Kathy Erickson, chief lighting tech Tony Ward, my lead tech Steve Oleniczak, my assistant lighting designer Cameron Pieratt, and video shader Mark Sanford. I am also really grateful to Hollywood Party director Barry Glazer — and for the support I received for last 36 years from our producer Larry Klein."
Looking back over those three-plus decades, Rose recalls he first NYE show at the Coconut Grove in the Ambassador Hotel. Over the years, he took on different roles in the production of the iconic program and encountered all sorts of challenges. "We've seen just about everything — or at least I thought so until 2020 came along," he quipped.
The challenges presented this year were unprecedented, but as Rose and the rest of the team involved in Hollywood Party demonstrated, when entertainment professionals are resourceful, the show does indeed go on.
Photo: © Lee Rose Designs