Art may aspire to the sublime, but it must first work its way through reality. Martin Dudley was reminded of this truism in early September when he and collaborator Malcolm Garrett created the lightshow for Heaven 17's shows at the City Hall in the band's hometown of Sheffield, and the iconic Roundhouse in London.
Having worked with Heaven 17 for five years, Dudley was eager to light these very special shows, which would have the band perform in full the two albums that Heaven 17 founder Martyn Ware wrote and recorded with the Human League. He also appreciated how their evocative sound lent itself to rich imagery. Then there was also the opportunity to play his lights off against the stunning video images created by Garrett, who was responsible for the original sleeve artwork for the two albums in 1979 and 1980, as well as many other iconic LP sleeves of the era.
However, before he could delve into this bit of heaven, he had to deal with the very earthly matter of time pressure. "I had been listening to the two Human League albums that made up this show for some time, but there was no time or budget for extensive pre-programming," said Dudley, owner of Martin's Lights. "We were lucky to have about a day and a half to set up the screens and lights in rehearsals immediately before first of the two shows. This was the first time I had seen the visuals, so I sat down with Malcolm to select color palettes for each of the 24 songs in the show."
Helping Dudley meet this time-sensitive challenge was his ChamSys MagicQ MQ80. "I had pre-patched the fairly extensive Roundhouse lighting rig into the MQ80 already, so on the show day at that venue I just had to plug it in and make sure it worked," he said. "One of the really nice advantages of ChamSys products is their sheer speed of programming. If you know what you want to see, you can push on through it very quickly. In the end, I got about half the show programmed on rehearsal day one, and then the rest on day two."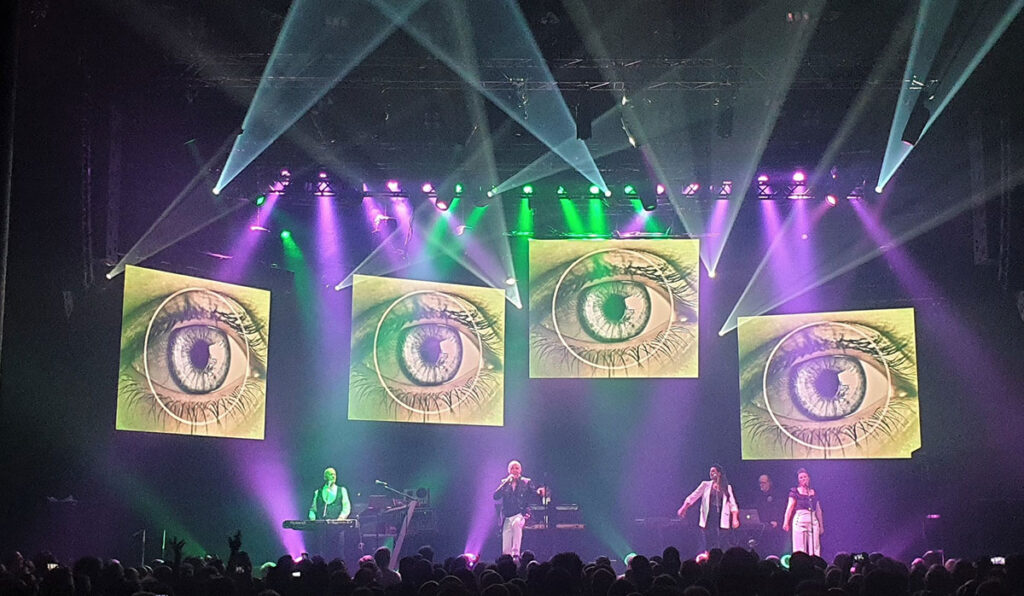 To the appreciative fans, the video and light show supporting Heaven 17 looked anything but "rushed." Flowing seamlessly with the band's performance, the show was built around four prominent video panels that seemed to float over the stage each of them referencing artwork from the Human League's debut album "Reproduction."
"The video panels were the most important visual aspect of the show," said Dudley. "Everything about the lighting was designed to work with and around them."
Toward this end, Dudley relied on changes in intensity levels (both subtle and stark), provocative light angles, and absorbing colors to create a compelling look on stage throughout the 24-song set. He credits his MQ80 console with helping him achieve these impressive results.
"A good thing about the MQ80 is its user-friendly intensity window," said Dudley. "I could change settings quickly and easily with the cursor. The console also made it very easy to play with different color FXs. As always, I also used a ChamSys Extra Wing for individual front light specials on each member of the band, as well as for things like audience blinders, haze, and walk-in looks. The really nice thing about ChamSys in general is that it's so intuitive, it makes it easier for you to focus on the show."
Using his console, Dudley created visuals that wrapped themselves around the character of each song, from the stark, sparsely colored brooding looks he produced for Heaven 17's first (1981) hit "Fascist Groove Thang," to his own favorite "Dreams Of Leaving," where delicate lighting matched the desert colors of the floating screens without detracting from their emotional impact.
Working in harmony with the arresting video images, his lighting gave the stage an "other worldly look." But, as if so often true of such moving specters, it began with a real process; in this case that of a talented LD working with a supportive console.