The Dave Matthews Band is back on the road for their annual North American Summer Tour with stops at sheds and amphitheaters across the country from late July through November. Longtime rental partner UltraSound of Petaluma, CA has once again supplied a Meyer Sound system based on LYON® linear line array loudspeakers.
This year marks Dave Matthews Band's 30th anniversary as well as 25 years of UltraSound and Meyer Sound's collaboration with the band. After more than a year and a half without performances, the UltraSound and Dave Matthews Band production teams were eager to bring music back to fans.
"Getting back on tour has been a crazy experience. After a year and a half off, all of us had gotten a bit rusty," Tom Lyon, UltraSound senior systems engineer and FOH engineer for Dave Matthews Band, said. "Luckily, we scheduled a few days with just the band and the monitor rig to rehearse privately and get the muscle memory back. Once we started our first show in Raleigh, we were in fine shape and ready to shine."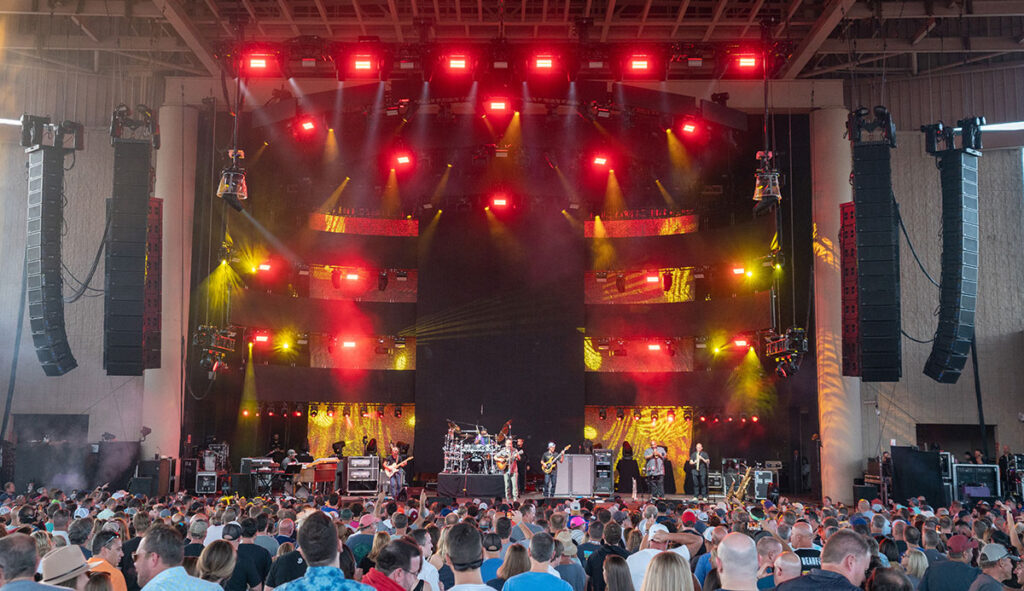 The system configuration for the tour includes main and side hangs of 16-each LYON line array loudspeakers, augmented by two hangs of nine-each 1100-LFC™ low-frequency control elements, and a center hang of four LEOPARD® compact loudspeakers. Front fills consist of four additional LEOPARD loudspeakers, with four CQ-2 loudspeakers deployed for miscellaneous fill as needed. System optimization and drive are supplied by Galileo master processors at FOH and Galileo Callisto array processors at the stage. The artist foldback system includes eight MJF-212A stage monitors.
Lyon and the production team updated the audio system design with additional LEOPARD loudspeakers to maximize the coverage at shows.
"The main difference this year is the addition of a center cluster of LEOPARD to cover the pit. Just four LEOPARD is all it needs to hand off coverage duties from the LEOPARD front fills on the edge of the stage to the coverage of the LYON main hangs. This is especially helpful where the stages are low, making the front fill effective only for the first person on the barricade. We're not able to deploy the center fill everywhere, but when we can, we do," Lyon said.
In addition to FOH Engineer Tom Lyon, crew members on deck for the tour include PA Technician Paul White, System Engineer Jeremy Miller, RF Coordinator and Monitor Tech Greg Botimer, Monitor Engineer Ian Kuhn, Assistant Stage Tech and Sirius/XM Technician Josh Horn, Audio Archivist Joe Lawlor, and Broadcast Engineer Rob Evans.
The Dave Matthews Band Summer Tour kicked off July 23 in Raleigh, NC and continues into the fall, closing out with two sets of back-to-back shows at Mohegan Sun Arena in Uncasville, CT November 9–10 and Madison Square Garden in New York City November 11–12.
Photo: © Sanjay Suchak