As the Times Square ball drop is for New Year's Eve, and The Tournament of Roses Parade for New Year's Day, the Boston Pops July 4th Spectacular has become an indelible part of Independence Day celebrations across the USA. Even a temporary change of venue couldn't diminish the power of this association.
Although it was moved 130 miles from its traditional home at the Hatch Memorial Shell on the banks of the Charles River to the Koussevitzky Music Shed in Tanglewood this year as a safety precaution against COVID, the nationally televised concert was as rousing as ever, as it helped millions across the country celebrate the American spirit past, present, and future.
Contributing to the experience for those in attendance at Tanglewood, and the millions more watching on television and via livestream was an exciting lighting design by Michael Berger, anchored by over 270 CHAUVET Professional fixtures supplied by 4Wall Entertainment.
"Our team was intrigued by the opportunity to work in a new venue this year. While the show was a great success – we can't wait to return to the banks of the Charles in 2022," said Berger of Innovative Intensity, Inc. "At the shed in Tanglewood, we had to stretch our normal rig out over a larger space. A greater number of light sources were essential to creating the impact on television, as well as for those in the audience."
Filling a variety of roles in Berger's lighting design were the 38 Maverick MK3 Wash fixtures in his rig. Hung on overhead rigging, in addition to being positioned throughout the house, the RGBW moving washes provided compelling camera-friendly looks and colorful audience lighting from different angles.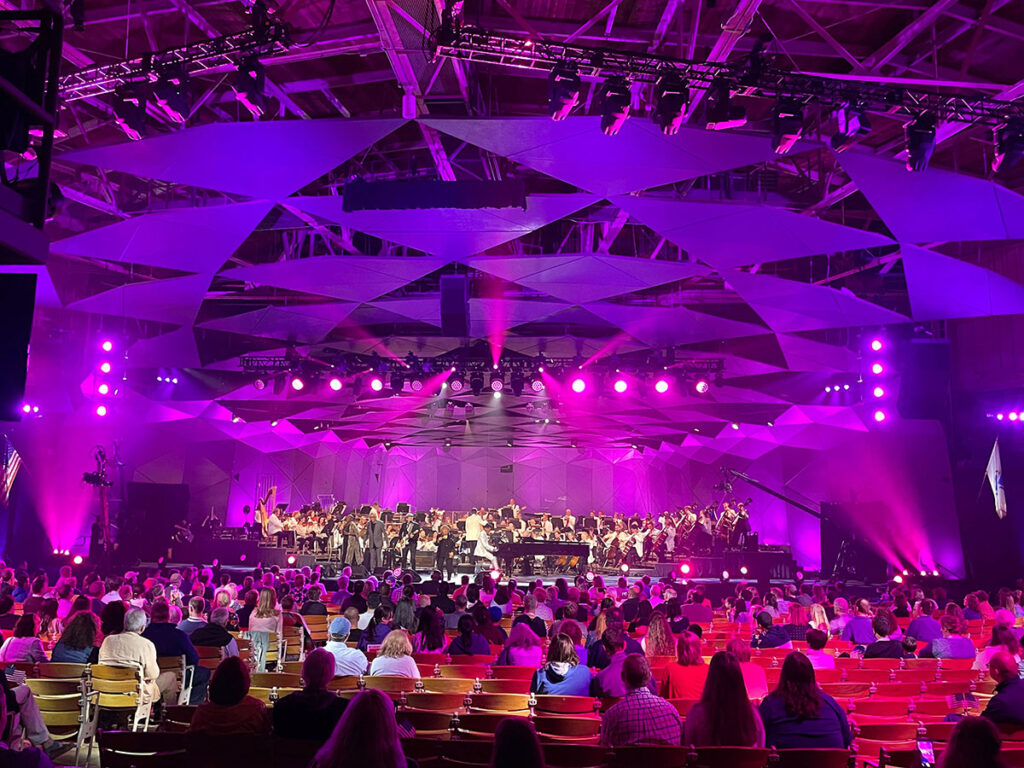 "We deployed 12 of the Mavericks overhead in full pixel mode for eye candy effects, which were expertly programmed by Erin Anderson and Ryan Tanker" said Berger. "The other units were arranged in the house to give us effective audience cross washes and backlighting. This was primarily a television show. A big part of bringing the experience into the homes of viewers involved conveying the emotion of the live audience to them.
"The Mavericks helped us accomplish this," continued Berger. "We strove to maintain a concert-like atmosphere by lighting the audience with color changing fixtures that complemented the looks we had onstage. I've found that the audience reaction shots are more natural when people at a venue don't know they are being filmed. This makes for more interesting cutaways!"
Berger described the 150 COLORado Solo 1 and Colorado Solo 2 fixtures in his rig as "our big workhorses," noting that he used them as audience front fills, building uplights, scenic washes, and eye candy.
"The biggest appeal of these fixtures on this show is their IP rating," he said of his COLORado units. "Even though we have a roof over us this year, it is still an open air structure and rain gets in. Having a solid IP65 rated fixture allows us to keep the rehearsal process and show going, even if it's a bit wet outside."
The orchestra was lit predominantly by 60 Rogue R2X Wash fixtures. Drawing on the wide (7.3° to 64.3°) zoom range of these RGBW units, Berger used them to create a variety of back and cross lighting looks on the orchestra. The band shell was supported by 30 Ovation BP-565FC fixtures. (CHAUVET Professional had an additional presence at the Boston Common on the fireworks remote. Colorado Solo 2s and Well Fit fixtures were deployed by Lighting Directors Chris Werner and Patrick Brazil.)
Varying looks throughout the two-and-a half hour concert (followed by a 30 minute fireworks show) was critically important to Berger and his team, which also included Lighting Director Will Gossett, assistant LD Hannah Kerman, Gaffer Eric Norris, and Best Boy Bobby Tacoma.
"The Independence Day holiday played an important role in our color palette," said Berger. "While the show generically sits in a red, white and blue look, due to the Independence Day holiday, our goal still was to create bespoke looks for each performance"
Berger notes that he and his team strove to ensure that those looks lived within the world of this show – a show that has become almost iconic as fireworks and backyard barbeques on the USA's Independence Day.