No one can trust anyone on The Challenge Double Agents, the spy thriller inspired reality show where contestant can turn on contestant in pursuit of ultimate victory. But Mike Grabowski knew exactly who he could count on when lighting the final "Reunion" episode of the popular MTV program at Manhattan's legendary NEP Penn Hotel Studios.
"There was a wonderful and dynamic collaboration with some stand up people in this show," said Grabowski of The Lighting Design Group. "I'm very grateful to have worked with Dave Edwards, our production designer, Jon Goss my Gaffer, Sarah Jakubasz my pithy programmer, George McPherson our staging supervisor, and the entire Top Knotch crew."
Grabowksi also knew what he could rely on to accent ballyhoo and high drama moments in the suspenseful program!
"The Rogue R2 Wash did a lot for us in this show," he said. "It really is a very nimble little thing. We had a large ceiling element, close to the grid, so being aware of our fixture choice and placement was essential. The R2 is small, and startlingly punchy. It nailed the zoom range, allowing me to go from a tiny tight highlight to help out the background on a single, to zooming it out wide and using it to give some depth and tone to the set."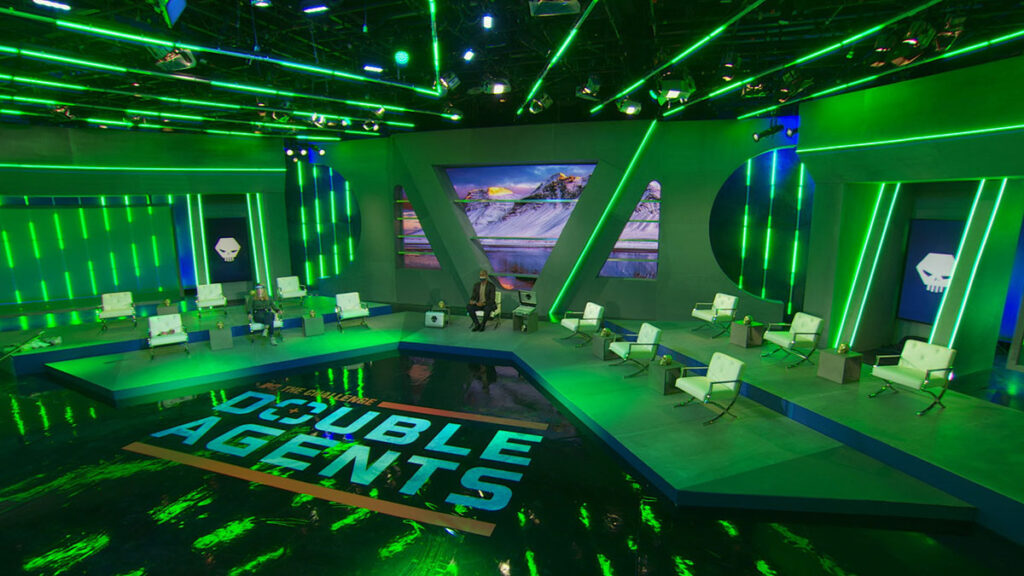 Arranged in a half arc over the talent, the 12 Rogue R2 Wash fixtures in the show's rig filled a variety of roles, from highlighting walls and scenic elements to serving as camera candy. Grabowski also called upon the color rendering capabilities of the RGBW moving fixture to add visual variety to the show.
"Our primary color was blue with white accents," he said. "But there were 'siren moments' that signaled a 'Double Agent' when we used green tints to convey this sense of alarm. Some of the Rogues added a base wash to the walls to create an overall green tint, but all the rest swung and danced around the room. So, the room flips from a cool white and blue look to a slightly oversaturated dynamic departure that cruised seamlessly in and out of this surprise moment."
Working with green requires "a bit of delicate balance," according to Grabowski, something he credits the Rogue R2 Wash with helping him achieve on The Challenge Double Agents Reunion. "Having and utilizing green ballyhoo and wash for our reveals, meant we had to be fairly particular about making sure our green married well with the rest of the rig," he said. "There were about a dozen people on set, with wide variety of skin tones, so we had to be cognizant of making everyone look beautiful, all while using green, a color that can rapidly become unflattering."
Happily, however, the green from the Rogue R2 Washes along with output from the rest of the rig continued to deliver stellar results throughout the program. So, while mistrust may have been pervasive among the talent on the set, the confidence Grabowski placed in his rig and team proved to be very well founded.