The historic Teatro Pablo Tobon Uribe sets a high bar for anyone creating visuals on its stage. For starters there are the elegant contours of the building itself, the work of famed architect Nel Rodriguez. Then there is the curtain that covers the stage, graced by the art of post-modern master Dora Ramírez.
When that curtain rose on "Circular," an evening of Colombian and Caleño music, the captivating visuals continued, thanks to a vivid lighting design by Juan Pablo Marulanda that drew on the color rendering power and intense brightness of CHAUVET Professional fixtures that were part of the legendary theatre's house rig.
With no LED video wall, Marulanda used 31 COLORado Batten Quad-9 IP linear fixtures, arranged vertically and horizontally to create a geometric background that added depth and texture to the stage. He complemented the patterns that he devised with the 1000mm long RGBW strips by positioning 24 COLORado 2-Quad Zoom fixtures between the linear units. Lending added punch and versatility to the mix were six Rogue R2 Spot units.
Marulanda's rig opened myriad creative options for the designers who lit the various artists at the event. Milton de la Cruz took full advantage of these opportunities when lighting a dynamic 30-minute performance by Caleño star HENDRIX-B.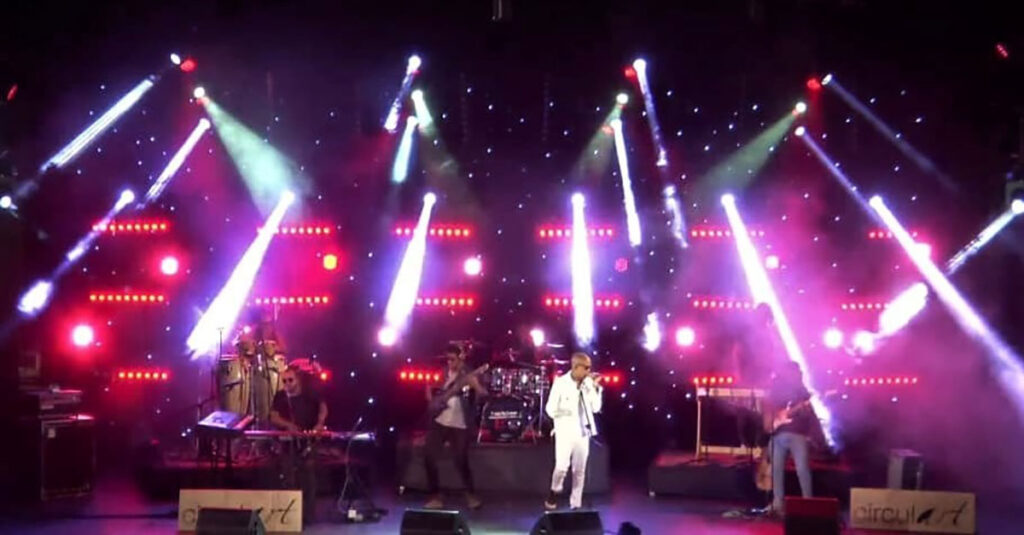 "My goal was to contribute to the elegant atmosphere of this beautiful theatre, and at the same time create dynamic looks," said Milton. "My friend Juan did an excellent job with the rig design. All of us were very fortunate that the theatre already had these Chauvet machines."
Marulanda hung four of the Rogue R2 Spot fixtures on truss, while the two other units were positioned on the floor, stage left and stage right. Milton used the 240-watt LED spots to highlight his artist throughout the show.
Contrasting light from the Rogue units with the background colors of the COLORado fixtures, Milton ensured that HENDRIX-B stood out at all times for the live audience as well as those watching the livestream of the event. "We had to light this for two different audiences," he said. "The patterns created with the COLORados helped us greatly in achieving this balance. The background lighting really made for a very elegant environment."
In addition to its aesthetic value, the background wall of light helped Milton reflect the passion and intensity of his client's music. "The COLORado Battens almost acted as if they were part of my client's music," he said. "I was able to include them in my show to make beats for my client's songs."
Moving in sync with the sounds of HENDRIX-B, and playing off neatly against its elegant surroundings, Milton's lightshow provided fans with a rewarding visual experience. In so doing, he demonstrated, as many designers have before him, that artistic expression at Teatro Pablo Tobon Uribe continues to flourish even after its beautiful curtain rises.