When Vice President of Lighting Mark Fetto came on board at OSA International in 2019 to build the company's lighting division, he saw Claypaky Mini-B fixtures at LDI and thought the small but versatile LED moving lights would easily meet customers' lighting needs.
One of the first companies to invest in Claypaky Mini-Bs, OSA has put its inventory of 48 fixtures to work on a diverse range of projects despite the coronavirus pandemic. OSA provides world-class entertainment technology, event production and systems integration from offices in Chicago, Las Vegas, and Nashville.
"The Mini-B seemed to be the right size, the right brightness and had great zoom capabilities," Fetto recalls. "As a wash light Mini-B may be small in stature but it's large in output."
Mini-B is the smallest LED moving light ever made by Claypaky for the professional market. Mini-B features a wide zoom, ranging from 4° to 55°, for extreme versatility. At the narrow angle, the beam produced is very solid and concentrated, superb for aerial effects. At full aperture, the Mini-B becomes an excellent wash light and can replace much heavier and bulkier equipment. In addition, the Mini-B's central LED may be controlled separately from the external ring of LEDs making it ideal for graphic lighting effects.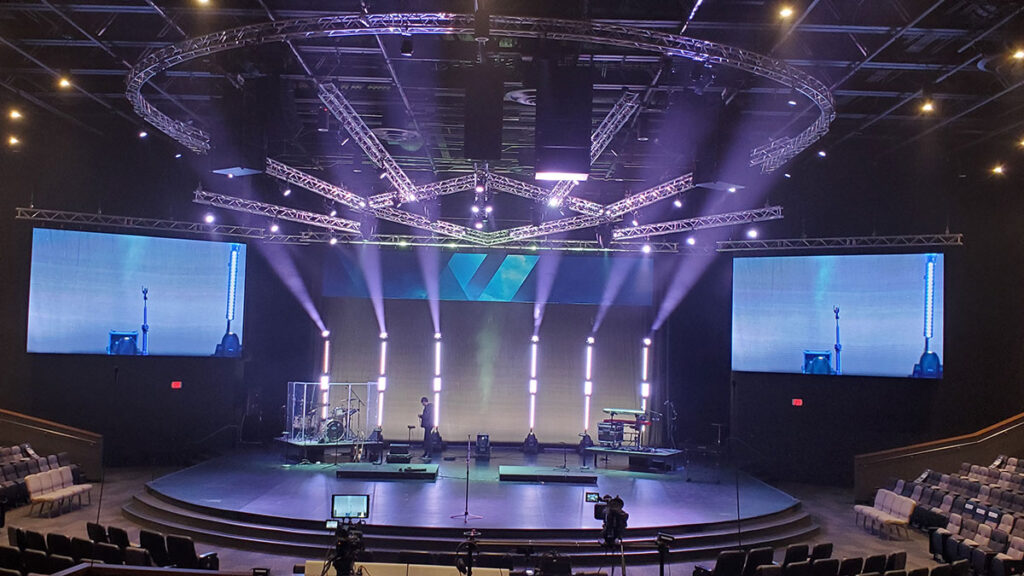 Although the coronavirus pandemic slowed production for many businesses, OSA's development of the Concertata® digital engagement platform has enabled a roster of virtual events to take place, a number of them utilizing the new Mini-Bs.
A national telecommunications company tapped the fixtures for a trio of corporate events staged live in the company's corporate office building to light an in-house studio and to broadcast virtually. "The Mini-Bs were used in combination with grip lighting on the set," Fetto explains. "The Lighting Designer liked how the Mini-Bs looked for these shows. They were very versatile, and their large zoom came in very handy for the studio's low trim: We could light large areas from a short distance away."
The Mini-Bs supported Crossfade Design's Lighting Designer Michael Nevitt for the Loma vs. Lopez "Winner Takes All" lightweight boxing bout last November, which was televised live on ESPN from the MGM Grand Conference Center in Las Vegas. OSA provided its Mini-Bs to light the walkways for the fighters' dramatic entrances. "They lined the floor and uplit the curtains," says Fetto. "Their small size took up little room, but they packed a lot of punch."
Most recently, the Mini-Bs were utilized at Hope Church in Las Vegas for Easter Sunday services in their newly built sanctuary. OSA Lighting Designer Duke Carlisle used the fixtures to supplement the church's general stage lighting package. "The Mini-Bs were incredibly bright, and their color mixing is spectacular," says Carlisle. "Hope Church was extremely impressed with the Mini-Bs and they have plans to add them to their permanent lighting rig."
Fetto believes that the Mini-B's versatility and power for its size will make it in demand for an array of customer applications. "It's going to be quite a popular light for everything from corporate events and houses of worship to concert touring and broadcast," he predicts.
The Mini-Bs are the first Claypaky fixtures in the lighting inventory that Fetto is building for OSA, and he sees more Claypaky purchases on the horizon. Since acquiring the Mini-Bs OSA has also become a Claypaky dealer for the US.
"The U.S. Claypaky team has worked with Mark for years and thrilled to partner with him again and support him from Dallas. OSA is a great addition to our U.S. Dealer network," concludes George Masek Strategic Marketing Manager at Claypaky.