In the world of television, where success can vanish in the blink of any eye, Wheel of Fortune stands out as a paradigm of longevity. Debuting in Hollywood 46 years ago, the word puzzle quiz show, is the longest running syndicated series in US history. The Belgian edition Het Rad van Fortuin, has been around almost as long, first appearing in 1976, only a year after its American counterpart.
Like all long-running "success stories," the Wheel of Fortune franchise has survived (and thrived!), thanks to its ability to adapt and change, a quality that has enabled it to appeal to new generations of fans without losing their parents. This renewal process was very much in evidence in the 2020 edition of the Belgian show, which featured a sleek new set designed by Deusjevoo.
Accentuating this set and endowing with extra vibrancy and depth was a lighting and video design by Painting With Light that featured an extensive collection of CHAUVET Professional fixtures supplied by Splendit, including the EPIX Strip IP, Maverick MK3 Profile, Maverick MK2 Profile, Rogue R2X Wash, Ovation E-910FC ellipsoidal, COLORado Panel Q40 and COLORdash Batten-Quad 12.
This is the first season of Wheel of Fortune that has been produced in Belgium by SBS, and the broadcaster wanted to distinguish its rendition of the legendary show by giving it stand out looks that combined modern elegance and style with a relaxed, welcoming feel. Painting with Light took "a theatrical approach" to this project by creating a series of pleasing visual 'big pictures' that stood out on their own while also encompassing the overall coziness. Luc Peumans, CEO of Painting with Light, and his team worked closely with C-Mine neighbor Dries Hermans and art director Lieven van Overbeke over an intense six-week period to create the kind of beautifully balanced design SBS was after.
Toward this end, Painting with Light created a series of captivating pictures for the set that endowed it with style. Adding to the sleek looks of the set are the 150-pixel mapped EPIX Strip IP linear strips that border key scenic elements on the set, such as the stairs that lead up to the famous puzzle board and the banquet seating behind the contestants.
In addition to the EPIX units, a full LED lighting rig was used, with Ovation and Maverick fixtures serving as the workhorses for key and backlighting. The Maverick MK3 fixtures, COLORado Panel Q40s and COLORdash Batten-Quad 12s were used to colorize the cycloramas and scenic curtains. Rogue fixtures are in the design to light the walls, floor, and the displays of prizes, such as new cars. Vertically oriented EPIX units were also used as backdrops in the prize area.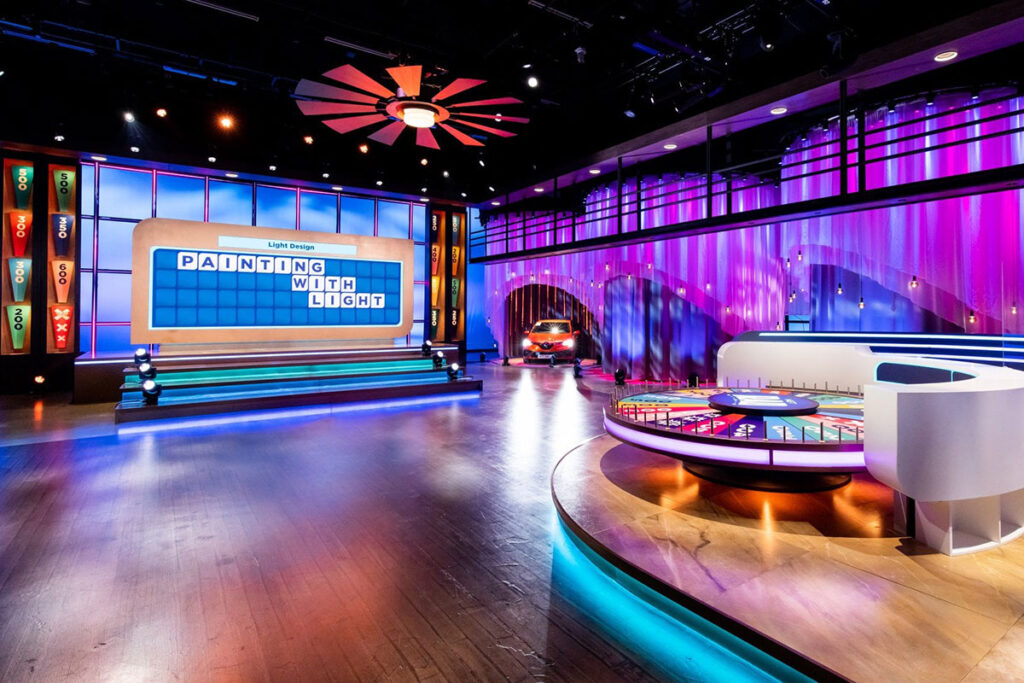 The atmosphere goes from funky to cozy by applying warmer or brighter light and specific colors, up to very special effects. Both installers and customers are impressed by the result, a colorful and lively look which is unmatched for a seasonal quiz game show.
Adding even more excitement to the show was a laser proximity sensor devised by Painting with Light that connected the handles that contestants use to spin the wheel to MIDI notes. This triggered cues that set off dynamic lighting and audio effects with each spin of the wheel, that is packed with several custom RGB and white LED light sources
Technology like the laser proximity sensor and pixel-controlled lighting effects would have been virtually impossible to imagine, when Het Rad van Fortuin debuted over four decades ago but change and new ideas are nothing new to this program. In actuality, they are why it has remained so young for all these years.