Fast response time and top quality light output are key in complex XR studio applications.
Since the end of 2020, PRG, along with its subsidiary Cinegate, has been running the Virtual Production Studio-xR in Hamburg, a facility that specialises in digital events of all kinds. Across 360m² of pure studio space, company events, as well as film and music video shoots, advertisements, and livestreamed concerts (eg Wacken World Wide), can be realised in a virtual environment. In order to be able to react quickly and flexibly to the complex requirements of virtual productions, PRG has turned to 40 impression S350 Wash from GLP.
Matthias Allhoff, head of lighting technologies at PRG, explains: "While lighting and cameras are primarily coordinated in traditional productions, the requirements of virtual productions are more complex because we have to comply with the constantly changing virtual environment at all times. That is why the GLP S350 has proven itself so quickly as a fast-reacting, remotely controllable moving head."
To create a sense of perfect immersion, PRG's Virtual Production Studio-xR not only has LED walls, but also LED floors and ceilings. With plenty of space, the content, and therefore the virtual rooms, change frequently, quickly and dramatically over the course of the day. Beyond this, there are also virtual extensions beyond the video areas.
"Under these conditions, we are faced with the challenge of coordinating all the LED surfaces, the cameras, the virtual sets and the lighting. It becomes particularly exciting when there is a spatial change in position or other changes in spatial conditions. Then the guide light and rear light have to follow suit quickly," says Allhoff. "And that is exactly what works incredibly well with the GLP S350 Wash.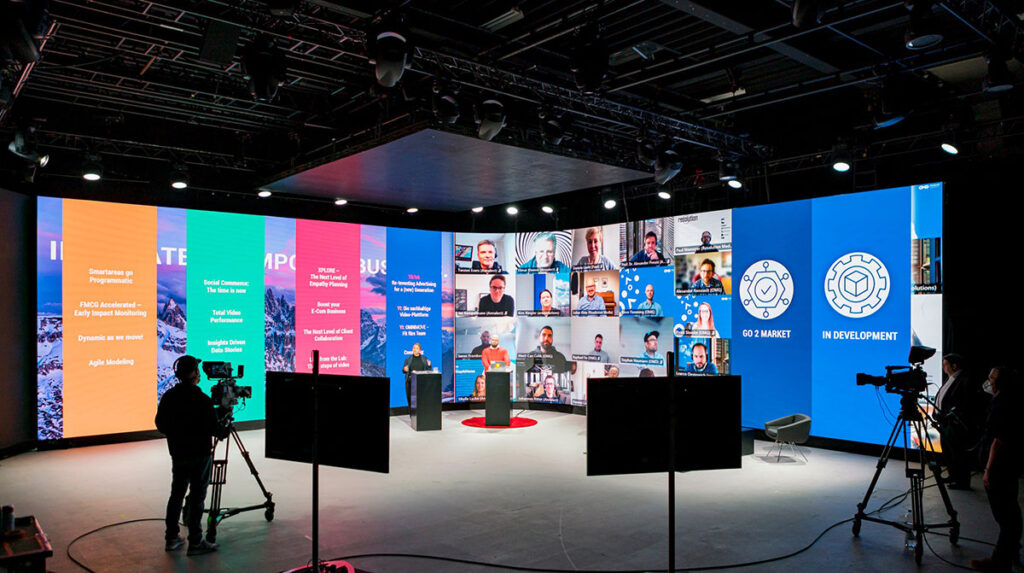 The impression S350 Wash, with its 350-watt white light LED engine, CRI of more than 90, and TM-30 and TLCI values of 95+, offers outstanding, camera-compatible light quality. Its optical system, with a Fresnel front lens, enables a zoom of 8–50°. In every corner of the zoom area there is access to a full-fledged framing system with four shutter blades. The aperture slide positions, which can be combined in any way, as well as the ability to rotate the entire module by 90°, make accurate beam control possible. The dichroic CMY colour-mixing system also opens up a large colour space and works extremely homogeneously. This is supported by a fixed colour wheel with 10 slots. With the additional CTC function, a range can be adjusted continuously between 2,500–8,000 kelvin.
In the Virtual Production Studio, the fact that the S350 Wash was developed more for live use on stages becomes an advantage. "The lighting generally used in virtual studios has been optimised for other conditions. We tested a lot [of products] at the beginning and came to the conclusion that the impression S350 Wash moving lights are the best solution in terms of the combination of responsiveness and light quality that we were looking for," continues Allhoff.
Several scenes and positions can be perfectly illuminated during programming. Smaller corrections can be made to the rehearsals directly on the desk without having to touch the fixtures manually. Zoom, aperture slider and colour temperature can be adjusted from scene to scene at lightning speed.
"The events business has changed radically since last year. We have adjusted to this and created flexible studio solutions for high-quality digital and virtual productions," Allhoff concludes. "The ever-changing conditions in these productions have opened the door wide to creative thinking and design. Of course, this also applies to the lighting.
"With the impression S350 Wash, we have found a solution that perfectly matches the new requirements. With a relatively manageable number of moving lights, a multitude of possibilities can be created quickly and easily in virtual productions. And despite all the flexibility that the use of these moving lights bring, we have a quality of light here that is in no way inferior to the studio lights generally used."
Photo: © PRG Deutschland, www.prg.com/de / Detlev Klockow (PRG)