Jeff Pardee uses Elation LED power luminaire to discreetly light sets from a distance.
Indoor and outdoor film and television production is discovering the many benefits that a powerful, fully automated IP65 LED luminaire can provide on a set. Just ask lighting designer/programmer Jeff Pardee (I.A.T.S.E. Local 728), who has been using the Proteus Maximus™ from Elation Professional on several recent projects.
The Proteus Maximus – a 50,000-lumen LED moving head that operates as a profile, beam or wash light – is routinely used to light some of the world's largest outdoor shows and events. Its 950W White LED engine delivers a level of brightness that can reach across great distances, an attribute Pardee finds useful on sets where complex camera work requires supporting equipment to be out of sight.
Pardee, a former concert lighting designer who moved into film and broadcast lighting several years ago, sought a moving head he could place at a distance while maintaining intensity, even when using color or breakup patterns. "When you film, in order to stay out of camera shot, you have to put things where they cannot be seen which means placing lighting far away. I needed a fixture with punch, something with color that I could use for hard edge or breakup patterns but do it from afar."
Initiation
While working on a film project that required the 4th Street Bridge in LA to be illuminated from across a large construction site, Pardee needed a powerful fixture that could project from hundreds of yards away. He considered several options, including Proteus Maximus, and was able to borrow a unit from a colleague at a nearby project to test. At midday, in order to demonstrate its brightness for the others on set, he was able to light a nearby building from across a freeway. "It was one o'clock in the afternoon, broad daylight, and you could easily see the aperture on the building," he relates. "That convinced everyone. Imagine if it was 2am at the same distance!"
That was his first experience with the fixture, which he ended up using on the project from condors in groupings of three. "They worked phenomenally. The condors we had the fixtures in were from two-tenths of a mile to half a mile away from the bridge and it was perfectly lit with no shadows and no variance in output," he said. "In fact, we ended up running them at only 65% because they were too bright." Part of that same project required lighting an outdoor basketball court as part of a continuous shot scene. "We used the Maximus specifically for that because he could have them out of the shot, at the other end of the block on fully raised condors, but we still got great light levels."
Pardee says that when they evaluate lighting they also look for fixtures they can run on a lower amount of power. On the 4th Street Bridge and downtown park project, they ran the Maximus units using a small 6000-watt generator located half a mile away. "That same setup with discharge fixtures would have required a much bigger generator and networking system. To me it's astonishing that the Maximus can do what it does, project so bright and so far, at the power draw it has."
The project proved a good introduction to the LED luminaire for Pardee and gave him the chance to tinker with the lights, test them in various colors, breakup patterns, prisms, etc. to see if they held their brightness. "That was the definitive moment for me," he said. "I knew if I ever had a need for this type of fixture again, these are what I would go with."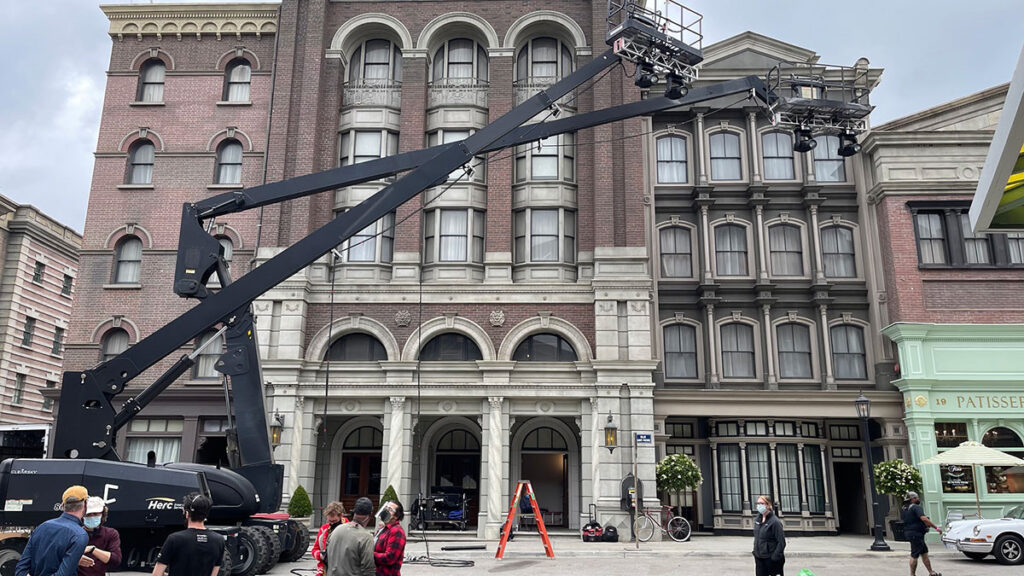 Billie Eilish Prime Day Show
The need for a powerful LED moving head has come up frequently for the designer who says he has used the Maximus on production sets a dozen times to date. A recent example is Billie Eilish's Prime Day Show musical special that aired June 17th on Prime Video. The show fused music and storytelling as the Grammy-winning singer performed amid an immersive Parisian set (actually filmed on the Universal backlot). Director of Photography for the Prime Day shoot was Christopher Ripley; Gaffer was Mathias Peralta.
Pardee turned to the waterproof Maximus to fulfill a number of roles on the production. "We used them to punch through a window to give a nice sunrise effect while it was raining for example. We drenched them in water for three days and didn't have any problems." Pardee accessed the Maximus's full-spectrum color mixing system with variable CTO to create the reds, ambers and daylight color required to mimic a sunrise. Then for a night scene, he painted with purples, reds and blues to create a nighttime Paris look. "I used them as backlighting as well or for hard-edge lighting on set buildings to give a crisp look working together with a soft-edge fixture that we matched color temperature with to get a nice even look."
The Maximus fixtures worked from two condor positions on the musical special, two fixtures on each condor shooting the building set from 300-400 feet away from the camera. Pardee then turned the fixtures around 180 degrees to shoot in the opposite direction, up the street and onto buildings in a big breakup pattern, a throw that was closer to 500 feet. "You just can't get that punch from that distance from anything else," he concludes. "To have those colors and effects and with that power, they've just been ideal."