Alto Lighting supplies LD Massimo Pascucci with tools to create unique scenography.
Based in Conversano, Bari, TeleNorba SPA has been one of Italy's principal TV broadcasters since RadioNorba TV production began in 2012.
The main studio at its headquarters, used for all TV production, was recently fitted with innovative new lighting effects from GLP—including KNV Dot and impression FR1—supplied by its Italian distributor, Alto Lighting Srl.
Alto Lighting has enjoyed an extremely good relationship with RadioNorba. "Therefore, when they started to think about the new studio, we were asked to provide support with the lighting," said Alto Lighting CEO, Cristiano Perandini.
He emphasised that since the studio was only three metres high, it had not been possible to create conventional beam effects. Therefore designer Massimo Pascucci, one of Italy's most experienced LD's and DoP's, looked no further than GLP's highly innovative KNV Dot modular strobe, which would be used in combination with special double, pixel controlled RGBW LED Bars—custom made by Alto. He deployed 30 of the GLP fixtures, installed inside the scenography, which are used both for lighting effects as well as for back light. "This creates perfectly balanced whites at 180° and lights the studio homogeneously," said Perandini. All are controlled in a matrix from the Resolume platform.
One particular advantage of the KNV Dot—particularly in a TV studio—is that the source can 'disappear' back into the set when used individually.
According to the Alto CEO, Massimo Pascucci was already experienced in using solutions from the GLP portfolio. "He really knows how to get the best from their products, including the KNV range, which he used last year on another RadioNorba production, Battiti Live. This provided him with something new … something completely different."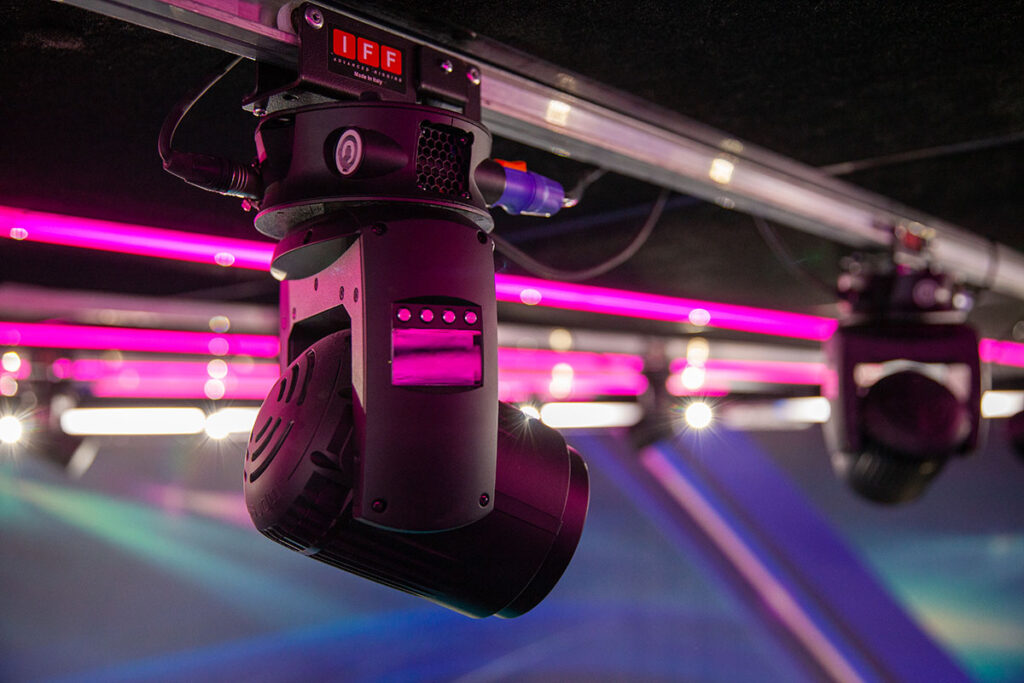 The KNV series is ground-breaking in both design and functionality. The KNV Dot itself is a singular pixel source containing a superior bright white LED, encircled by 16 RGBW LED's, with full colour mixing capability and a powerful output for a smaller point source. Independent control over both the white LED's and the RGB LED's allows for the creation of a vast array of effects, with both a full colour pallet and added punch when required. Both compact and lightweight, it can be set into the smallest of spaces, and easily built into stage and studio sets.
At the same time, Alto Lighting provided 12 GLP impression FR1 pencil beams, for the in-house technicians to install on the studio's rail system. Using a single, 60W homogenised RGBW LED at its core, the impression FR1 features colour mixing across a vast spectrum, while projecting a crisp, punchy white light, with a full range of colour temperature control. A super-fast 3.5 to 34° zoom range gives full beam control over both short and longer throw distances.
Once again Massimo Pascucci has been far from orthodox in his approach, as Cristiano Perandini explained. "He uses them like frontal lights, with the zoom totally open, and when needed, as beam lights."
With this unprecedented quality of lighting, the sky is the limit, he believes. "This unique combination of lighting will enable him to fulfil every scenario."
Paying tribute to RadioNorba, Massimo Pascucci sent special thanks to Alan Palmieri and Marco Montrone, president of the Norba group (whose father Luca, founded RadioNorba) for their continued belief.
For Alto Lighting, this project also marks a major success. "We have been involved for about six months, when the studio was still at the design stage, and supported the installation right up to the first day on air.
"During this time we offered full technical support to all the RadioNorba technicians."