The largest performance space of Brno City Theatre (Městské divadlo Brno), The Music Theatre, is a 680-seat venue that hosts a programme of current musicals and large-scale drama. It was built in 2004 as the best technically equipped theatre in Europe. To maintain these modern standards, technical manager, David Kachlíř, recently added a Robert Juliat SpotMe tracking device to the venue's lighting inventory, thereby increasing its existing complement of Robert Juliat products of 3 RJ Ginger followspots, Dalis 864 coloured footlights and a number of RJ 600 and 700 series profiles. The RJ SpotMe device was supplied by Prague-based Prolight s.r.o., Robert Juliat's exclusive distributor for the Czech Republic, as part of an improvement initiative to future-proof the Theatre.
SpotMe is Robert Juliat's award-winning server that produces real-time tracking information with no emitters or cameras on stage or performers. It uses feedback from sensors mounted on a tripod and followspot to coordinate moving lights with the movement initiated by a followspot and its operator – a perfect combination of high technology and human control in lighting design and operation.
Kachlíř chose SpotMe after a request from artistic director, Stanislav Moša, who wished to be able to follow actors with backlight from upstage lighting positions. "Such positions are impossible to access with a human operator due to the number of moving flybars, lights and scenery," explains Kachlíř, "so we decided to bring in SpotMe which can be controlled remotely by a console operator in conjunction with a followspot operator."
The newly-acquired SpotMe is used with one of the Theatre's RJ Ginger followspots, and rigged on the front-of-house balcony close to the proscenium arch using a specially customised pan head (now a standard RJ installation product). From this position, Kachlíř, who is also lighting designer and show operator for most of The Music Theatre shows, can control every parameter within the followspot, and all other moving head fixtures calibrated with SpotMe, directly from the MA2 console. "It is very easy and quick with the MA console – just tap the moving heads I want to use to follow, activate the preset, update the cue and that's it!" he says.
Kachlír first used SpotMe in December 2020 on the musical version of Pretty Woman, directed by Stanislav Moša, which sees its Czech premiere and official opening on 11 September 2021. "For this production we use strong colours like concert purples and sharp-edged followspot/moving head looks to follow the main characters," explains Kachlíř. "The show is fast paced, and I have a generic lighting set up with 70-80 moving lights calibrated to SpotMe at my disposal. We were able to work with SpotMe's tracking speed function to handle the rapid changes of pace, using the Fast Standard mode as the optimum setting for smooth movement between normal and faster speeds."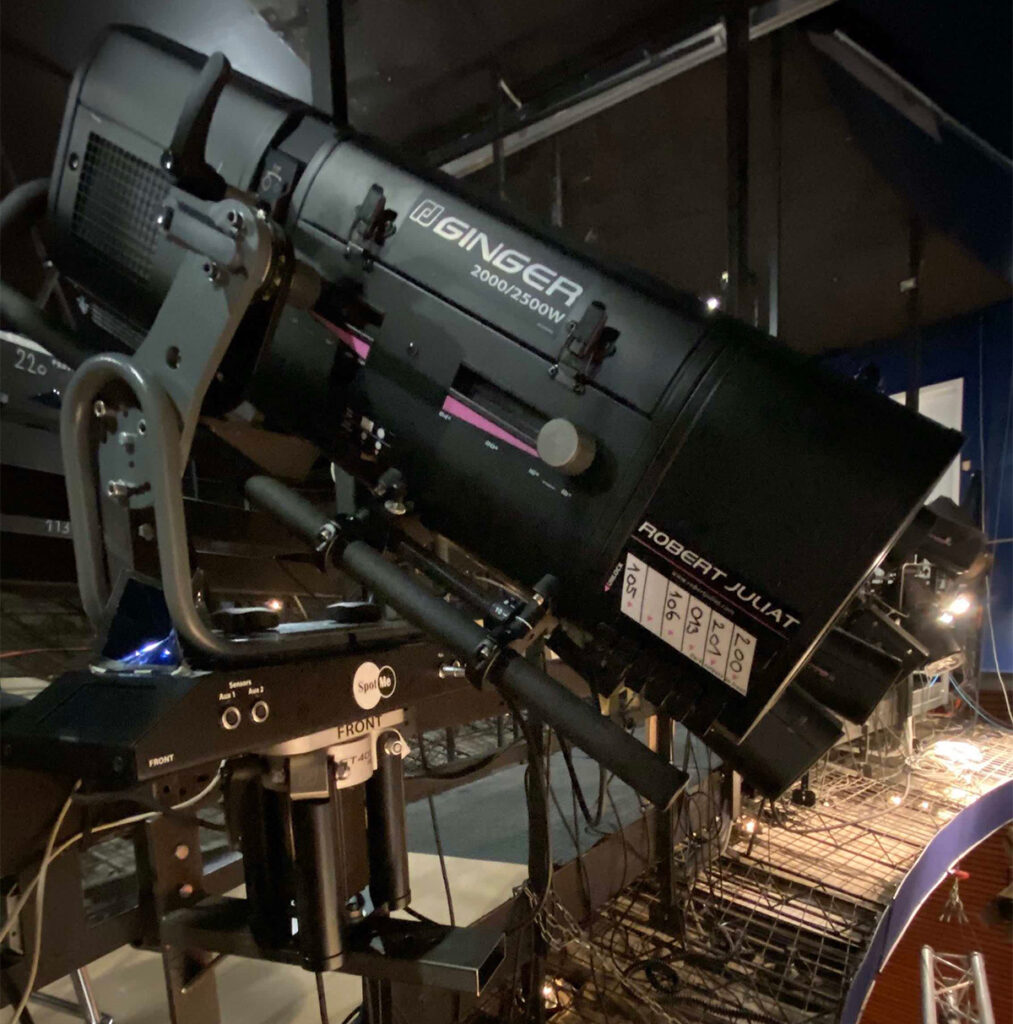 Kachlíř's second design with SpotMe shows a very different application – this time for the Czech premiere of the Tony Award-winning musical Jane Eyre, directed and translated by Petr Gazdík, which had its non-public opening in April 2021 before the official premiere takes place this October. "For this historical drama we wanted a dark, atmospheric look in which no sharp-edge spots were used, just softer edged wash and beam lights," says Kachlíř. "We increased the drama of the solo numbers by using a single moving light, but we had around 50 lights calibrated to SpotMe in readiness so we could dial in whatever we want, whenever we want it.
"We've had great remote support from Ludwig Lepage, Robert Juliat's product manager, which took place entirely online due to the travel restrictions caused by the Covid pandemic. He used Facetime communication to see the stage, and remotely operated the console and SpotMe control directly from his computer in France. He was able to check the whole system and its parameters via remote control, and even turn on the followspot remotely to save me the journey to my own console! We were able to learn and familiarise ourselves with the SpotMe system under his guidance."
Having become confident in the operation of SpotMe, Kachlíř is keen to explore more of its capabilities going forward: "We have generally been using SpotMe in Standard Mode but there will be a time soon when we want to calibrate it with our Dalis 864 footlights and discover the full potential of the Extended Mode. We've used the Dalis in every show since we have purchased them and they have become fundamental to all our designs. The dimming is very smooth and the colour presets created by Ludwig for the MA2 console are extremely useful. We are looking forward to incorporating these features into the SpotMe control and creating even more ambitious designs.
"SpotMe has given us a level of creativity that was just not possible before. We can follow anyone, anywhere, at any time, with any fixture we have linked to it, and utilise all the parameters any of the fixtures have to offer. We are very happy with the level of support we received which brought us up to speed with a new product concept. What initially seemed a dauntingly sophisticated system is now so easy to use. It is working perfectly and I am very glad we made the investment. Our long-term plan is to invest in two more SpotMe units for our remaining Ginger followspots."
Brno City Theatre: www.mdb.cz/en
Prolight s.r.o: www.pro-light.cz
Photo: © Tino Kratochvil