Lights flashed, LED screens pulsed, the sound system roared, pyro exploded and 26 artists proudly representing their countries gave their songs stellar performances all contributing to the palpable excitement surrounding the 2021 Eurovision Song Contest (ESC) as it hit nearly 200 million TV screens worldwide!
And the 3,500 audience might have been 'limited capacity', but they absolutely lifted the roof in terms of making some noise in the Rotterdam Ahoy Arena in The Netherlands as "Rock 'N' Roll will Never Die" was declared by an ecstatic Damiano David from Italian winners Måneskin!
Lighting, audio and rigging was delivered and co-ordinated by leading Netherlands rental specialist Ampco Flashlight, and for lighting control, this included 14 x grandMA3 light consoles and 32 active grandMA3 processing units (PUs) used by Production lighting designer Henk-Jan van Beek of visual design practice Light-H-Art and his team.
Organised by the European Broadcasting Union (EBU) and host broadcaster Nederlandse Publieke Omroep (NPO), Nederlandse Omroep Stichting (NOS) and AVROTROS, the 2021 event saw another superlative production which was directed for the broadcast by Marnix Kaart and Daniel Jelinek.
Henk-Jan created a spectacular design that enabled each of the 39 entries participating in the 2021 contest – which also included two televised semi-finals – to have a distinct and dynamic look utilising over 1,800 (main show floor and key) moving lights and LED luminaires from multiple brands, plus over 500 universes of LED tape running via two Green Hippo media servers.
In addition to the real lights in the space, some augmented reality elements featured in the broadcast involved several virtual lights running via Art-Net. Ten of the grandMA3 consoles were stationed at FOH in the arena, and divided into three different sessions (main, décor / specials and key lighting), two more grandMA3 light were on the floor for focussing and technical sessions and another two were located in a studio used for offline programming.
Session 1 – the main show lighting rig – utilized 15 grandMA3 processing units; Session 2 – the LED lines running through the Hippo servers, virtual lights, audience & delegation specials, smoke / atmosphere, and the moving LED battens next to the camera-tracks used up another 15 grandMA3 processing units. Session 3 used the other two grandMA3 processing units which were dedicated to all the key lighting and the two remote follow spotting systems – RoboSpot and Follow Me.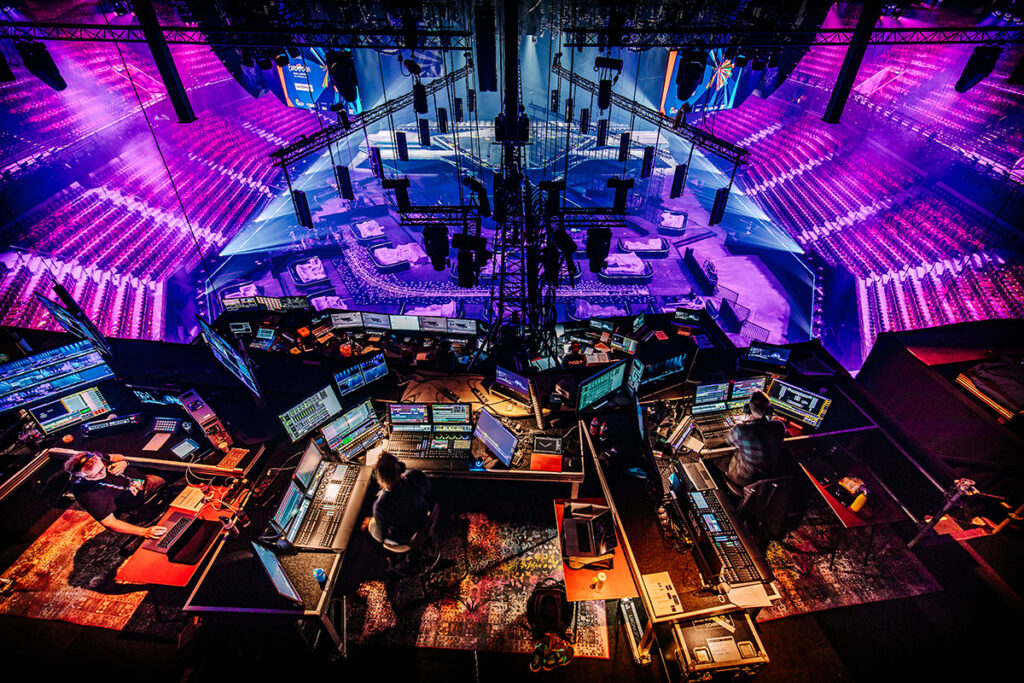 Henk-Jan worked with a highly talented hand-picked team of lighting programmers and operators, which included Joost Wijgers, key light programmer and assistant lighting designer, plus main show lighting programmer Micky Dordregter, both from Light-H-Art. Additionally, Joost was involved in the initial lighting design before shifting his concentration to running the massive task of programming.
grandMA3 is already the main control platform of choice for Joost and Micky, but well ahead of the ESC 2021 event, they discussed the various options with the rest of the programming team before deciding on grandMA3 (running in grandMA2 mode). They chose a grandMA3 solution for "the user-friendliness, networking capabilities, multi-user functionality … and of course, the stability and reliability," confirms Joost.
It was his first long-term project using MA3 hardware – onsite pre-viz and programming began in March at Amsterdam Ziggo Dome – and he is "very happy" with the desk ergonomics. Their final combined showfile contained 88,559 parameters with 11,856 subfixtures and a total of 398 DMX universes, all controlled by grandMA3.
The biggest challenge for the lighting programming department was streamlining the multi-user efficiency and time management. The MA architecture allowed them to create a workflow enabling the whole team to work simultaneously on different aspects of the show and then easily merge these together. Sharing the system like this with each user maximised the achievement of stunning results in a high-pressured environment.
Also on Henk-Jan's FOH lighting detail were show lighting programmers Andre Beekmans, Robbert-Jan Vernooij and Erik-Jan Berendsen; nightshift programmer Bas Geersema and previz and DMX camera programmer Emillio Galluzo.
All of them enjoyed the intense teamwork involved with other departments like set – another elegant and dynamic spatial masterpiece designed by Florian Wieder – production, cameras and the various delegations' creative directors.
"Every department stepped up their game and pushed the boundaries for this production," stated Joost, adding that they were also "really happy" with the support received from MA Lighting HQ in Paderborn. Joost and Micky visited last year, which "helped greatly with our initial setup, which in turn enabled us to refine our own workflow during the project," concluded Joost.
Måneskin's winning entry "Zitti E Buoni" was a full-on rocker's anthem and a break from other recent Eurovision winning genres – they were the 'hot' favourites, and won with a combination of awarded and public voting, beating off stiff competition from Switzerland, France and Iceland!
Photo: © Ralph Larmann / Nathan Reinds