The San Francisco Opera utilised a complement of Ayrton Perseo-S fixtures when it brought opera back to town in a COVID-safe outdoor production of Rossini's The Barber of Seville at Marin Center in San Rafael, California. Ayrton Perseo is the first compact, multi-function luminaire with an IP65 enclosure rating developed for intensive outdoor use.
The Barber of Seville, directed by Matthew Ozawa, ran from April 23 – May 15 at Marin Center, 15 minutes from San Francisco, where the audience pulled up their cars alongside the lagoon with the beautiful hills of Marin in the background. They watched the production, on a custom-built stage with soaring LED videowalls, from their vehicles.
"We have staged concerts before in Golden Gate Park, but nothing to this extent has been produced outside in the three years I have been with the company," notes Justin Partier, lighting director for the San Francisco Opera. "We considered several venues and found Marin Center to be the best location. So we constructed a stage and used the set from a yet-to-be-produced production of Fidelio in a new configuration."
Partier says the lighting team was looking for a fixture that offered shuttering, gobos, colour and diffusion, which was small enough to place inside the set. The lights also had to be able to withstand any inclement weather during the opera's three-week run. Perseo-S ticked all those boxes.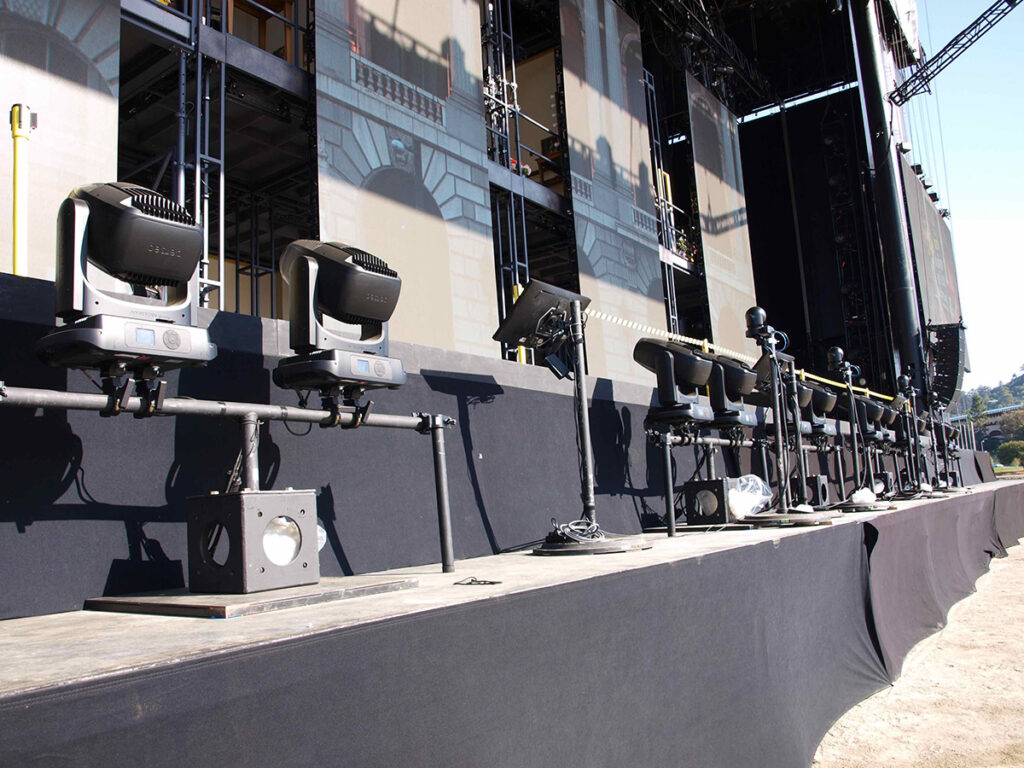 "The fixtures had to be small and bright – they were the only way to get light underneath the set from side light and footlight positions," he explains. "They also needed to be rated for outdoor use. As it turned out, we had only one really wet day with the rest California sunshine and rainbows."
Partier says that Aaron Hubbard with ACT Lighting helped steer him to Perseo. "Early on I looked at a bunch of lights with them, and when I said something smaller was required for the production, they led me to Perseo and were very helpful in giving me all the information I needed." Felix Lighting of Burlingame, California supplied the fixtures.
He notes that Perseo's gobos were especially in demand for the production. "Any time the four video panel back walls were in the open position we painted gobos onto them with the prism," he explains. The gobos were particularly effective in the storm and shave sequences.
"The Perseos looked great and were actually much brighter for their size than I thought they would be," Partier reports.
Credits:
Jax Messenger: Lighting Designer – The Barber of Seville
Matthew Ozawa: Stage Director
Alexander V. Nichols: Scenic and Projection Designer
Jessica Jahn: Costume Designer
Justin Partier: Resident Lighting Director, San Francisco Opera
Nathan Scheuer: Assistant Lighting Designer
Rachael Blackwell: Gilbert Hemsley Lighting Intern
Stephanie Lasater: San Francisco Opera Intern
Leon Parsons: Head Electrician
Michael Anderson: Assistant Head Electrician
Russ Adamson: Lighting Systems Administrator
Anna McGriff: Lighting Programmer
Erik Walstad: Technical and Safety Director
Ryan O'Steen: Production Manager
Chris Largent: Associate Technical Director
Chung Kuo: Technical Producer (Rittle Dragon Productions)
Matthew Shilvock: General Director
Jennifer Good: Managing Director – Production
Jenny Harber: Project Manager
Darin Burnett: Production Stage Manager
Jeremy Patfield: Production Finance Director
Celine Strouts: Production Associate
Local union labor:IATSE Local 16, IATSE Local 706, IATSE Local 784, IATSE Local 800, IATSE Local 829, IATSE B18, AGMA, AFM
Felix Lighting: Kim Martin (agent), Greg Kunit (onsite agent)
ACT Lighting, Inc. is the exclusive distributor of Ayrton fixtures in North America. www.actlighting.com.
Photo: © Stefan Cohen