Buildings, like people, have histories, and sometimes the voice of the past still echoes within their walls. Fortunately, this is the case with Schwarzkaue Herten, an event space that was once part of the now closed Schägel & Eisen colliery.
Although outfitted with the latest modern amenities, the facility pays homage to its proud, industrial past through its traditional architectural flourishes. The team at Schallmeister artfully balanced these classic features with a contemporary lighting design to create a memorable livestream event for a tech-drive industrial client.
"It was absolutely essential that the set for the livestream retain the historic architecture of the building," said Tim Jansen, owner of Schallmeister GmbH. "Special features, such as the baskets on the hall ceiling, give the room an interesting texture. Our task was to integrate a modern and professional television studio into an old industrial location."
Helping Jansen and his team meet this challenge was a collection of CHAUVET Professional fixates that included 16 Maverick MK 1 Spot, 16 STRIKE Saber, and 16 Rogue R2 Wash fixtures.
Filling a variety of roles in the design, the 350W LED Maverick MK1 Spots were flown on overhead truss and placed along the deck at the back of the stage, from where they provided uplighting and aerial effects. Joining the spot units behind the stage (as well as behind a speaker counter) were the STRIKE Sabers. Arranged vertically, the linear fixtures were used to create a dynamic backdrop to the livestream presentation. Washing the set with a variety of colors were the Rogue R2 Wash units, which were flown on truss at different angles to the stage.
"Particular attention was paid to the professional illumination of the location as well as the speakers and talk-round guests on the studio set," said Jansen. "The lighting had to be flawless for the livestream to have impact while also retaining the architectural character of the space for the camera."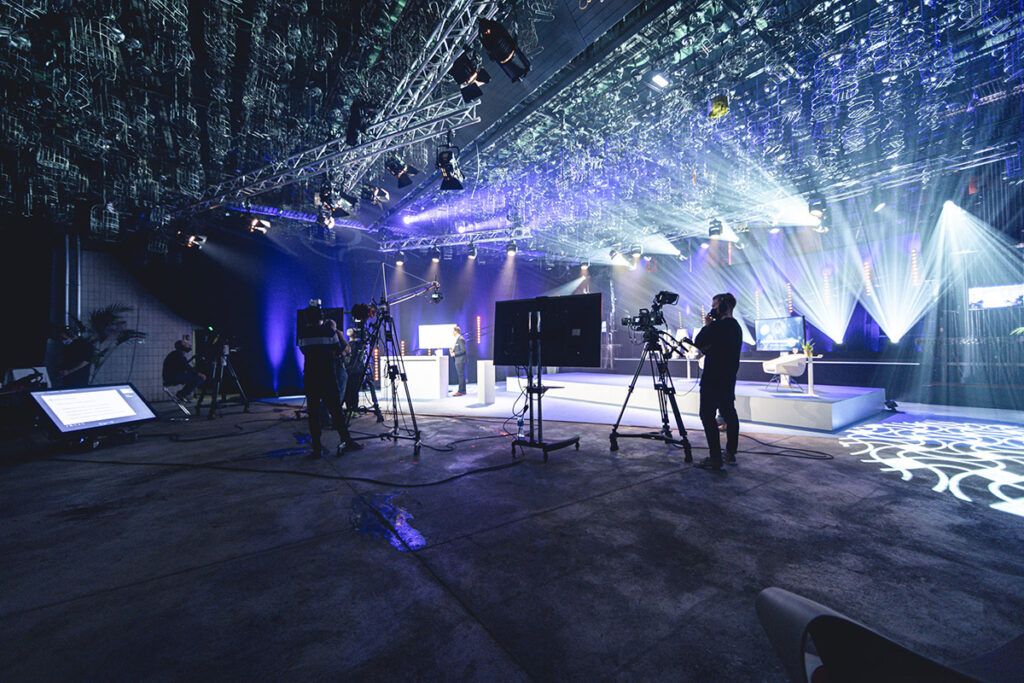 Accomplishing this required that the lighting fixtures be placed in positions that would not attract too much attention to their housing on camera, but at the same time would ensure that their illumination would have full effect on the production.
"We did not want the technology to be in the foreground," said Jansen. "The design idea was to create a combination of room appearance, industrial charm, and modern flair through the targeted use of light."
By balancing different design elements, the Schallmeister team achieved this goal. The sounds of mallets and irons can no longer be heard at the former colliery, but their spirit was very much alive in this livestream, resonating vibrantly right alongside a fully modern 21st century production.