The venerable and rugged Ford Ranger has been used in virtually every conceivable application since it first appeared in 1983, especially when modified into the more muscular "Ironhide" variety. Now it can add another item to its list of incarnations: DJ Stand.
Capitalizing on the growing popularity of this iconic American vehicle in the UK (its sales there have increased a whopping 76-perecent between 2015 and 2020), Welch performer DJ Weekesey joined forces with ASG Audio Visual to shoot a promotional video from the back of a brawny, black modified Ranger Ironhide.
Laying down the signature mixes that have made him one of the region's top club artists, Weekesey put on a dynamic 4-minute show, using the truck itself as a stand. "It was a 4.5- ton DJ booth," said ASG's director Scott Cooper. "The video not only served to highlight Weekesey's talent, it also drew on the image of the Ironhide to set a really captivating, tone."
Another thing the video did was showcase the capability of ASG to create powerful images with light and atmospherics using CHAUVET Professional fixtures. "We worked some nice looks with our WELL Fit uplighters and our foggers," said Cooper. "Between the colors and the smoke we created the right kind of attitude."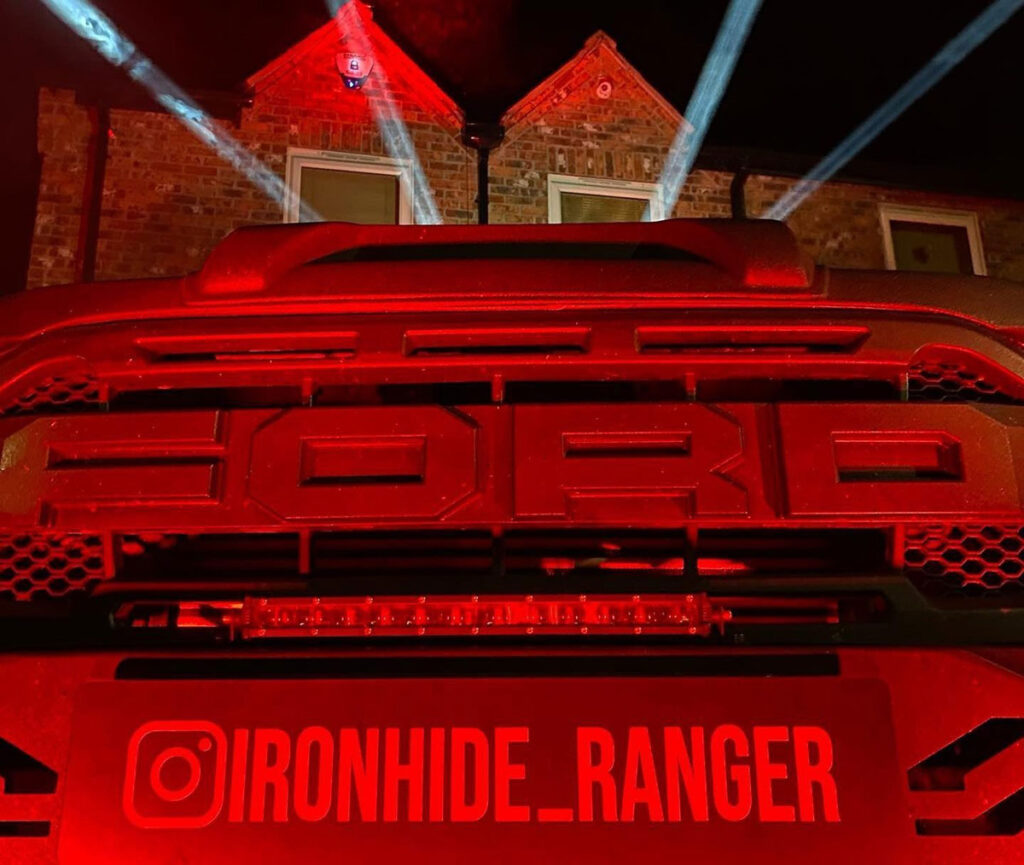 Key to setting this mood was the rich red glow from the 14 WELL Fit fixtures used in the shoot. Playing off against the vehicle's dark color it endowed the video with a deep, underground vibe. The lighter red hues that covered the area surrounding the truck then added a sense of passion.
"We looked at a variety of different colors, but it became clear that red really suited the kind of video we were going for," said Cooper. "The shade of red that we got from the WELL Fit was spot on for this project."
Cooper and his team positioned the battery operated RGBA WELL Fit units throughout the video's outdoor set. A dozen of the uplights were placed around the truck, positioned to highlight its distinctive features.
"An Ironside vehicle itself presents a powerful visual image," said Cooper. "So many things about it make it stand out, so we accented those features, including the custom wheels and grillwork."
The two remaining WELL Fit fixtures were placed inside the cabin of the vehicle, their intense red light giving it an eerie glow that added an aura of mystery to the production. While the fixtures radiated brightly inside the truck, Weekesey delivered a spirited performance from its rear cargo area, using the vehicle's roof as an improvised DJ stand.
Fans of the Ranger, often call it a "dream machine" because of all the possibilities it offers. On this warm summer's evening in Wales, a DJ and a lighting company added another one to the list.