There is a well-known, and very close, connection between designing a lightshow and making music. So much so, that many LDs will tell you that musicality is the driving force behind their lighting designs.
Lenny Sasso exemplifies this creative bond. The Philadelphia-based LD has designed stunning lightshows for the likes of Thrice, Circa Survive, and Atreyu. When he isn't running the console, he's playing thunderous riffs on the base guitar and creating sounds on the synthesizer for the indie band, June Divided.
Recently, when the band recorded a pair of music videos on the Ruby Stage at Squeek Lights, Sasso was on the receiving end of the LD-musician relationship. He wasn't worried though, familiar as he was with the talents of Steve Kosiba, who created dynamic, camera-friendly lightshow for both videos, one of which premiered on the website of Philadelphia's 104.5 alternative rock station.
"I ran the basic color scheme by Lenny," said Kosiba. "He gave me his feedback, but let me do what I wanted otherwise. It was a fun project for all of us."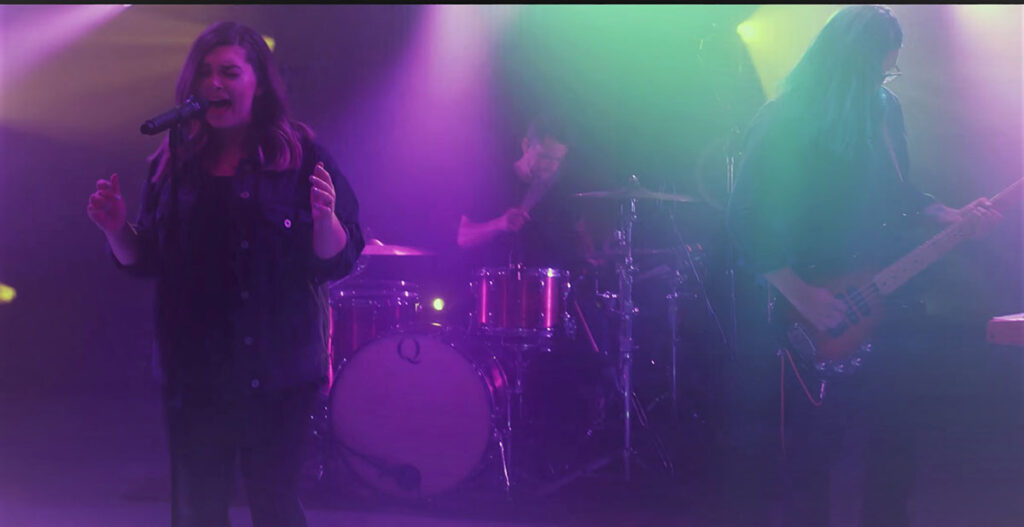 The color scheme Kosiba went with for the song featured on 104.5 ("If I Knew How To Love"), was a Cyan/Magenta/Yellow mix. For the other song, "The Wall," he created an evocative blend of amber and deep congo blue along with warm white.
"Since 'If I Knew How To Love' was the more pop-sounding of the two songs, I decided to go with the classic pop C/M/Y colors – magenta and cyan for the verse, magenta and yellow for the chorus, cyan and yellow for the solo/bridge section," explained Kosiba. "The other song was a moodier piece, so had a more haunting, evocative mix."
Helping Kosiba create his color-scapes, along with the rest of his looks was a collection of 42 CHAUVET Professional Rogue R1 BeamWash fixtures, with 10 units used for front light, 12 for side light, 8 for top light and 12 for back light. The versatility of these RGBW movers with their 3.7ﹾ to 67.7ﹾ zoom range was critical to helping him create a wide array of looks on a relatively small stage.
"At Squeek Lights, we're always looking for Swiss army knife fixtures – and the BeamWashes are just that," said Kosiba. "We use them for front light, side light, back lights, beam looks, wide washes – all of it. I love the zoom on them, they can be as narrow as a beam fixture but also can provide super wide, even front light."
Kosiba relied on the wide zoom range of the Rogue units to create one of the most memorable looks in the video production session. It occurs at the bridge/solo cue in "If I Knew How To Love," when as a fast chase part takes place, the upstage BeamWashes change dramatically from a wash to a super-tight beam, and then start moving in a symmetrical circle with a chase that goes double time with the music.
"We're very pleased with how we can get so many looks on the Ruby Stage, while making it look as big as possible," said Kosiba. "This kind of setting is different from a live show one, where you have more space and design for an audience."
Working in a livestream space creates new challenges, according to Kosiba. But challenges, he says, "are always welcomed by a lighting designer." As a fellow LD, Lenny Sasso would no doubt agree with that sentiment and celebrate how the challenge was met for these memorable video recording sessions.